A Family United by Conservation
Major Sponsors Spotlight: Jeff Churan
Missouri resident and longtime hunter and conservationist Jeff Churan is what some might call a Ducks Unlimited legend. He was instrumental in the creation of several DU chapters across the Midwest in the early 1970s, he excelled at fundraising events, and he backed proposals like a state sales tax dedicated to the Missouri Conservation Commission and the Show-Me States first state duck stamp. He also helped select Memphis, Tennessee, as the site of DUs new headquarters in the early 1990s.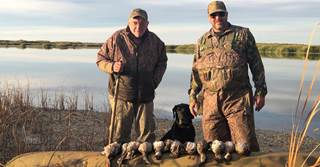 Jeff is the owner of a successful construction business, and his passion for the outdoors began at a young age. A 1969 DU ad in Sports Illustrated inspired him to contribute to the health of North Americas wetlands. And contribute he has. He has been a member for over 50 years, he served on DUs board of directors for over 25 years (the second-longest tenure in DU history), and year after year he made untold contributions and donated countless hours of time to keep the skies filled with waterfowl.
But it isnt just Jeffs generosity and foresight that makes him a unique member of DUs family. He has also been able to share his passion with generations of his own family. Today his son Greg (who is a DU Life Sponsor) and grandson Jake are applying the same hunting and conservation principles Jeff has practiced for decades.
Jeffs grandkids are fortunate to be related to someone so willing to spend time in the outdoors with them, and hes made good on his longstanding promise to buy each of his grandchildren an over/under shotgun after they bag their first goose. He says one of his greatest joys is seeing his grandchildren evolve as waterfowlers and have an interest in conservation.
I have been lucky that my sons, and now my grandsons, have become avid waterfowlers, Jeff says. As in my case, this is triggering their interest in waterfowl conservation. Nothing could make me happier. I am delighted to see them become active DU volunteers.
For as much time as Jeff has spent volunteering, supporting, and contributing to DUs mission, you might wonder if hes running out of steam, but nothing could be further from the truth. In fact, he and Greg are involved in the campaign to conserve Arkansass green-tree reservoirs, which host countless wintering waterfowl and other wildlife species. Thanks to Jeffs assistance, DU, the Arkansas Game and Fish Commission, and the Arkansas Game and Fish Foundation have created a long-term plan to restore these bottomland forests on public lands across the state.
I hope that through my service I have imparted, in some small way, something beneficial to DU and to the ducks, Jeff says. But the reality is Ive received far more than I have given. Ducks Unlimited is truly a great organization, and I am fortunate to have been a part of it.