A Commitment to Youth and Education
Major Sponsor Spotlight: Dick Corbett
While Richard Dick Corbett is relatively new to Ducks Unlimited, he is certainly no stranger to conservation or the vital work of the organization. Dick is a Florida businessman, generous philanthropist, author, avid outdoorsman, and lifelong conservationist.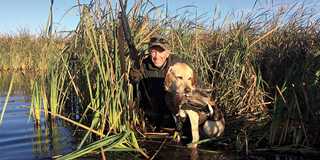 Dick may be best known for his development of the International Plaza Mall, Office, and Hotel Complex at the Tampa International Airport, but there is much more to his life and career than his success in real estate development. He completed his undergraduate studies at the University of Notre Dame, and continues to be a proud and generous supporter of the Fighting Irish today. He also earned an MBA from the prestigious Harvard Business School. Dick served as a presidential aide in the John F. Kennedy administration and was business manager for Robert F. Kennedys 1968 presidential campaign. Dicks time in these roles is chronicled in his book, Ringside Stories: From the Kennedy White House to Real Estate Everest, available on Amazon.
Dick and his wife, Cornelia, enjoy outdoor pursuits and spend much of their time with family and friends on their 16,000-acre Pinckney Hill Plantation in Jefferson County, Florida, near Monticello. There, wild bobwhite quail can be heard whistling with regularity, testifying to an effective conservation land ethic. A truly breathtaking place, Pinckney Hill offers a step back in time for those who live to chase wild quail.
Last fall, Dick made a $1.575 million commitment in support of Ducks Unlimiteds youth and education efforts and priority waterfowl habitat work. His gift will help DU take youth recruitment and engagement to the next level by providing funds necessary to expand youth programs across the United States. Dick is also a Presidents Council member and trustee for Wetlands America Trust.
I have been fortunate to be involved in many meaningful conservation causes, and I am particularly delighted to support Ducks Unlimited and Wetlands America Trust, Dick says. Waterfowl and wetlands conservation have always been important to me and my family, from our favorite duck blinds to my service as a commissioner with the Florida Fish and Wildlife Conservation Commission, to the important work that DU and WAT engage in on a continental scale. All these efforts are so critical to growing the next generation of conservation-minded leaders across our nation.
DU Chief Operating Officer Nick Wiley has worked in the conservation arena with Dick for more than 17 years. I am continually impressed with and grateful for how Dick has blended his tremendous business acumen and tenacity with his passion for fish and wildlife, and then has focused those talents and treasures for the advancement of conservation causes, particularly his interest in inspiring young people to pick up the baton and become effective conservationists for the future, he says.