The Best Duck I Ever Ate
Five of the country's finest wild-game chefs share their favorite recipes

By Scott Leysath, Images by Holly Heyser
Meet the author: Scott Leysath
Hometown:
Folsom, California
Best advice for WILD-game chefs:
Cook the prime cuts fast and hot and the more sinewy parts low and slow.
After my first few days as a duck hunter, I seriously considered giving up the sport. I cherished my time in the field, but those initial duck dinners led me to believe that these birds werent fit to eat. At least not the way I had tried to prepare them. They were tough and had an unpleasant after-taste, which many people describe as gamey. As much as I enjoyed duck hunting, I didnt want to eat another duck.
Then, after perusing the waterfowl chapter of the legendary L.L. Bean Game and Fish Cookbook, I took the breast of a fat, plucked mallard and seasoned it with salt and pepper. I placed it skin side down in a medium-hot skillet until the fat was mostly rendered from the breast and the underside was golden brown and crisp, then flipped it over and basted the breast fillet with the liquefied fat. Four to five minutes later I removed the meat from heat, let it rest for a minute or two, and sliced off a thin sample. I couldnt believe it was the same kind of bird I had been obligated to choke down in the past. The meat was tender, moist, and not gamey at all. My first attempt at cooking a duck the right way was a game-changer, and my quest for the ultimate duck recipe was born.
Since then, Ive cooked and eaten ducks prepared in countless ways, drawing on culinary techniques from China to Mexico to France and using ingredients and sauces representing diverse cultures and unique customs. But whats the best duck I ever ate? After enjoying so many magnificent duck dinners prepared by so many talented people over the years, thats a question I would find very difficult to answer. Nevertheless, its a question I posed to five of the countrys top wild-game chefs. Like me, they struggled to identify their best recipe, but they agreed to share their experiences with a memorable duck dish. Each of them related the details of the recipe to me, and Ive done my best to re-create them for you here.
---
Meet the chef: Susie Jimenez
Hometown:
Aspen, Colorado
You have to always cook with your heart because its a blessing youre passing along.
Cooking with Your Heart
Susie Jimenez contacted me several years ago about being a part of The Sporting Chef TV show. A modern superstar chef, she was the runner-up on season seven of the Food Network Star competition. She should have won.
Susie comes from a family of migrant farm workers, and she grew up picking seasonal crops like cherries, peaches, and pears. She went on to graduate from the California Culinary Academy, and today she lives in Aspen, Colorado, and Cabo San Lucas, Mexico, and travels the country as a chef to the stars.
Susies culinary creations are inspired by her mother, Mami, who cooked straightforward, unpretentious, authentic Mexican peasant food. One of Mamis favorite sayings is You have to always cook with your heart because its a blessing youre passing along. The low-and-slow cooking process in this dish is adapted from one of Mamis favorite recipes, and it transforms sinewy duck legs into super-tender morsels. Mami served this dish with warm tortillas and whatever accompaniments were available. Susie is a bit of a health nut and prefers to load the ingredients into lettuce leaves and serve with cactus salsa.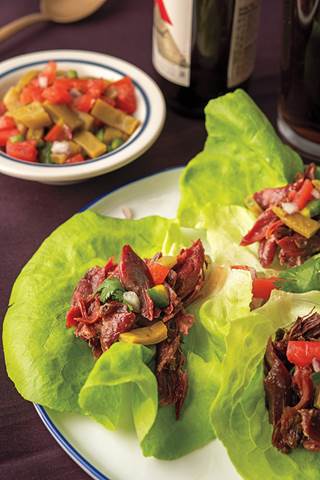 Duck Confit
Makes: 4 to 6 servings
Save the legs from ducks you harvest throughout the season, and pull them out of the freezer to make this unique dish. Look for nopalitos (prepared cactus) in the international section of your market.
Ingredients
12 to 16 duck legs, preferably with skin intact
Kosher salt
Black pepper
3 to 4 sprigs fresh rosemary
1 head garlic, quartered
Olive oil
Lettuce leaves or tortillas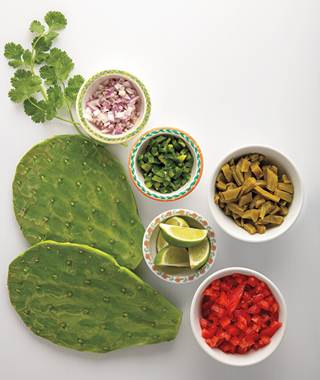 Cactus Salsa
Ingredients
2 cups drained and diced nopalitos
1 cup seeded and diced tomato
2 jalapeo peppers, seeded and finely diced
1/4 cup diced red onion
2 tablespoons freshly squeezed lime juice
1/2 cup roughly chopped cilantro
Salt and pepper to taste
Preparation
1. Rub a generous amount of salt into the duck legs. Season with black pepper. Place in a nonreactive container and refrigerate 12 to 24 hours.
2. Preheat oven to 200 degrees. Place duck legs (do not remove salt) into a heavy-duty oven-safe pot. Add rosemary and garlic. Completely cover the legs with olive oil. Cover with a tight-fitting lid or foil and place in the preheated oven. The meat is done when it can be easily pulled from the bone. Depending on the size of the legs, this will take between 4 and 7 hours. Once done, allow legs to cool, remove the meat, and shred it.
3. While the legs are cooking, combine all the cactus salsa ingredients and allow to rest at room temperature for 1 hour.
4. Serve shredded duck and cactus salsa with lettuce leaves or tortillas.
---
Meet the chef: John McGannon
Hometown:
Pacifica, California
Favorite Cooking Technique:
Dry-Aging
The Dry-Aging Advocate
John McGannon has been a contributor to The Sporting Chef for the past 10 years, but his television career started long before that. In 1996, John hosted the Outdoor Cuisine show on the Outdoor Life Network. He has operated high-end kitchens worldwide for over 30 years, and for the past 15 he has provided extraordinary meals for well-heeled clients at the uber-exclusive Bohemian Grove.
John says the best duck he ever ate was at a recent shooting event with friends. Hes used to people swooning over his game dishes, but everyone raved about this duck. Johns message is all about dry-aging, and he ages every duck and goose he cooks.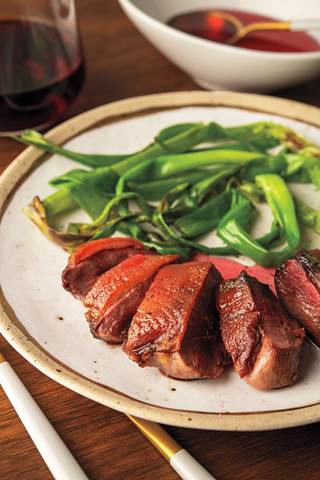 Duck With Stock and Blood Orange Gastrique
Makes: 4 servings
In this recipe, John creates a duck stock from roasted duck carcasses. After dry-aging whole ducks, he removes the breast fillets and sets them aside. Then he roasts the carcasses with carrots, celery, and onions and transfers it all to a large stock pot with herbs, garlic, and cold water. He brings this mixture to a high simmer for 12 to 24 hours, strains it through a colander, and then again through cheesecloth. The stock can also be reduced to concentrate the flavors and, if desired, frozen for later use. If you dont have the time or inclination to make the duck stock, you can substitute chicken or beef stock.
Ingredients
4 medium to large dry-aged duck breast fillets, skin intact
Kosher salt and freshly ground black pepper (John uses Wild Eats Ginger Citrus &Pepper Rub)
Olive oil
1 cup duck, chicken, or beef stock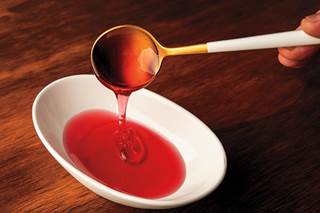 Blood Orange Gastrique
Ingredients
1 cup sugar 1/2 cup rice vinegar or red wine vinegar
1 cup blood orange juice
Preparation
1. To make the gastrique, combine all ingredients in a saucepan and bring to a boil. Reduce heat and simmer until volume is reduced to about 1/4 cup. Allow to cool.
2. Season duck breast fillets with salt and pepper. Heat a thin layer of olive oil in a large skillet over medium heat. Place the breast fillets, skin side down, in the skillet. Cook until the skin is medium-brown and crispy. Flip fillets over and cook for a few minutes more. Add stock and cook until the internal temperature is between 130 and 135 degrees for medium rare. Remove fillets from the pan and allow them to rest for a few minutes before slicing across the grain.
3. Arrange duck slices on plates, drizzle with the gastrique, and serve.
How to Dry-Age Your Ducks
Dry-aging removes trace capillary blood from ducks and makes them more tender. Split whole ducks along the breastbone, pat them dry, and set them on a rack with a drip pan underneath. Dry-aging needs to be done in a controlled environment, like a refrigerator, at a temperature between 35 and 39 degrees. John recommends aging large ducks for 5 to 7 days. For more tips on dry-aging, visit wildeats.com.
---
Meet the chef: Stacy Lyn Harris
Hometown:
Montgomery, Alabama
More to feast on:
Harris is the author of several books, including the highly acclaimed Wild GameFood for Your Family.
Sustainable Southern Style
When I first met Stacy Lyn Harris, she was already on her way to becoming a big deal on the Southern cuisine scene, having recently published her first cookbook, Happy Healthy Family: Tracking the Outdoors In. She is all about family and sustainable Southern cooking, and she has been an important part of The Sporting Chef for the past 10 seasons. After 20 years of hosting the show, Im turning it over to Stacy Lyn this fall. Im out. Shes in. You read it here first.
Stacys first duck hunt was with her husband, Scott, when she was 18 years old. After the hunt, Scott seasoned the duck breast fillets with salt and pepper and cooked them in a cast iron skillet. It was still red in the middle and the skin was nice and crispy. I was hooked on the first bite, she says. Here, Stacy Lyn has taken her husbands basic duck recipe and added her own Southern touches.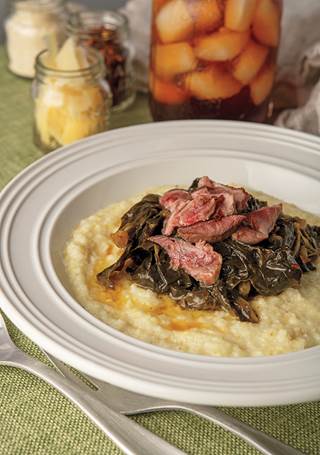 Pan-Seared Duck Breast Fillets with Collards and Cheesy Grits
Makes: 4 servings
Stacy Lyn says it is important to soak and rinse your collard greens in cold water at least three times, changing the water between each soak. Once you have prepared the three individual recipes included in this dish, spoon the grits onto plates, top with the collard greens, and arrange the sliced duck breast fillets on the greens.
Pan-Seared Duck Breast Fillets
Ingredients
4 duck breast fillets, preferably with skin intact, from larger ducks like mallards, pintails, or canvasbacks
Salt and pepper
Preparation
Season duck breast fillets generously with salt and pepper. Place skin side down in a cast iron skillet over medium heat until the skin is medium brown and crispy. Flip over and lightly brown the other side.
Southern Collard Greens
Ingredients
1 tablespoon olive oil 1 chopped onion
1 tablespoon minced garlic
2 pounds collard greens, washed and pulled from the stem
2 cups dry white wine such as a Chardonnay
4 cups vegetable or chicken broth
1/4 teaspoon red pepper flakes
1 tablespoon kosher salt
1/4 tablespoon freshly ground pepper
Preparation
1. Heat the olive oil in a large skillet over medium heat. Add onions and saut until translucentabout 5 minutes. Add garlic and continue to cook for 30 seconds longer.
2. Add washed collards to the pan. You may have to add half of the greens to the pan, let them shrink, and then add the other half. Add wine, broth, red pepper flakes, salt, and pepper. Bring mixture to a boil, then lower the heat and simmer for 1 hour. Remove from liquid and drain well.
Cheesy Grits
Ingredients
1 cup grits 3 tablespoons butter
1/2 teaspoon salt
1/2 teaspoon pepper
5 cups water or chicken stock
1/2 cup Parmigiano Reggiano cheese
1/4 cup whipping cream (optional)
Preparation
In a pan, add grits, butter, salt, and pepper to the water or stock. Bring to a boil, stirring constantly, and then reduce to simmer for about 30 minutes, stirring often. Just before serving, add the Parmigiano Reggiano cheese and stir until dissolved. For a little smoother and creamier texture add about 1/4 cup of whipping cream along with the Parmigiano Reggiano cheese.
---
Meet the chef: Hank Shaw
Hometown:
Sacramento, California
More to feast on:
Shaw is a James Beard award-winning chef and author, specializing in the preparation of fish, game, and other wild foods.
Hunter, Angler, Gardener, Cook
Hank Shaw may be the best-known wild game chef in the country, and hes attained that status in a relatively short amount of time. Drawing from several cultures, Hank goes beyond standard fish and game fare. You wont find commercial sauces, marinades, or seasonings in Shaws pantry. He makes it all from scratch. He doesnt waste any part of a duck, including innards, feet, and tongues. Hes also a fervent forager, roaming the hills and valleys of Northern California for anything wild and edible, especially prized mushrooms.
Given the number of unforgettable duck dishes that Hank has enjoyed, both in his kitchen and alongside notable chefs, he had a hard time pinning down the best duck dish hes eaten. He settled on Duck Bigarade, which he first experienced while dining at fine restaurants in New York City as a youth.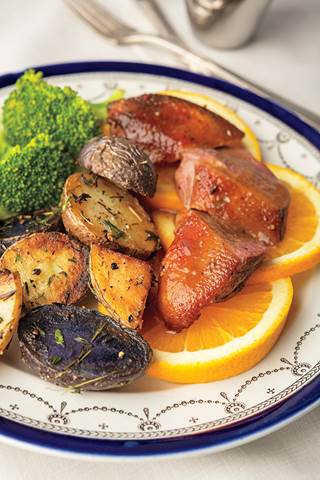 Duck Bigarade
Makes: 4 servings
According to Hank, this recipe is much better with skin-on duck breast fillets, but it will work with skinless breasts too. Reminiscent of the classic Duck lOrange recipe, it is both sweet and sour. The sour bitterness cuts through the fat of plucked duck breasts. To make the demi-glace, place several roasted duck carcasses, celery, carrots, and onions in a pot and cover with cold water. Simmer for several hours, strain to remove the solids, and reduce the remaining liquid.
Ingredients
2 duck breast fillets
Salt 1 tablespoon duck fat, lard, or olive oil
1 teaspoon flour
1/4 cup demi-glace
1 tablespoon cider vinegar or sherry vinegar
1 shot of Grand Marnier or other orange liqueur (optional)
Orange juice from one or two oranges
1/2 orange, quartered and thinly sliced
Preparation
1. Salt duck breast fillets at least 30 minutes before you begin and let them rest at room temperature. Heat the duck fat, lard, or olive oil in a medium saut pan over medium-high heat for 1 minute. Pat the breast fillets dry with a paper towel. Lay the fillets down in the hot fat and cook, undisturbed, for 5 to 8 minutes. Listen for a steady sizzle, nothing too violent. If the sizzle gets too fierce, turn the heat down to medium. Flip the fillets when they are brown and crispy and cook another 2 to 3 minutes. Set the fillets aside on a cutting board and grind black pepper onto the skin.
2. To make the bigarade, reduce the heat to medium, sprinkle the flour into the pan, and stir to combine. Let cook, stirring occasionally, until the flour is the color of coffee with cream, about 5 minutes. Add a pinch of salt, stir, and then add the demi-glace, vinegar, and Grand Marnier. Gradually whisk in the orange juice until it reaches a consistency you like. You may need more or less than a whole oranges worth.
3. Slice the duck breast fillets. To serve, lay down some bigarade sauce and top with the duck slices. Garnish with thin slices of orange. This dish can be served with mashed potatoes or a wild rice pilaf.
---
Meet the chef: Jonathan Wilkins
Hometown:
Brinkley, Arkansas
From that point on, I was a confirmed duck cooker. I couldnt wait to get out and shoot some more shovelers.
Building a Community of Culture
Jonathan Wilkins is a writer, hunter, cook, and educator. He transformed a former Arkansas Delta church into a waterfowl hunting and fishing lodge, and his Black Duck Revival community provides hands-on opportunities for visitors to enjoy a great hunt and learn how to make the most of their harvested game. One of Jonathans goals is to educate people about the cultural significance and history of how weve developed in relation to ourselves, our crafts, our agriculture, and our food.
Jonathan went on his first duck hunt at the ripe age of 27. A friend took him to a flooded field where they shot a few mallards and shovelers. His host was kind enough to give Jonathan the shovelers while keeping the mallards for himself.
Jonathan hadnt spent enough time around seasoned duck hunters to grasp the difference in perceived value between mallards and spoonies. He removed the breast fillets, marinated them in Italian dressing, and grilled them to medium rare. From that point on, he says, I was a confirmed duck cooker. I couldnt wait to get out and shoot some more shovelers.
Jonathan likes making pan sauces that complement the natural juices from rendered duck breast fillets. Today, he feeds his wife and two young children a regular diet of fish and game. His kids are more likely to enjoy a braised goose leg, some rice, and a vegetable than prepared or fast food.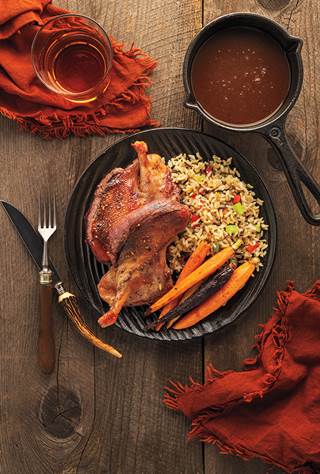 Split Ducks with Bourbon Pan Sauce
Makes: 4 servings
Jonathan leans toward unpretentious, basic dishes that reveal the natural flavors of wild game. He enjoys pairing duck recipes with a starch and in-season vegetables, and he still often marinates waterfowl in bottled Italian dressing. When cooking for his family, he does not add bourbon.
Ingredients
2 medium to large ducks, split
Salt and pepper
Olive oil
1/3 cup bourbon
1/3 cup beef or game stock
4 to 6 tablespoons chilled butter, cut into cubes
Cooked rice
In-season vegetables
Preparation
1. Season split ducks with salt and pepper. Heat olive oil in a large skillet over medium heat. Add duck, skin side down, and cook until well-browned. Flip over and cook for another 3 to 4 minutes.
2. Combine bourbon and beef stock in a mixing bowl. Ensuring that the pan is well away from any open flames, add bourbon and stock mixture to the pan. Stir to remove any bits stuck to the pan and reduce liquid to a few tablespoons. Remove from heat and arrange duck on plates with rice and vegetables. With the pan removed from the heat, whisk in chilled butter until emulsified. Spoon sauce over duck.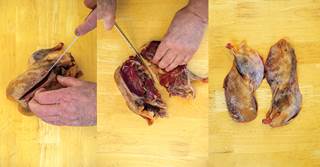 Two Ways to Split a Duck
Place the whole duck breast side up on a firm surface. Start at the top of the breastbone and work a sharp knife along both sides of the breastbone. Or you can place the duck breast side down, use game shears to cut away both sides of the backbone, and then flatten out the bird with the breastbone in the middle.