Spicy Asian Stir-Fried Duck
This quick and tasty recipe is inspired by traditional Eastern cooking techniques and ingredients

You might be surprised at how easy it is to prepare sensational Asian-inspired dishes with game meat. No special skills or equipment are required. What I like most about Asian dishes is their depth of flavor and bright, vibrant colors. Although a well-stocked Asian pantry will have ingredients that are foreign to many of us, its not necessary to load up on items that you may rarely use. Soy sauce, sesame oil, rice vinegar, ginger, fresh vegetables, and something sweet like brown sugar or apricot preserves are all you need to turn your harvested game into a great-tasting Asian dish.
Of critical importance when preparing stir-fried dishes is to have all your ingredients chopped and sliced as specified in the recipe before you begin cooking. Once the wok or skillet is hot, the cooking goes very quickly. Makes: 4 servings
SPICY ASIAN STIR-FRIED DUCK
When slicing the duck breast fillets, cutting across the grain will help assure maximum tenderness. Once the duck is browned on all sides, it is done. Be careful not to overcook the duck or it will be chewy. This dish is a balance of sweet and sour flavors. If you prefer yours a little sweeter, add more apricot preserves. More sour? Add another splash of rice vinegar.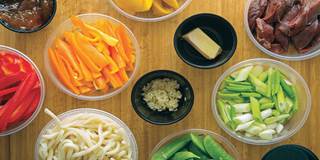 INGREDIENTS
2 1/2 cups skinless duck breast fillets, sliced into 1/4-inch-thick strips
1/2 cup low-sodium soy sauce
1/3 cup rice vinegar
1/3 cup apricot preserves
3 minced garlic cloves
1 teaspoon peeled and minced gingerroot
2 tablespoons Sriracha or Asian chili garlic sauce
1/2 teaspoon freshly ground black pepper
4 tablespoons vegetable oil
1 tablespoon cornstarch mixed with 1 tablespoon cold water
2 cups thinly sliced bell peppers (use two or three different colors)
1 1/2 cups snow peas, strings removed
4 cups cooked udon noodles (or substitute warm rice)
6 sliced green onions
DIRECTIONS
[STEP 1] In a bowl, whisk together soy sauce and next six ingredients. While whisking, add 2 tablespoons of the oil in a thin stream until emulsified. Divide mixture in half.
[STEP 2] Place duck breast fillets in a nonreactive container and pour in half of the marinade mixture. Cover and refrigerate for 2 to 4 hours, turning occasionally.
[STEP 3] Remove breast fillets from marinade. Discard used marinade. Whisk cornstarch-water mixture into reserved marinade.
[STEP 4] Heat remaining 2 tablespoons oil in a large skillet or wok over high heat. Add duck breasts and stir-fry for 2 minutes. Add peppers and cook for 2 minutes. Add snow peas and reserved marinade and bring to a boil.
[STEP 5] When the duck is cooked to desired doneness, use a slotted spoon to remove duck, peppers, and peas and arrange over noodles or warm rice. Continue heating sauce until thickened. Stir in green onions and spoon sauce over duck mixture.