Easy Duck Tacos
This simple recipe is delicious any night of the week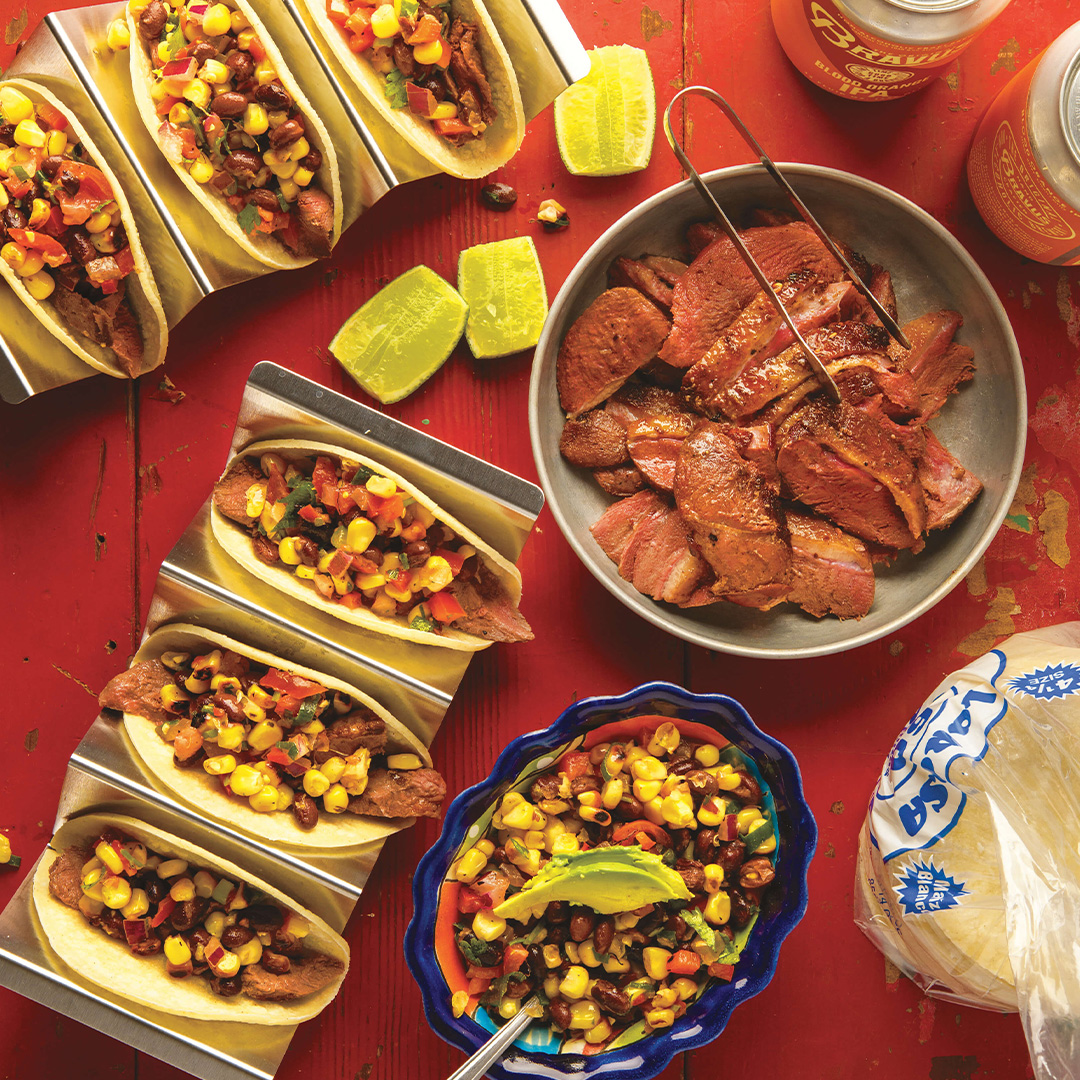 Some people call tacos the perfect food. Maybe that's because the possibilities for what can get stuffed into a tortilla shell are practically infinite. A taco can be plain or it can be dressed up with colorful sauces, cheeses, vegetables, and so much more. Just recently, I had my first cauliflower and avocado taco and it was delicious. Tacos are good anytime—if you haven't tried a chorizo and egg breakfast taco, you're missing out on a great way to start the day.
One of my favorite warm-weather meals to serve to friends is a taco bar. Whether you are a picky eater or like your tacos fully loaded, the taco bar is your oyster. Your guests can choose from a selection of items to load into their tortillas. And when it comes to tortillas, there are corn, flour, gluten-free, and almond-based varieties. My least favorite are the preformed, boxed corn shells. I like the small corn tortillas used for street tacos. Just slap them on a hot grill or skillet until they get a little color. When cooking for a crowd, heat up a pile of tortillas, stack them like pancakes, wrap them in foil, and keep them warm in the oven until it's time to eat.
DUCK TACOS WITH GRILLED CORN AND BLACK BEAN SALSA
Yields: 12 small tacos
This is one of my favorite variations on the taco theme. For best results, brine the duck breast fillets overnight in a mild saltwater solution or commercial brine. Rinse with cold water, pat dry, and marinate before cooking to your desired temperature. Finish the dish with a squeeze of lime over the tacos. It makes all the other flavors come alive.
INGREDIENTS
3 to 4 duck breast fillets, skin on or off
1/4 cup olive oil
1/4 cup soy sauce
2 tablespoons fresh-squeezed lime juice
4 garlic cloves, minced
1/2 teaspoon cumin
Pinch or two cayenne pepper
12 tortillas
2 avocados, peeled, pitted, and sliced
Grilled Corn and Black Bean Salsa
INGREDIENTS
2 ears sweet corn, grilled and cooled
3 tablespoons olive oil 2 15-ounce cans black beans, drained
1 cup seeded and diced tomato
1 bunch finely chopped cilantro
1 small red onion, finely chopped
1 red bell pepper, seeded and chopped
3 garlic cloves, minced 1/4 cup fresh-squeezed lime juice
PREPARATION
In a nonreactive bowl, combine duck breast fillets with the next 6 ingredients. Toss well to coat and refrigerate 4 to 6 hours.
Prepare salsa. Remove the kernels from the corn cobs, and then combine them with all the other salsa ingredients and mix well. Allow to rest at room temperature for 1 hour.
Remove duck breast fillets from the marinade and then grill, roast, or pan-sear to desired doneness. Allow to cool before slicing thinly across the grain of the meat.
To serve, arrange sliced duck in the center of the tortilla and top with salsa, a slice of avocado, and a squeeze of lime juice.