Cooking with Wine
In sauces and marinades, wine brings out the distinctive flavors of wild game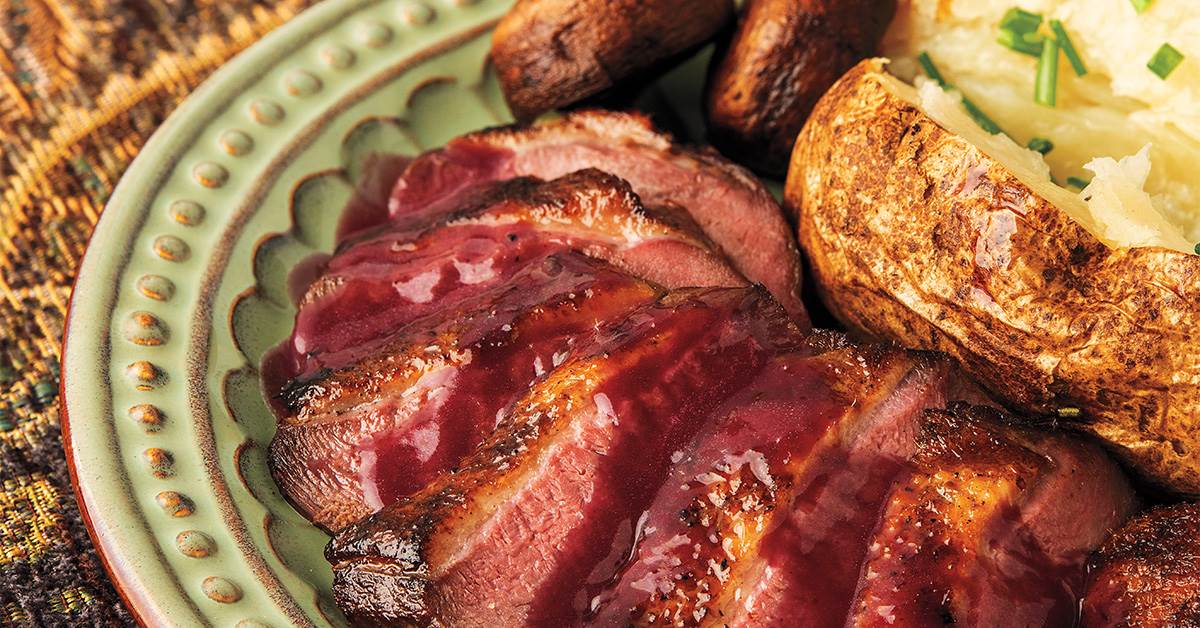 I don't come from a family of wine drinkers. The only wine my parents had on hand was buried in the back of the pantry behind other rarely used bottles of cooking liquids. It was labeled "cooking wine" and was probably purchased for a recipe that called for just a tablespoon. Most cooking wine is fortified with distilled spirits and flavored with salt and sweeteners and has no place in my kitchen. In my opinion, it should never be used as a substitute for real wine in any recipe.
Most of us have heard that you should only cook with a wine that you would drink. I suppose that does make sense, although I'm more particular about the wines I pour into a glass than I am about the wines I cook with. I prefer to use mid-grade wines for cooking and better wines for drinking. Boxed wines or partial bottles of wine that have been open for several days are just fine for making sauces and marinades, but you should avoid wines with added flavors.
Deglazing a hot skillet to loosen bits of flavorful meat is the beginning of a great pan sauce. After browning a duck or goose breast to your desired temperature, remove the meat, add a quarter cup of wine to the hot skillet, stir, and cook to reduce the liquid to just a few tablespoons. Then remove the skillet from the heat and whisk in a few tablespoons of chilled butter and minced fresh rosemary leaves for a simple yet elegant sauce.
When making a wine-based marinade, boil the wine first to evaporate the alcohol and reduce the volume. This will concentrate the acidity and flavor of the wine. For a marinade that enhances, rather than disguises, the flavor of any wild game dish, add two cups of wine to a saucepan and cook until it is reduced to about 1/3 cup, add in minced garlic, olive oil, salt, and pepper to taste, and let it cool.
The mistake I see most often from home cooks is not reducing the wine properly. Reducing the wine eliminates the alcohol taste and intensifies the flavor. If the volume of liquid isn't reduced enough, the sauce will be too thin.
BASIC RED WINE SAUCE
Yields: About 1/2 cup red wine sauce, enough for 4 to 6 servings
This basic red wine sauce is just that—basic. Feel free to experiment with the addition of balsamic vinegar, garlic, or a sprig of fresh rosemary. For additional depth of flavor, coat a saucepan with olive oil and lightly brown the shallots before adding the wine. Or try using equal parts red wine and beef or game broth.
INGREDIENTS
2 cups dry red wine
1 medium shallot, peeled and minced
1/4 cup chilled butter, cut into chunks
Salt and freshly ground black pepper
PREPARATION
1. Add wine and shallots to a medium saucepan over medium-high heat and bring to a boil. Reduce heat to medium and simmer, uncovered, until the liquid is reduced to about 1/4 cup.
2. Remove pan from heat and whisk in butter, a few pieces at a time, until the butter is emulsified and the sauce is smooth. Season to taste with salt and pepper.
A Drizzle Will Do
A wine sauce is the perfect accompaniment for grilled, roasted, or pan-seared game. After cooking a duck or goose breast to the desired temperature, don't drown it with sauce. Just a drizzle or two is plenty.