Are You Game Smoked Goose Breasts
Cooking with the DU president
Enjoy this recipe from DU's 45th president, Doug Schoenrock, and his wife Linda as they dive into their freezer and share some of their favorite wild game recipes.
Smoked Goose or Duck Breasts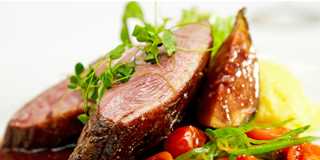 Brine Ingredients
One quart apple cider (Juice is OK too)
1/4 cup of kosher salt or 3 tbs. of canning salt
2 bay leaves - crushed
1 clove of garlic - crushed
1/2 teaspoon Peppercorns - cracked or 1 tbsp ground black pepper
Goose or Duck
1 to 1.5 lb of duck or goose breasts - skinless
Container
Glass is best, plastic (Tupperware) is OK too
Process
Mix all ingredients - making sure the salt dissolves.
Soak duck or goose for at least 2 hours, but 12 hours is best.
After brining, rinse duck or goose and pat dry with paper towels.
Place in 210 - 215 degree smoker - I prefer pecan or alder wood, but hickory or oak work fine as well (they're just a little stronger).
Smoke for 4.5 - 5 hours. Allow to cool a bit, and put into the refrigerator.
Eat
Eat it cold.
Slice thin for Charcuterie with a game sauce like Bronco Bob's Raspberry Chipotle Sauce!
Slice thin for sandwiches with cheese, mustard and mayo.
Lasts a week or so.
---
View and download this recipe in PDF format.
Pair these recipes with various wines from the Grieve Family Winery or Tuck Beckstoffer Estate! DU supporter and WAT trustee David Grieve along with fellow DU supporter Tuck Beckstoffer have joined forces, donating a percentage of their wine sales back to DU.