Are You Game? Duck Poppers
Cooking with the DU president
Enjoy this recipe from DU's 45th president, Doug Schoenrock, and his wife Linda as they dive into their freezer and share some of their favorite wild game recipes. This recipe was taught to Doug by Tom Fulgham.
Duck Poppers a la Fulgham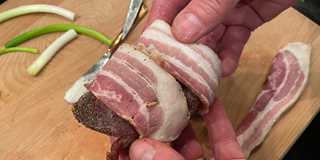 Ingredients
A limit of ducks
Worcestershire sauce
Honey
Tony Chachere's Original Creole Seasoning
Sliced jalapeno pepper: medium or hot
2 packs of thick sliced bacon
Cream cheese
Setup
1. Slice duck breasts into 1/4- to 1/2-inch thick slices and place in a large plastic bowl.
2. Lightly cover the duck pieces with Worcestershire sauce.
3. Sprinkle some Tony's on the duck pieces.
4. Put them in the refrigerator for 1-3 hours.
Preparation Before Cooking
1. Remove duck pieces from refrigerator, cover them in the bowl with honey, and stir with a spoon.
2. Take bacon out of pack and cut the slices in half, take jalapeno peppers out of jar for easy access, and take cream cheese out of package.
3. First take a half slice of bacon and place on cutting board, then put one of the pieces of the duck on one end of the bacon, take a baby spoon dip of cream cheese and one jalapeno pepper and place it on the end with the duck.
4. Take the end of the bacon that the ingredients are on and roll the bacon around it. Use toothpicks to hold the ingredients in place.
On The Grill
1. Place on grill over low heat.
2. Keep a glass of water handy in case the bacon drippings cause the grill to flame up.
3. Turn as needed until bacon is fully cooked.
4. Take off the grill and enjoy.
---
View and download this recipe in PDF format.
Pair these recipes with various wines from the Grieve Family Winery or Tuck Beckstoffer Estate! DU supporter and WAT trustee David Grieve along with fellow DU supporter Tuck Beckstoffer have joined forces, donating a percentage of their wine sales back to DU.