Waterfowler's World: Off-Season Game Plan
Prepare now to make next waterfowl season your best ever

By Bill Buckley
Looking back on my 201920 waterfowl season has convinced me of one thing: to be a better hunter, I've got to take the off-season a lot more seriously. I started out by reviewing last season's hunts and writing down everything I felt contributed to some being better than others. Hunting stale, educated birds on many of my outings really exposed some of my flaws. As expected, it all came down to the basics: scouting and concealment mostly, with a lesser emphasis on decoys, calling, and shooting.
Scouting
Last year's best move was finally buying the onX Hunt App. Using the app and a local phone book, I was able to contact almost everyone whose land was jam-packed with geese. I also rediscovered the power of networking with farmersif you don't know who owns what, any farmer worth his salt can tell you. Lately I've been on Google Earth a lot, checking out agricultural areas off the beaten path to expand my honker-hunting options. I'm also studying the nearby river systems where I hunt ducks, looking for potential hot spots that are hidden at ground level by brush and tree lines.
Concealment
When you're hunting educated birds, concealment is everything. For goose hunting, I often rely on brushed-up layout blinds hidden on field edges. But what struck me last season was how much that restricts my options. I want to be where the geese are feeding, which is often out in the middle of plowed-under fields and grazed-down pastures. Layout blinds are simply too hard to hide in such sparse cover.
I'm tired of passing up bare-dirt fields loaded with geese because I can't see any way to hide my blind. So this year I'm ditching my layout blinds and switching to low-profile head-and-back rests. I'll cover up with a ghillie blanket and hat, which are very effective because they don't reflect light like flat-surfaced fabrics do. Also, this setup won't produce the game-spooking rectangular shapes or shadows you can get when using layout blinds. Online surfing has led to some wonderful products that should enable me to hide just about anywhere.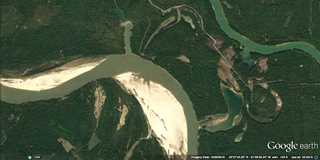 Decoys
Winter in Montana isn't a great time to wash decoys, but I've already separated those needing attention. And to hunt more efficiently, I'm paring down my spread. Experimenting with the carrying capacity of my truck bed, and seeing no need to hunt honkers with more than five dozen decoys, I'll be selling my trailer this year. I'm also overhauling my duck decoys and observing local ducks and geese to see how they're arranged in fields and rivers. I'm paying particular attention to their body positions to fine-tune next season's spreads.
Calling
A friend and I spent our final two hours of this past goose season with guns unloaded, calling in Canadas and experimenting with spread size and decoy placement. It was informative and fun . . . until I watched a few videos he made with a cell phone. I knew I was getting tired of blowing the call at that point, but I sounded so bad I could hardly believe my ears. Now I'm back to practicing year-round while frequently recording my progress. It's helping a lot. So is watching instructional videos from well-known call makers. With so many tutorials out there, there's no excuse for not being at least a respectable caller.
Shooting
Another commitment is to practice shotgunning throughout the year and to experiment with new loads. That means going to the pattern board and paying particular attention to pattern density and where the center of the pattern is hitting. I'd never go big-game hunting without testing loads and sighting in my rifle. Why should waterfowling be any different?
Continuing Education
Finally, I'm spending less time in front of the television and more time on the Internet checking out new gear, learning interesting facts about waterfowl behavior and conservation, and discovering things like new hunting technologies, innovative tactics, duck and goose recipes I haven't triedyou name it. When I think of all the ways I can entertain myself and hone my skills before opening day, there's really no such thing as an "off-season."