Keeping Warm
Today's high-tech clothing makes it easier to endure the rigors of cold-weather waterfowling

-By Wade Bourne
Many non-waterfowlers share the misconception that you have to be cold, wet, and miserable to hunt ducks and geese. That couldn't be further from the truth. With modern outdoor wear, it's easy to stay comfortable in the blind, marsh, or field regardless of weather conditions. Here's how.
Waterfowl hunters must essentially do three things to keep warm: stay dry, block the wind, and control body heat. Staying dry involves wearing outer layers of clothing-such as a hat, parka, and pants-made from 100 percent waterproof and breathable fabrics. These fabrics help keep out external moisture while allowing perspiration molecules to escape through microscopic pores in the material. Preventing moisture from being trapped against your skin will help protect you from rapid heat loss, which can lead to hypothermia.
Parkas and jackets made from these advanced two-way materials are also great at blocking wind, especially when layered with other garments. Wearing multiple layers of lighter clothing is a more effective way to stay warm than wearing just a few heavy layers. Layering also helps you control your body temperature. By adding or removing clothing, you can stay comfortable in all kinds of weather.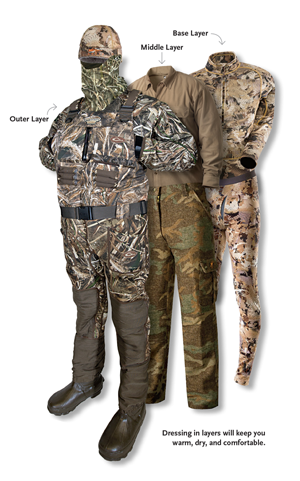 The process of "layering up" begins with underwear and builds outward. I typically wear a set of thin, moisture-wicking long underwear. Next I'll put on a lightweight pullover, followed by a heavy shirt (cotton on cool days, wool on cold days). I am a big fan of heavy, 100 percent wool pants. If it's really cold, I'll don an insulated vest. Over that I'll wear a hooded parka with a removable insulated liner. A pair of neoprene waders rounds out my outerwear.
There are additional measures you can take to stay warm in cold weather. Because body heat tends to escape from your head, neck, and wrists, it's imperative to keep these areas well covered to slow down the process of heat loss.
Waterfowlers can select from a variety of caps, facemasks, and neck gaiters designed to insulate the head and neck. A good pair of hunting gloves with adjustable wrist straps will ensure that your hands stay warm while reducing heat loss at your wrists. You can always either forgo wearing this extra clothing if the weather warms up or remove it if you start to get hot from physical exertion.
Many waterfowlers suffer from cold feet because of a common problem: their boots are too tight. Boots should be roomy enough to allow you to wiggle your toes freely while wearing hunting socks. Tight boots can restrict the circulation in your feet, which keeps the blood from flowing freely to your toes and warming them.
In cold weather, waterfowlers should wear boots that have 600 to 1,000 grams of insulation. I typically wear two different types of socks-a thin pair of liner socks to wick moisture away from my feet and a thick pair of high-quality wool socks. This combination of socks and boot insulation has kept my feet warm and comfortable in below-zero temperatures.
There are a number of other state-of-the-art accessories to help hunters stay warm, including electric gloves and socks, battery-heated boot insoles, chemical hand and body warmers, and more. The list keeps growing every year as manufacturers continue to invent new products to make braving the elements more comfortable for outdoor enthusiasts. Bear in mind, however, that all this outerwear protection won't do you much good if you don't keep your body's internal furnace stoked. A hearty breakfast, snacks in the blind, and a thermos of soup or hot chocolate will warm your body and soul at the same time.