Winchester's 150th Anniversary
Celebrating tradition, innovation and a commitment to waterfowl hunters

By John Pollmann
Tradition and innovation, by definition, own little in common, but in the world of duck and goose hunting the two have close ties.
The traditions of waterfowl hunting are found in a cup of coffee poured after the last decoy is set, a duck call given to a young hunter on a first morning in the marsh and in a favorite, weathered blind erected long ago on a grassy point, where flocks of canvasbacks and bluebills have been tolled year after year.
The need for innovation is found in those same places, as the harsh conditions which waterfowl hunters often endure requires gear that can handle the cold, wet, and mud and provide consistent results season after season.
Fittingly, tradition and innovation have come to define the Winchester brand, a company associated with some of the most revered ammunition and firearm products ever introduced into the world of waterfowl hunting. This year marks the 150th anniversary of the Winchester brand, and the following is a look back at how the legendary manufacturer has built a rich heritage of providing innovative solutions to match the needs of waterfowl hunters.
Winchester Shotguns
When Oliver F. Winchester established the Winchester Repeating Arms Company in 1866, rifles were a main focus, but it wasn't long before waterfowl hunters began using shotguns which wore the Winchester brand.
In 1887, Winchester released the Model 1887 lever-action shotgun, designed by John Browning, which resembled the lever-action rifles that had helped turn the company into leading firearms manufacturer. Production of the 1887 was limited to 10 and 12 gauge guns that only used black-powder shells, and in 1893, Winchester began loading sporting cartridges with smokeless powder, bringing a close to the Model 1887 era. Its replacement, however, would become one of the most popular shotguns ever assembled.
Winchester Model 1897

With the introduction of the Model 1897 pump-action shotgun just a decade later, Winchester had a rugged and reliable firearm that could handle the demands of smokeless powder, which was growing in popularity with hunters. Also designed by John Browning, the Model 1897 featured an outside hammer - the last of its kind from Winchester - and waterfowl hunters valued the gun because of its quick follow-up shots on birds escaping from the decoys. The 1897 became the most popular outside hammer, pump-action gun in history, with some models of the gun still manufactured as late as 1939.
Over the course of the next century, continuing advancements in shotgun design and manufacturing would result in an impressive output of shotguns, ranging from the masterful Model 21 - a Depression-era side-by-side that was described as "the strongest, most rugged and most trouble-free double ever made" - to the line of Super X semi-automatic shotguns, culminating with the Super X3 introduced in 2006. With the introduction of the WinChoke in 1969, Winchester also launched one of the first interchangeable choke tube systems on a factory shotgun.
Winchester Model 21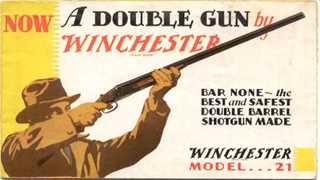 Few guns have spent as many days in the field with waterfowl hunters, however, as Winchester's iconic Model 12, which is widely considered to be one of the most popular and respected pump-action shotguns of all time.
Winchester Model 12

The Model 12 enjoyed a spectacular production run from 1912 to 1964, with more than 2 million guns milled and machined from solid nickel steel, including the "Heavy Duck" model chambered to handle the 3-inch shells popular with waterfowl hunters. In 1975, a special-designed, commemorative edition Model 12 was made for Ducks Unlimited, and the sales of the limited-run of 800 guns was used to help fund wetlands conservation efforts.
Winchester Ammunition
Duck and goose hunters along the Atlantic Seaboard in the 1880's were among the first to use Winchester shot shells, and a commitment to innovation has kept waterfowl hunters reaching for Winchester ammunition ever since.
Among the nearly 2,000 registered Winchester patents are those related to shot shell advancements, as the company worked tirelessly to produce a shell that met the demands faced by waterfowl hunters in the field. This commitment reached a new level when John Olin and the Western Cartridge Company acquired the Winchester brand in 1931, bringing with him an experimental 3-inch shotgun shell, which would become known as the Super-X.
Introduced in 1921, the Super-X Maximum load was 1 3/8 ounces of chilled shot propelled at a high velocity only made possible with the advancement of progressive burning powder. Waterfowl hunters valued the shell for its consistent success on birds at variety of ranges - particularly those that have seen a decoy spread or two.
"Wise old ducks and geese, joy-riding outside the range of ordinary loads," read a promotional poster for the Super-X, "are no longer safe."
The improvements made with the Super-X shotshell led to further developments in powders, primers, shot and hulls in Winchester's line of waterfowl ammunition, and a direct link between this game-changing shell can be found to loads used by today's duck and goose hunters, including Xpert Hi-Velocity and Drylok shells.
In 2011, Winchester introduced the most revolutionary waterfowl shotshell in company history with Blind Side ammunition, specially designed to deliver deadly HEX Shot at high velocities. As one of the most technology-driven products offered by Winchester, Blind Side demonstrates a steadfast commitment to innovation in the face of the challenges faced by modern waterfowl hunters.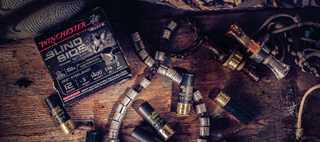 Legendary Figures
The list of iconic figures associated with the Winchester brand is long and impressive, including Buffalo Bill, Annie Oakley, Ernest Hemingway and Theodore Roosevelt, who famously used his Winchester firearms from the prairie of western North Dakota to the plains of Africa.
There are waterfowl hunters among the ranks as well, perhaps none more legendary than outdoor writer and conservationist Nash Buckingham.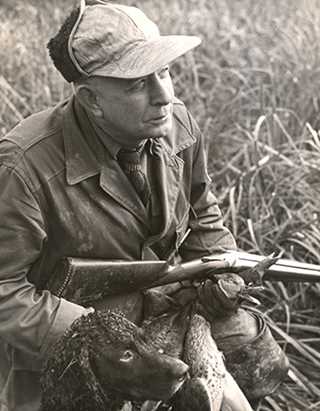 In the early 1920's, John Olin enlisted the help of Buckingham, to field test the new 3-inch Super-X shotshell through a custom-made 12-gauge magnum shotgun. Buckingham became so enamored with the performance of the gun and the load while hunting ducks that he commissioned a similar gun to be built. That gun - Bo Whoop - now resides at Ducks Unlimited's national headquarters in Memphis, Tennessee.
Yet, it is the image of a black Labrador retriever that appears on the commemorative packaging of boxes of waterfowl shotshells this fall. The dog is none other than King Buck.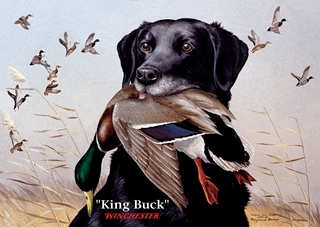 Bred and trained at John Olin's NILO Farms and Kennels in Illinois, King Buck's performance as a retrieving champion made him a legend, and a painting of this dog - proud and white-muzzled holding a greenhead in his mouth - firmly etched the Labrador into the collective history of waterfowl hunting.
This painting, completed by Iowa artist Maynard Reece, was selected to appear on the 1959 Federal Duck Stamp - the first and only time a dog has appeared on the "duck stamp" - and it will appear on the 150th Anniversary commemorative packaging of Winchester ammunition in recognition of King Buck's legendary performance.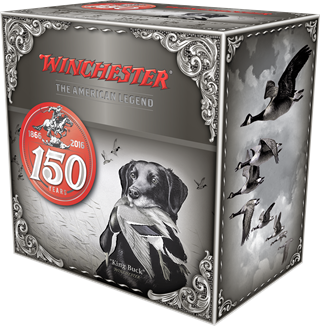 Conservation
Actively supporting the conservation of ducks and geese and their vital habitats was a role accepted by the Winchester brand early in the company's history, as dwindling populations of waterfowl greeted hunters at the onset of the 20th century.
In 1911, Winchester led a group of firearm companies to fund efforts to preserve and restore wild game populations, resulting in the creation of what would one day become the Wildlife Management Institute, now a valued partner with Ducks Unlimited.
John Olin channeled his philosophy that "there's a better way to do anything, if you will put your mind to work," into the Winchester brand as well as his commitment to conservation. Olin was an early supporter of a fledgling organization known as the Game Conservation Society, which was incorporated into More Game Birds in America. This group, which looked to manage vital habitat on a continental scale, would eventually become Ducks Unlimited.
Over the past 20 years, Winchester has maintained a vital partnership with Ducks Unlimited, working closely with the world's leader in wetlands conservation to fund and develop projects that will help ensure the future of waterfowl and waterfowl habitat. This fall, duck and goose hunters will once again find the DU logo on boxes of their favorite Winchester ammunition.
The Next 150 Years
Innovation has helped turn the Winchester brand into one that millions of waterfowl hunters turn to each year, and the company remains focused on developing technology-driven products that have true benefits for its customers.
So while no crystal ball can predict just what products will be available to future generations of hunters, one thing is for sure: Winchester will continue to build on its tradition of introducing firearms and ammunition that take an innovative approach to providing legendary results for those who take to the fields and marshes each fall.