Waterfowling Gear for Women
A buyer's guide for female duck and goose hunters
By Mallori Murphey
The hunting industry is experiencing a cultural shift due to the growing population of hunters who just so happen not to have a Y chromosome. For decades, girls have suited up in their older brothers hand-me-down camouflage with the sleeves rolled up, the pants cinched with a belt, and base layers that clung tightly and hung low in all the wrong places. The good news is that manufacturers are offering female waterfowl hunters more options than ever before to head out into the field with the right gear.
As an avid hunter, I have spent my entire life trying to find hunting equipment that is made for women. Within the past few years, the industry has made dramatic strides in this arena. The following are products that I find beneficial in the field, from the boat to the blind and beyond.
Authors Note: I dont wear pink.
LaCrosse Hail Call Waders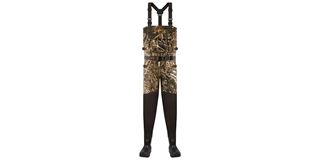 Find out where the wild things are in these waders. They are insulated and breathable, providing protection and warmth without the weight of traditional neoprene waders. You have the option to be covered or uncovered, since the waders are fitted with a convertible upper that allows you to wear them as pant waders, if need be. LaCrosses Hail Call waders also offer a variety of adjustments, so there wont be any problems finding the perfect custom fit. lacrossefootwear.com
L.L. Bean Womens Waterfowl Sweater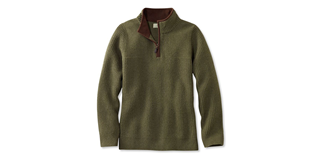 L.L. Beans Waterfowl Sweater was inspired by the classic styling of the companys first waterfowl sweater, launched in the 1930s. Now, Bean offers a womens version of this longtime favorite. The Womens Waterfowl Sweater offers everyday comfort and a classic outdoors look. Water-repellent Merino lambswool offers reliable protection and durability in raw, wet conditions. And differential side knits provide a slimming look for a more flattering shape. llbean.com
Drake Waterfowl MST Ladies Eqwader Plus 1/4 Zip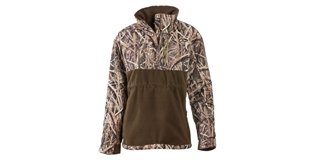 Drake Waterfowl, the official apparel partner of Ducks Unlimited, revolutionized what waterfowl hunters wear with the introduction of their patented Eqwader technology, and this clothing line has been a core component of the Drake brand ever since. The Ladies Eqwader Plus 1/4 Zip is made for cold, hostile conditions above the waders, and warm, humid conditions underneath the waders. The combination of waterproof, breathable fabric on the sleeves and upper body paired with ultra-breathable fleece on the lower body introduced a whole new level of comfort and performance when wearing chest waders. There are cinch cords mid-chest and at the waist for the perfect fit, no matter your body type. drakewaterfowl.com
Sitka Womens Hudson Jacket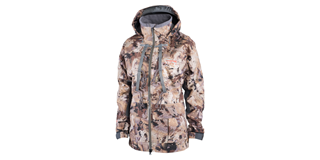 The Womens Hudson Jacket is constructed for maximum exposure to cold, wet conditions while providing mobility for anything that comes your way. This is a feature-rich outerwear piece that includes triple-layer Gore-Tex Fabric with Stretch Technology that ensures comfort and warmth throughout the hunt, no matter how extreme the weather gets. sitkagear.com
LaCrosse Womens Grange Chelsea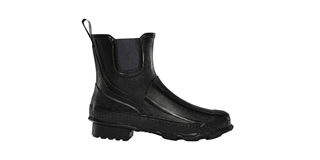 Classic rubber boots never go out of style. When knee-high boots arent required, protect your feet from mud and muck with the LaCrosse Grange Chelsea boot. This slip-on style of the original Grange features side stretch panels, making the Chelsea easy on, easy off, and comfortable for bumming around duck camp. lacrossefootwear.com
YETI Daytrip Lunch Bag
One of YETIs newest products is a must-have for a day in the field or at the office. The Daytrip Lunch Bag features hours of insulation to keep food fresh and drinks at the right temperature whether youre in the blind, a tree stand, or your desk at work. When youre finished, this fold-and-go lunch bag is easily packable. yeti.com
Drake Waterfowl MST Ladies Refuge Bonded Fleece Pants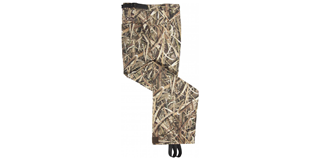 Drakes state-of-the-art Ladies Refuge Bonded Fleece Pants can make your days more comfortable whether you are wading in broken ice or lounging in a field blind. These pants are 100 percent waterproof, windproof, breathable, and lined with 280-gram fleece. The relaxed-jean cut with built-in ankle garters make them an ideal solution if youre looking for wader or field pants. drakewaterfowl.com
Drake Waterfowl Ladies LST Refuge Insulated Bib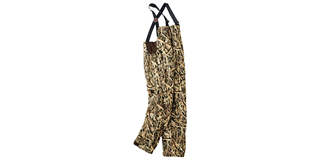 The Ladies LST Refuge Insulated Bibs help in the fight against cold, wet days afield. Designed based on years of waterfowl hunting experience, these bibs feature fleece-lined handwarmer pockets positioned on the inside to take full advantage of your bodys heat, full-length zippers on the side so you can remove those muddy, wet bibs without having to take off your boots, and a call separator for easy access to your duck or goose calls. drakewaterfowl.com
Sitka Womens Dakota Vest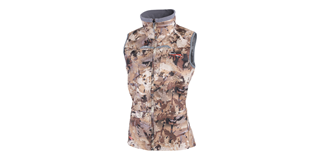 A cornerstone of the new 13-piece Womens Waterfowl System from Sitka, the Dakota Vest is ideal for any waterfowling scenario. This vest is versatile enough to be worn as an outer layer on moderately cold days, or as an inner layer for extra defense against bitter-cold temperatures. Built with Three-Layer Gore-Tex Infinium with Windstopper Technology, this vest fights off whatever weather comes at you without compromising mobility. sitkagear.com
Sitka Womens Fahrenheit Jacket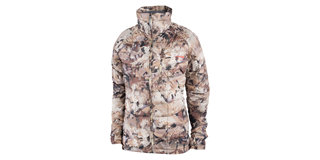 Sitkas Fahrenheit Jacket is one of the most versatile pieces out there for female waterfowlers. The Fahrenheit Jacket is equipped with Gore-Tex Infinium with Windstopper Technology for shielding you from the harshest winds. This mid-layer contains PrimaLoft insulation, down blend in the torso, and fully synthetic insulation in the forearms, creating a zero-barrier for water when picking up decoys. Enjoy a full range of motion with no limitations. sitkagear.com
First Lite Womens Kiln Hoody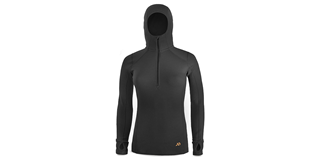 First Lite sets the standard for base layers and the Womens Kiln Hoody lives up to those expectations. With its 250-gram Merino-X fabric, it can be worn as a base or mid-layer while keeping you odor-free. Any serious female hunter should look to this versatile hoody as a starting point for protection against the elements. firstlite.com
First Lite Womens Kiln Long Jane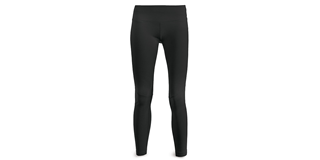 The yin to the Kiln Hoodys yang, the Womens Long Jane is the ideal base-layer bottom to wear during any hunting excursion. From October whitetails to January mallards, this versatile member of the First Lite system will not disappoint. Featuring 18.5-micron, 250-gram Merino-X fabric, you can venture afield confident that your base layers will keep you warm. firstlite.com
First Lite Womens Sanctuary Insulated Jacket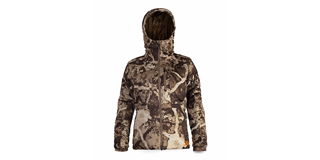 I work for the ducks, but I live for the deer. And this jacket is perfect for both my passions. The Womens Sanctuary Insulated Jacket was designed as the ultimate jacket for those bone-chilling days high in a tree stand. First Lites muted Cipher camouflage makes this jacket versatile for a variety of hunting scenarios. I have found that it also works great for those days in a layout blind waiting for ducks and geese to decoy. This innovative jacket is completely silent while still blocking the wind and ensuring warmth. It hugs a womans curves in all the right ways with its tailored draw-cord waist that locks in heat without compromising mobility. First Lites proprietary Shooters Cut sleeve keeps the jacket out of the way of your bow, rifle, or shotgun. And its 3D Turret Hood design locks in heat without limiting your field of vision. This jacket is the all-in-one outer layer youve been searching for. firstlite.com
Filson Womens 3-Layer Field Jacket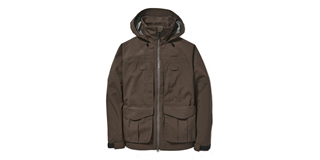 Filson touts its 3-Layer Field Jacket as being built for the upland hunter. I have found that it works great for those days of rain, sleet, or snow in the flooded timber as well. The rugged nylon exterior resists punctures and tears from branches and briars. Pit zips, shell pockets, and attachment points for calls and transmitters provide convenience. It is tailored to provide a full range of motion when raising and swinging a shotgun. Go hunting in style with this classic look from Filson. filson.com
Filson Womens Bell Island Insulated Vest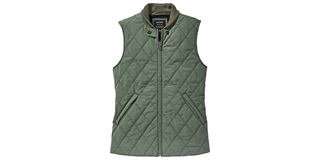 A warm, low-profile vest is perfect for those mixed-weather days. Great as a layering piece or worn on its own Filsons Womens Bell Island Insulated Vest features handwarmer pockets and a standing rib-knit collar. This vest is perfect for duck camp or around town while never sacrificing style. filson.com
Artisans Script Print Applique DU Camo Mallard Crew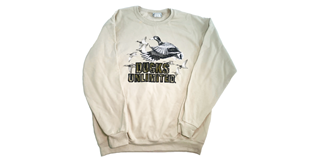 Support wetlands conservation with this throwback look from Ducks Unlimiteds official apparel licensee, Artisans. This crewneck sweatshirt is a cotton-polyester blend for guaranteed comfort on cooler days at the camp house. ducksunlimitedstore.org
Frogg Toggs Womens Pilot Guide Jacket and Pants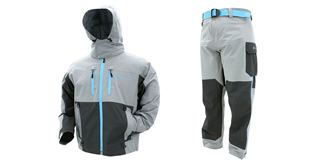 Waterfowl season actually starts during the offseason. There is much work to be done during the scorching summer months. Never let rainy days, mud, or muck slow you down with the Womens Pilot Guide Waterproof Jacket and Pants from Frogg Toggs. The fully taped and sealed seams, along with splash-resistant zippers, keep water out, while DriPore fabric technology ensures breathability. The outer layer is Teflon-coated for added protection from wearing out. The inner layer is made with soft, smooth microtextured tricot fabric that reduces skin contact for a light, cool wearing experience. froggtoggs.com
LaCrosse Womens Merino Midweight Sock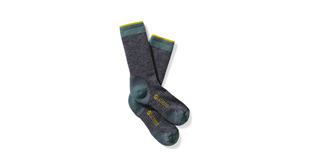 A best friend for your LaCrosse boots, the Womens Merino Midweight Sock is made with premium moisture-wicking material that allows for maximum breathability to keep your feet drier and more comfortable in any situation. They are also designed with arch support to help reduce fatigue so you can go farther. lacrossefootwear.com
MTN OPS Ignite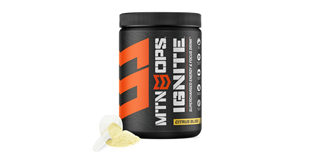 Ignite gives me the energy boost I need to last me all day. It raises the bar for all energy drinks. With its blends of amino acids, L-Citrulline and L-Arginine, and MTN OPS Brain Blend of nootropics to improve cognitive function, Ignite delivers smooth, long-lasting, jitter-free, and great-tasting energy and focus. mtnops.com
LaCrosse Estuary Waders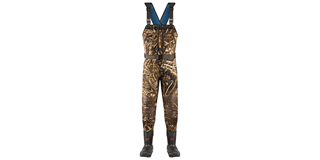 Durable, heavy-duty waders for frigid mornings, LaCrosses Estuary Waders are ready for whatever Mother Nature sends your way. Since neoprene is naturally insulating and waterproof, it is perfect for the marsh. It also stretches to conform to your body. These waders feature LaCrosses Brush Tuff material, a unique combination of spandex and Lycra that is layered over neoprene for added durability. An adjustable chest gusset and sturdy X-back straps also help to ensure a proper fit and overall comfort. lacrossefootwear.com
MTN OPS Eva Shockey Signature Series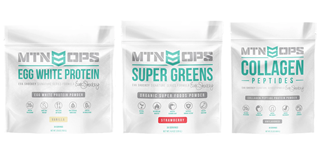 Another great lineup of products from MTN OPS is Eva Shockeys Signature Series. These dietary supplements were created for the female hunter or just everyday woman who wants to Conquer More. Eva worked closely with MTN OPS to develop products that she would not only be proud of but also knew would improve the lives of other women and mothers like her. Her full line includes Collagen Peptides, Egg White Protein, and Super Greens. Learn more about these supplements at mtnops.com.
Carolina Hosiery Ducks Unlimited Merino Wool Socks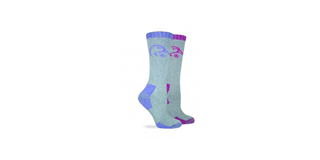 Keep your feet comfortable while supporting wetlands conservation with Ducks Unlimited Official Licensed Products from Carolina Hosiery. A variety of styles of Merino wool socks are available for whatever life throws at you. carolinahosiery.com
YETI LoadOut GoBox 30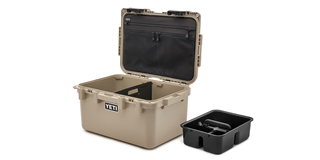 YETI knows that protecting your gear is non-negotiable. The LoadOut GoBox 30 is built to be indestructible and is designed for all the abuse that comes in the truck, the boat, and the blind. This versatile offering from YETI is 100 percent waterproof and features nonslip feet and multiple internal sorting compartments, making it a must-have for not only waterfowlers but all outdoor enthusiasts. yeti.com
YETI Camino Carryall 35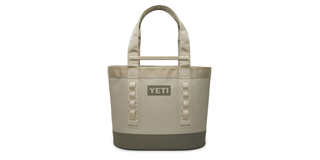 We ladies love our totes. And, the Camino Carryall is the rugged, all-purpose bag that every outdoorswoman needs. Made from the same durable, waterproof material that YETI customers trust, this do-it-all bag will keep your boots, waders, clothing, and accessories dry and protected from the mud and muck. yeti.com
YETI Rambler 26-Ounce Bottle with Chug Cap
The Rambler 26-Ounce Bottle is the perfect addition to your blind bag or tote. From piping-hot coffee or cocoa on those below-freezing mornings to ice-cold water on scorching Indian Summer days of fall, the Rambler can do it all. It comes packaged with the TripleHaul Cap, but I personally outfit it with the Chug Cap, which ensures that taking a sip doesnt slow you down. (Note: The Chug Cap is not intended for hot beverages.) The Rambler is shatter resistant and dishwasher safe, like the rest of YETIs great accessories. Its the ultimate go-to drinkware for your next adventure. yeti.com
Syren XLR5 Waterfowler

Syren is the first worldwide brand of firearms designed specifically for women. This Italian-made semiautomatic exceeds the expectations of the modern huntress. Syren utilized its expertise in womens stock dimensions to create a shotgun that fits better than a standard mens or youth model. The stock is designed specifically to fit the female anatomy. Weighing in at 7 pounds and 1 ounce, its a breeze to tote between the boat and the blind. Fabarms proven Tribore HP barrel designa multistep tapered bore that allows for reduced recoil and improved pattern performanceensures that you get the most out of every shot. And, the stainless-steel Pulse Piston gas operating system takes the punishment out of modern high-performance waterfowl ammunition by bleeding off pressure as the gun cycles. The Waterfowler looks good and feels good with Realtree MAX-5 camo and a soft-touch finish. This gun is available in 12-gauge with a 28-inch barrel chambered for 3-inch shells. It also comes with a stock shim system to customize the fit to suit your needs. syrenusa.com
Winchester Blind Side 12-Gauge Shotshells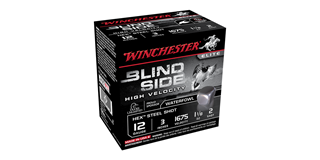 Winchester, the official ammunition partner of Ducks Unlimited, perfectly paired its Diamond Cut Wads and Hex Steel Shot technology to make these waterfowl loads some of the deadliest on the market. The steel pellets travel up to 1,675 fps and can handle waterfowl at any effective range. These shotshells are available in 12- and 20-gauge and in 2 3/4-, 3-, and 3 1/2-inch loads. winchester.com
Kent Bismuth 20-Gauge Waterfowl Loads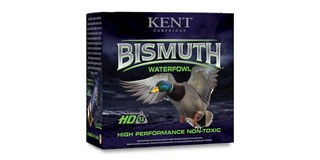 Kent Cartridge manufactures premium Bismuth loads for all species of waterfowl. Best of all, bismuth pellets wont damage your barrels and is safe in any choke, so you can use it with confidence, even in your granddaddys shotgun. Use this premium ammunition in any conditions, no matter how demanding or grueling. A special blend of powders burns clean, delivering consistent performance. The 20-gauge loads have a velocity of 1,400 fps and are available in size 3 and 4 shot. kentcartridge.com