The Next Generation of Polaris UTVs
The author breaks down his experience with the new Polaris Ranger XP Kinetic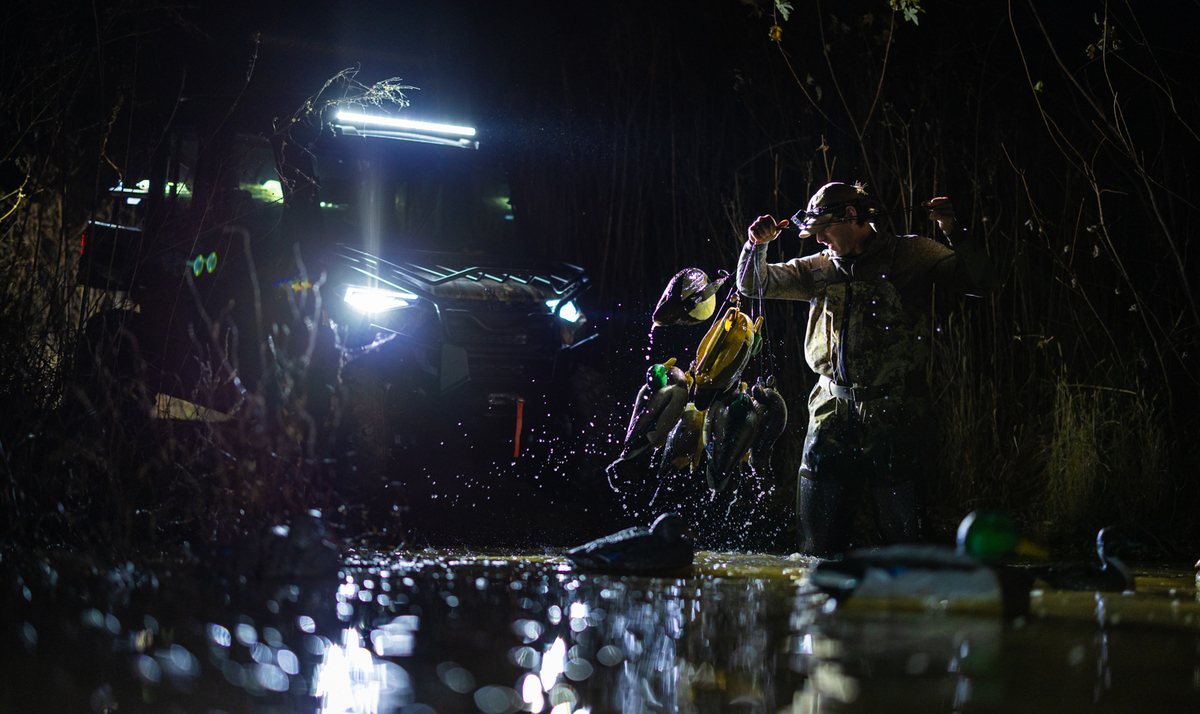 During the 2022 waterfowl season, a handful of outdoor communicators gathered at Habitat Flats in north-central Missouri for a couple days of duck hunting, and the opportunity to drive Polaris's lineup of new utility task vehicles (UTV).
Besides the outstanding hunting and hospitality Habitat Flats is known for, the terrain in the region is ideal for putting side-by-side vehicles through their paces, and experiencing firsthand the impressive capabilities of Polaris Ranger XPs, including the electric Ranger XP Kinetic.
The first morning I loaded my gear into the bed of a Ranger and rode to the duck blind with Habitat Flats co-owner Tony Vandemore and his black Lab, Ki, who sat between us, stoically alternating between leaning on me and his owner. Clearly, this was something that he had done countless times before. Even if we didn't see a duck, I felt like our efforts were well spent giving the old boy his morning ride.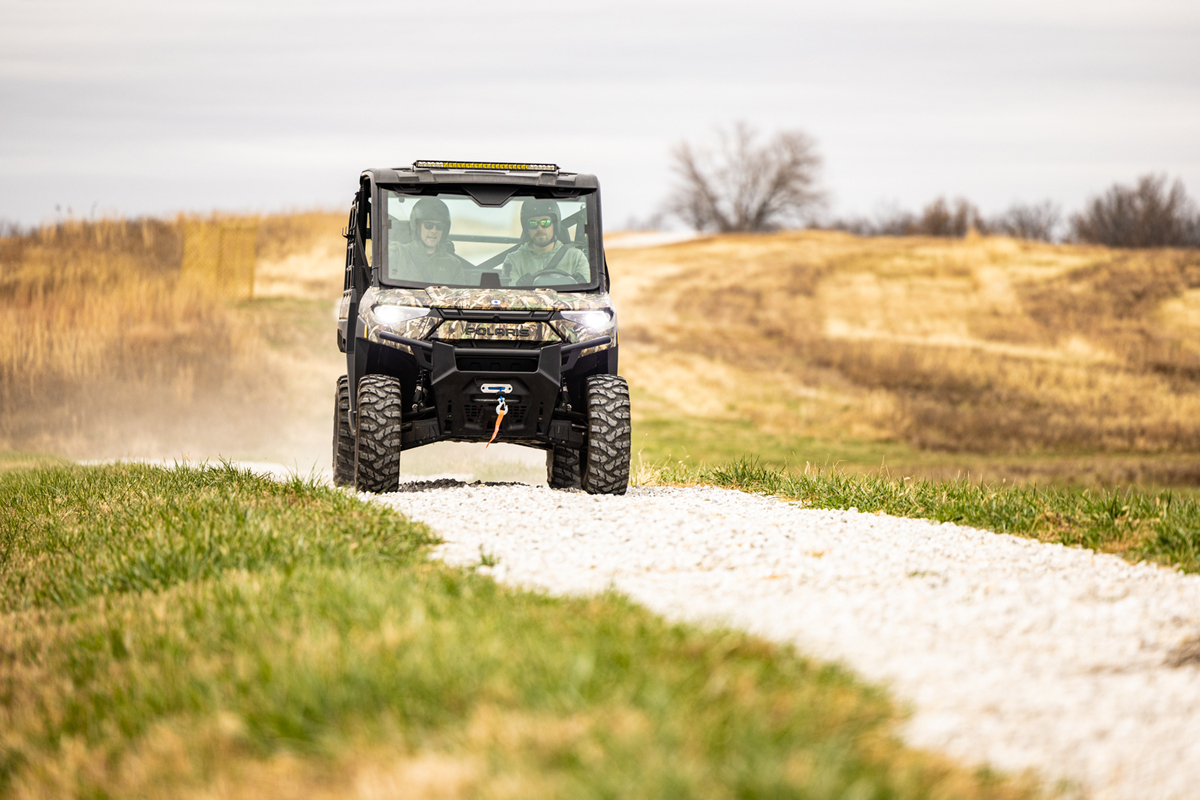 The UTVs in Habitat Flats' fleet of Polaris side-by-sides range from basic models to the tricked-out Northstar Edition, featuring a dash display far more advanced than what I have in my decade-old Suburban.
"Every time I drive one of these, I'm amazed. It's hard to imagine doing any of this without them," Vandemore explained. "We're on pavement and driving at normal speed comfortably, but in a minute we'll drop into the bottom. Some of the lanes are really rough. Trucks have a hard time with the ruts and mud, and it would absolutely destroy any full-size vehicle if you had to do it all season."
Heading out of the lodge, a convoy of Rangers moved with ease across the uneven terrain and one by one turned off the main lane onto glorified game trails leading to designated blinds. "Think about how difficult it would be to carry all this gear into these spots. I know I don't want to do it," Vandemore added.
I had to take about 20 steps to get from the Ranger to my seat in the blind. After decades of enduring logistical nightmares, all for a crack at a few ducks, I must admit I was somewhat shocked at how streamlined and comfortable the entire process was.
Duck hunting doesn't get much better than what we experienced on that hot windless morning, and we made the best of our chances before heading to the bird picking house and eventually the lodge, which was a trip of about five miles. Vandemore and I chatted about the Ranger XP Kinetic. The first things I noticed were the torque and quickness, but perhaps more important to the average hunter, the Kinetic is near silent and free of the scent of exhaust. That allows you to come and go from the hunting area without being detected, whether you're pursuing turkeys, waterfowl, deer, or elk.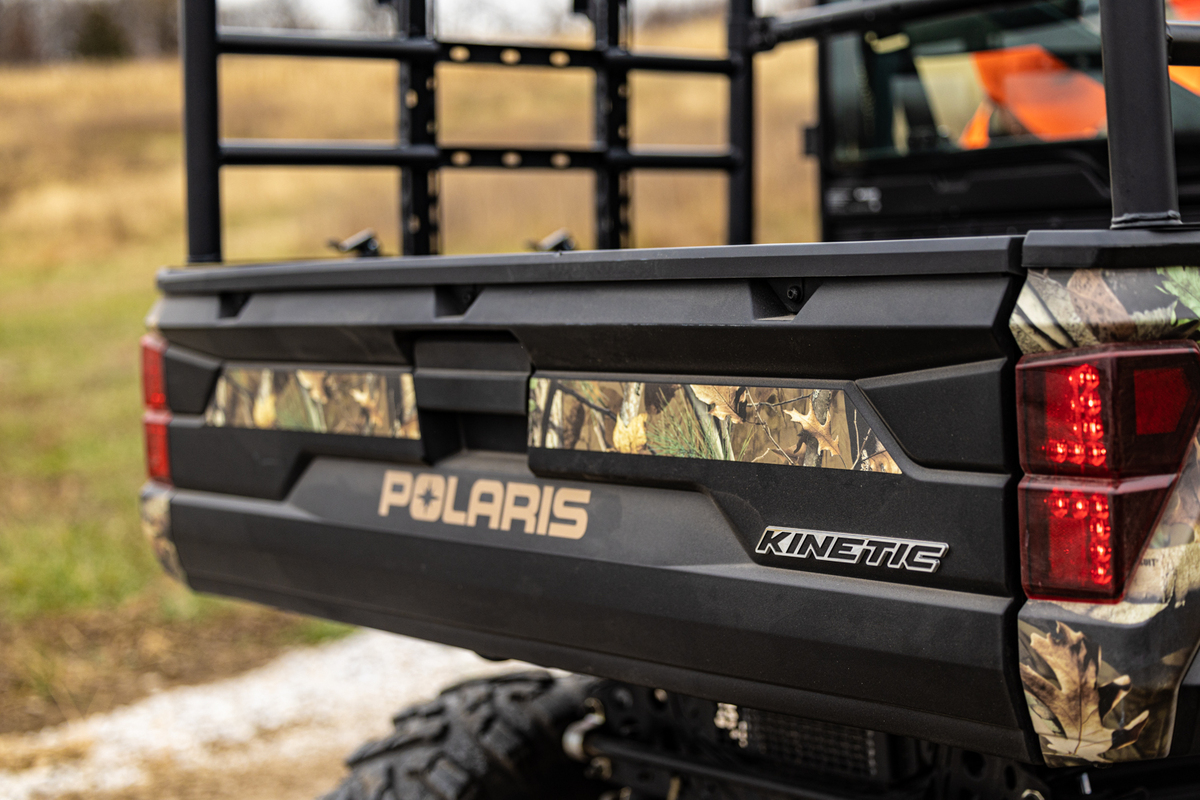 The Kinetic may be nearly identical to a standard Ranger, but it is powered by one or two batteries, depending on the model. The Ultimate model sports a 29.8kWh battery capacity, which is good for an estimated 80 miles of range on a single charge. Battery range always comes up when discussing EVs around the campfire. Polaris did their homework, and frankly, range is a non-issue with the Kinetic. And the Ranger XP Kinetic is capable of reaching full charge from zero percent in as quickly as five hours, using the Level 1/Level 2 charge cord, which can be plugged into a 120V or 240V outlet.
The Kinetic sports 140-pound-feet of torque with a 110-horsepower electric motor. It also comes with three user-selectable drive modes, including Eco+ for conserving juice, Standard mode for normal use, and Sport mode for those moments when you need maximum output. To be perfectly honest, the acceleration and speed are astonishing.
The suspension configuration, interior, and dash, as well as an abundance of other options, are the same as you'll find in the rest of the UTVs in the Ranger lineup. The 1,250-pound capacity cargo box came in very handy when loaded to the hilt with hunting gear and straps of ducks. I also noted several of the Habitat Flats Rangers were equipped with accessory racks, including the Lock & Ride CargoMax System, providing additional cargo space and a host of other options to maximize their usefulness.
In this writer's opinion, the Polaris Ranger XP Kinetic truly represents the future of UTVs, with off-road capability, durability, and an estimated 70 percent savings in maintenance costs. And, as the property managers and guides at Habitat Flats prove year-round, Rangers will help you take waterfowl hunting to another level.