New gear for your four-legged companion is exciting this year with kennels, collars and even new food.
---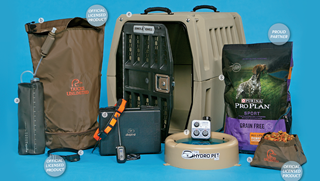 a. HydraPak Trek Kit
Keep your retriever hydrated during training or hunting outings with the Hydrapak Trek Kit, which stores and delivers 100 ounces of water on the go. This collapsible water-storage pack features HydraPak's innovative dispensing system, complete with a drink tube, squeeze bulb, and pressure-activated valve.
b. Mud River Magnum Hoss Food Storage Bag
This handy bag from Mud River can hold up to 30 pounds of dry dog food. It features a water-resistant laminate shell, a roll-and-buckle closure, and a separate zip-up compartment at the base for holding food and water bowls.
c. SportDOG NoBark SBC-R Collar
The new SportDOG electronic training collar is designed to effectively stop barking. The NoBark SBC-R collar features three training modes and 10 different levels of static stimulation that allow you to dial in the precise amount of correction necessary for your retriever. The collar, which is waterproof and submersible to 10 feet, runs on a rechargeable lithium-ion battery that charges in two hours and lasts 200 hours per charge. As an official DU licensee, SportDOG donates a portion of the proceeds from the sale of this product to support DU's conservation programs.
d. Dogtra Pathfinder High-Response Tracking and Training System
Dogtra's new Pathfinder is a fully waterproof e-collar with GPS technology that allows you to track and train your retriever via your smartphone. Just download the free app and pair your phone with the collar and GPS tracking system. The Pathfinder, which features live-action mapping, tracking, and e-collar functions, has a nine-mile range. Track up to 21 dogs and hunters with this state-of-the-art technology.
e. Gunner Kennels G1 Large Kennel
This premium dog crate from Gunner Kennels features a sturdy, double-wall roto-molded design that's capable of withstanding up to 4,000 pounds of force. Engineered for your dog's protection and comfort, the G1 Large Kennel also includes secure tie-down pins, inline rear wheels, a paddle latch lock, strong carrying handles, and more.
f. HydroPet Automatic Water Bowl
Designed for outdoor use, this water bowl easily connects to a garden hose or sprinkler system to provide a continuous supply of fresh drinking water for your retriever. Three spray nozzles help expel dirty water from the bowl as it fills.
g. Purina Pro Plan SPORT Performance 30/20 Grain Free Formula
New from the Purina Pro Plan SPORT line of performance dog foods is this grain-free formula, which offers concentrated nutrition for increased endurance and performance in the field. Containing 30 percent protein and 20 percent fat, this dry food will help fuel your retriever's metabolic needs while allowing him to maintain lean muscle mass. Purina Pro Plan is the official performance dog food partner of Ducks Unlimited, and your purchase of these products helps support DU's conservation mission.
h. Mud River Renegade Collapsible Travel Bowl
This collapsible travel bowl from Mud River rolls up to fit conveniently into any blind bag. It's leakproof, so it can hold waterand lots of it. The Renegade's 12-cup capacity will help you keep your retriever well hydrated in the field. It's also a great food bowl.