November 2016 Gear Guide
Don't just pack a blind bag, pack the right blind bag for you

Every blind bag offers unique benefits, but finding the perfect blind bag can be difficult. The following recommendations may help you choose a bag that suits your hunting style and improves your ability to pack essential items for any situation.
Avery® Finisher Blind Bag
Avery's Finisher Blind Bag is an ideal carry-all bag for any hunting scenario. Built with a rugged DuraMax™ exterior - a heavy-duty polyester fabric with a urethane backing - and made with tons of hunter-friendly pockets. Regular compartments include an expandable front pocket, two side pockets and a generous main compartment with an Easy-Grip™ zipper pull. 12"H x 8"W x 9"D.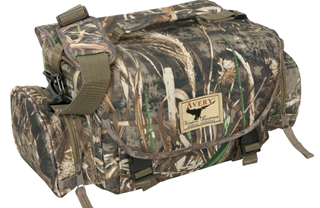 Drake Waterfowl Double-Banded Blind Bag
Carry all your must-have waterfowl-hunting gear with the Drake Waterfowl Systems Double-Banded Blind Bag. Rugged, waterproof HD2™ construction with seam-welded vinyl interior lining and organizational lining stands up to the harshest elements and abuse. The molded-rubber Swamp-Sole™ hard bottom protects against mud and standing water. Open the lid and an LED cargo light turns on, showing you the bag's contents, even before dawn. All four walls boast multiple mesh and vinyl pockets to stash essentials. 11"H x 18"W x 10"D.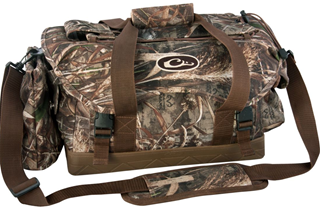 http://www.drakewaterfowl.com/
Sitka's Timber Backpack
Sitka's new Timber Pack clings to tree trunks to keep your gear (even your gun) safely above the waterline. Unzipped, the large main compartment hangs open, exposing multiple zippered mesh pockets to keep gear and essentials organized. The welded rubber bottom keeps your gear dry in the bottom of the boat.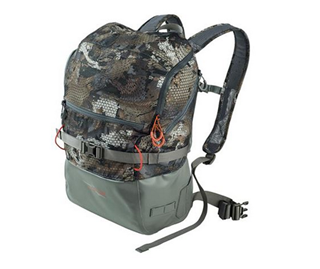 Drake Waterfowl Swamp Sole Backpack
Drake Waterfowl's Swamp Sole Backpack specializes in having the capacity to haul your ghear and being built to withstand the marsh. The Swamp Sole molded-plastic base keeps water and muck out, protecting your gear. The bag features zip-secure inner pocket for valuables, a top carry handle with quick-release attachment, and adjustable shoulder straps and waist belt. 22"H x 15"W x 8"D.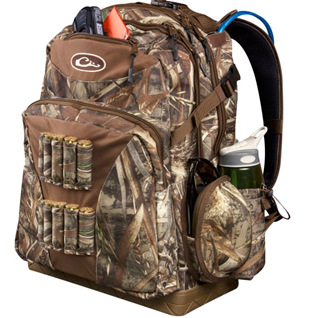 http://www.drakewaterfowl.com/
Hard Core Timber Bag
Hard Core's Timber Bag is designed specifically for timber hunting. Constructed of reliable 900- and 600-denier polyester construction withstands season after season of waterfowling, the bag features two D-ring attachment points for keeping game straps and other necessities out of the water and it includes built-in neoprene shell loops. 10.25"H x 15.25"W x 5.25"D.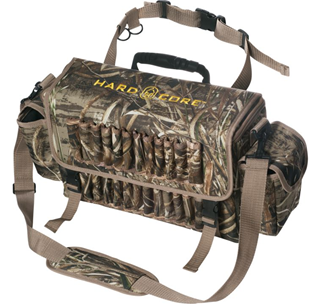 http://www.hardcore-brands.com/
Banded Timber Belt
Banded's Timber Belt holds everything you need securely on the tree right next to you. This belt has two gun hooks, two carabiners, heavy-duty webbing and a pocket that fits a box of 3-inch loads. Made of 900-denier webbing.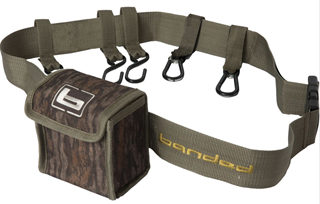 Cabela's Northern Flight™ Locked-Up Blind Bag
Haul all of your gear including shotgun, thermos and electronics in the Cabela's Northern Flight Locked-Up Blind Bag. This bag features a zippered flap, double-buckle, full-coverage lid system with a zippered mesh pocket on the underside that provides full access to the large main compartment and mesh organization pockets. It is constructed of rugged 600-denier nylon with polyurethane backing for water resistance and has a compression-molded-EVA bottom. Available: Large (14"L x 9"W x 12"H), XL (19"L x 9"W x 13"H).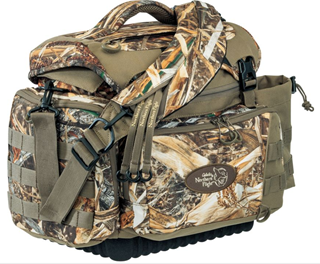 Mud River Magnum Blind Bag
Pack the Mud River Magnum Blind Bag for the whole day afield. The water-resistant exterior shell is designed to combat the elements, yet this large blind bag was built to float if necessary. It features two zippered side compartments, web shoulder straps with handle, and a zippered pocket on the lid. Mud River is the official accessories partner of Ducks Unlimited.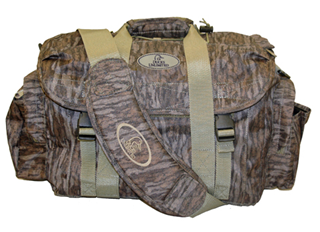 https://mudriverdogproducts.com
Rig 'Em Right Lock & Load Blind Bag
The Lock and Load™ Blind Bag is tough and durable, but designed with a narrow profile to fit into tight spaces like layout blinds and duck boats. This bag features separate molded ammo compartment with hard bottom, molded sunglasses case, drink holder pocket, clear internal pockets, a separated main compartment for your essentials and it includes multiple stubble straps and a metal hook to hang the bag if necessary.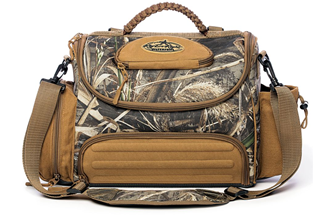 Magnum Hoss Food Bag
Don't forget about your four-legged hunting partners. Pack up to 30 pounds of dog food in this water resistant, laminate material shell bag. The Magnum Hoss Food Bag features a roll and buckle closure at the top and a storage zipper at the base for food and water bowls.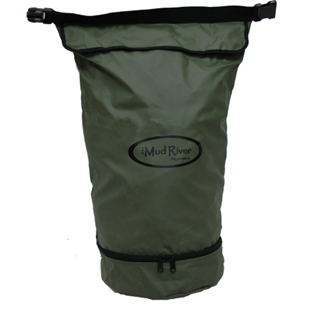 https://mudriverdogproducts.com