Mean Machines
These tricked out side-by-sides just might be the ultimate rides for waterfowlers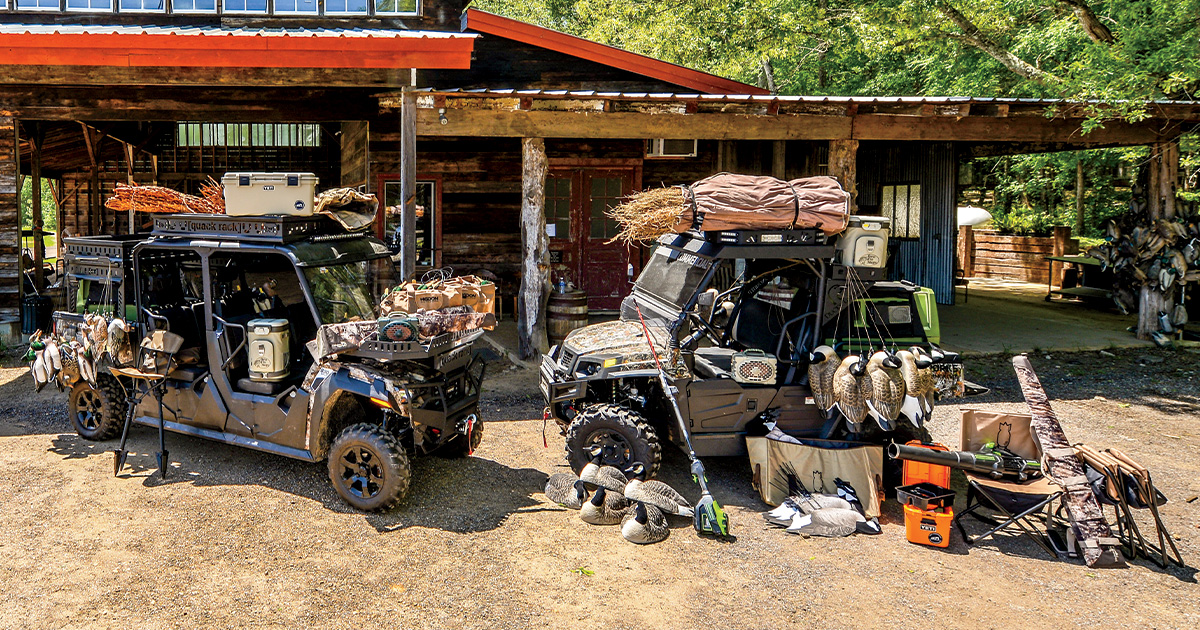 Following last year's hugely popular "Ultimate Duck Boat" feature, the Ducks Unlimited magazine team turned its attention to another big-ticket form of transportation for waterfowlers: side-by-sides, formally known as Utility Terrain Vehicles (UTVs). These all-purpose go-anywhere haul-anything vehicles have become a necessity for many of us who are passionate in our pursuits of ducks and geese. A capably equipped UTV is the waterfowler's workhorse, safely transporting you and your friends to and from otherwise inaccessible hunting spots; hauling your decoys, guns, blinds, tools, and other gear; and even helping out with off-season chores.
Modern UTVs come in all shapes and sizes and with a variety of features. For the hunter interested in acquiring one of these machines, there are a few "must-haves," including four-wheel drive, substantial cargo capacity, serious off-road capability, and a reputation for dependability. Many of these vehicles, especially the various "waterfowler" models, come from the dealer well equipped for a season filled with the kind of use and abuse that is unique to hunting in cold and muddy environments. Others cover the basics but allow you to customize them with aftermarket accessories that suit your specific needs.
In our quest to build the ultimate waterfowling UTVs, we started with two of our favorite side-by-side models—one gasoline-powered and the other electric. Then we customized each machine with the latest accessories—one specifically for duck hunting and the other for goose hunting. Finally, to sweeten the deal, we loaded them with as much gear as they could carry. From decoys to Bluetooth speakers, the plan was to completely cover the wants and needs of today's waterfowlers. While that is an ambitious (some may say impossible) task, read on to find out how we did.
The Ultimate Duck-Hunting UTV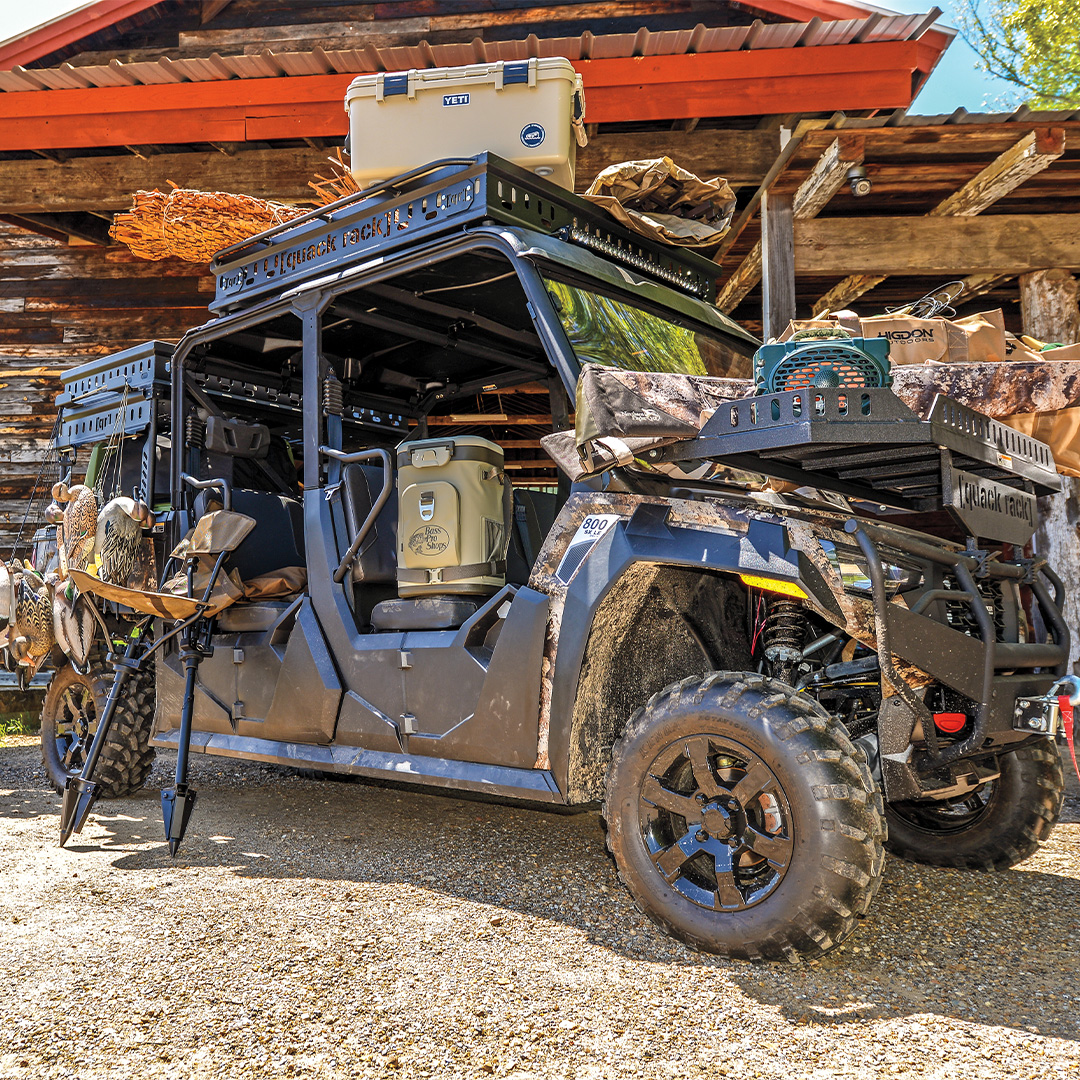 Tracker 800SX Crew Waterfowl Edition
For our ultimate duck-hunting rig, we selected the new top-of-the-line Tracker 800SX Crew Waterfowl Edition. Built with waterfowlers in mind, this machine has plenty of room for six hunters, their gear, and even a retriever or two, and it has all the technical aspects and performance of a true off-road beast. trackeroffroad.com
Quack Racks
Our Tracker came standard with Quack Rack's Guide Series front and rear racks, but we beefed up the overhead storage capacity by adding the company's Guide Series roof rack, and we replaced the standard rear rack with an Elite Series rack. Like all Quack Racks, these are made of 100 percent marine-grade aluminum and have a durable powder-coated finish that won't rust or corrode. The Elite Series rear rack comes with an integrated LED light system to illuminate the cargo area and its surroundings. quackrack.com
Tracker Full-Polycarbonate Windshield
Tracker continues to roll out new accessories for its side-by-sides, and this hard-coated, full-polycarbonate windshield is a necessity for operation in bitter cold weather. Easy to install, the windshield clips onto the main frame and provides a comfortable ride in even the most uncomfortable conditions. trackeroffroad.com
The Ultimate Duck-Hunting UTV Accessories
1. Tracker Trailstar Utility Trailer

Our Tracker was delivered on this heavy-duty dual-axle trailer, which measures 7 feet by 18 feet and boasts a payload capacity of 4,750 pounds. The deck is made of treated lumber, and the all-tube frame is powder coated to prevent corrosion. Other handy features include folding rails, an integrated A-frame tongue, and a dovetail ramp for easy loading and unloading. trackeroffroad.com
2. Moose Utility Single Row LED Light Bar

One of our favorite added accessories, Moose Utility's LED front light bar will turn night into day. Wired into the electrical system with a separate toggle switch mounted on the dash, the lights are powerful 6,000K white Philips-built Cree chipset 5-watt LEDs. The light bar is protected by an extruded aluminum housing, comes with a scratch- and impact-resistant polycarbonate lens, and offers combo spot and flood (80/20) beams. mooseutilities.com
3. Moose Utility Grab Handles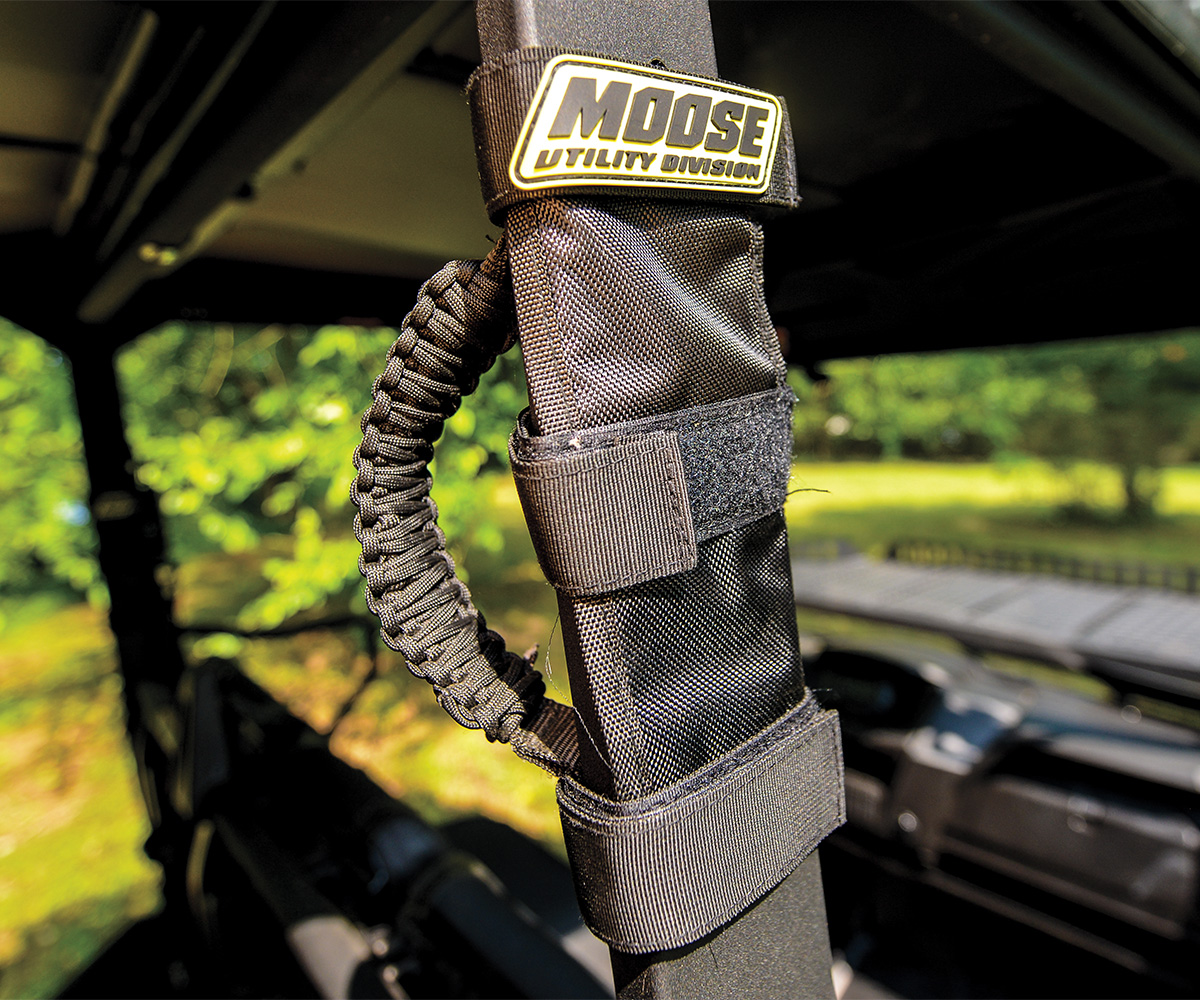 To help passengers hang on while riding in the backseat, we added Moose Utility's Universal Grab Handles. The Velcro straps wrap around a roll bar or frame, and the durable paracord handle provides a good grip and is made to last. mooseutilities.com
4. Moose Utility Universal Fire Extinguisher Mount
Having a fire extinguisher close at hand is a must on any off-road adventure. This universal fire extinguisher mount can be attached to any tubular metal roll cage up to two inches in diameter. Other features include a quick-release pin and adjustable clamps that fit most fire extinguishers. mooseutilities.com
5. TurtleBox Gen 2 Speaker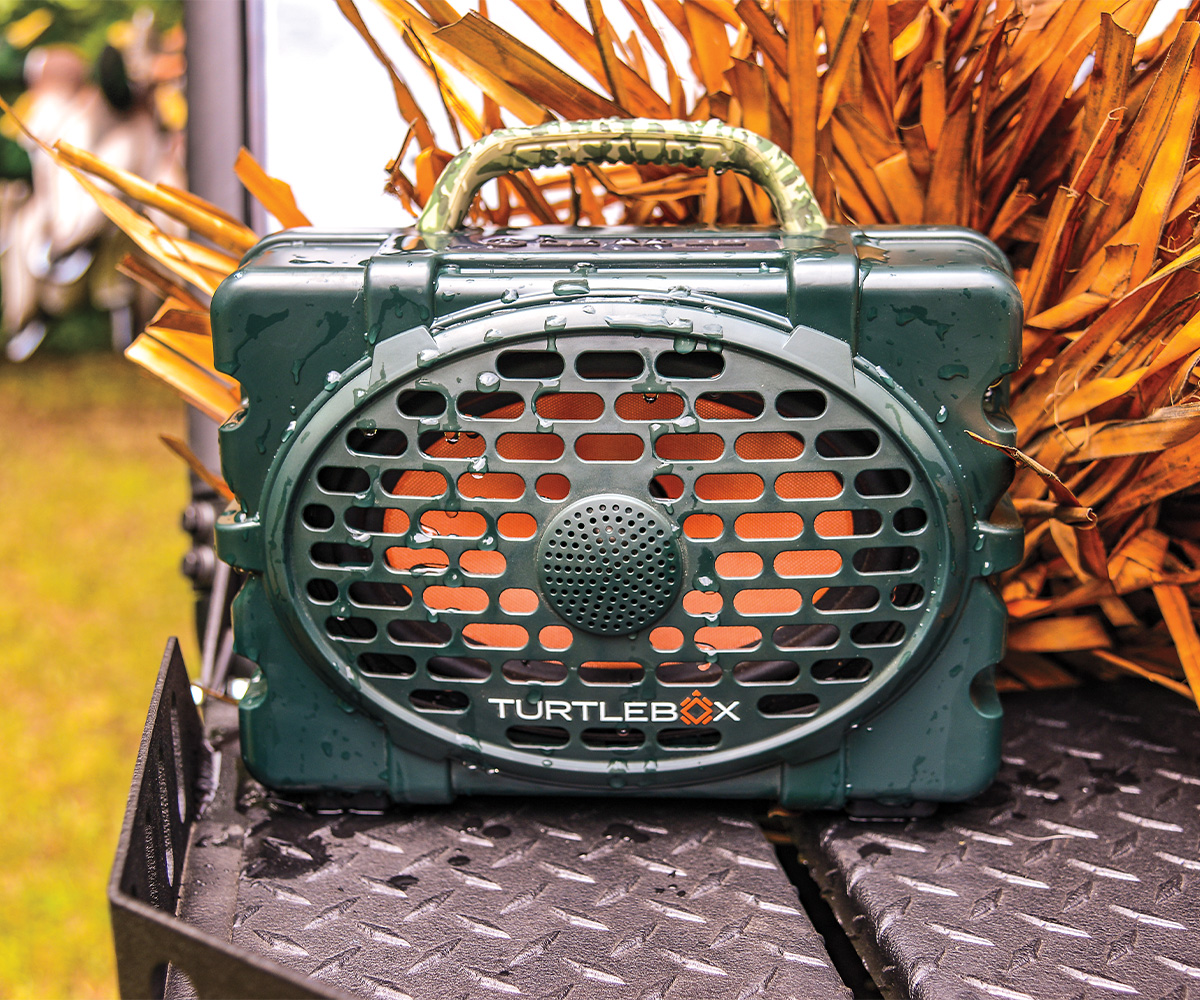 Rather than install a stereo system, we opted for the TurtleBox Gen 2 Bluetooth speaker to play our favorite tunes in both UTVs. This waterproof, dust-proof, heavy-duty speaker is designed for rugged conditions yet produces crystal-clear, distortion-free sound that can be cranked up to 120 decibels. It can be paired with another TurtleBox speaker to play music in stereo. turtleboxaudio.com
The Ultimate Duck-Hunting UTV Gear
1. Gunner DU Special Edition G1 Kennel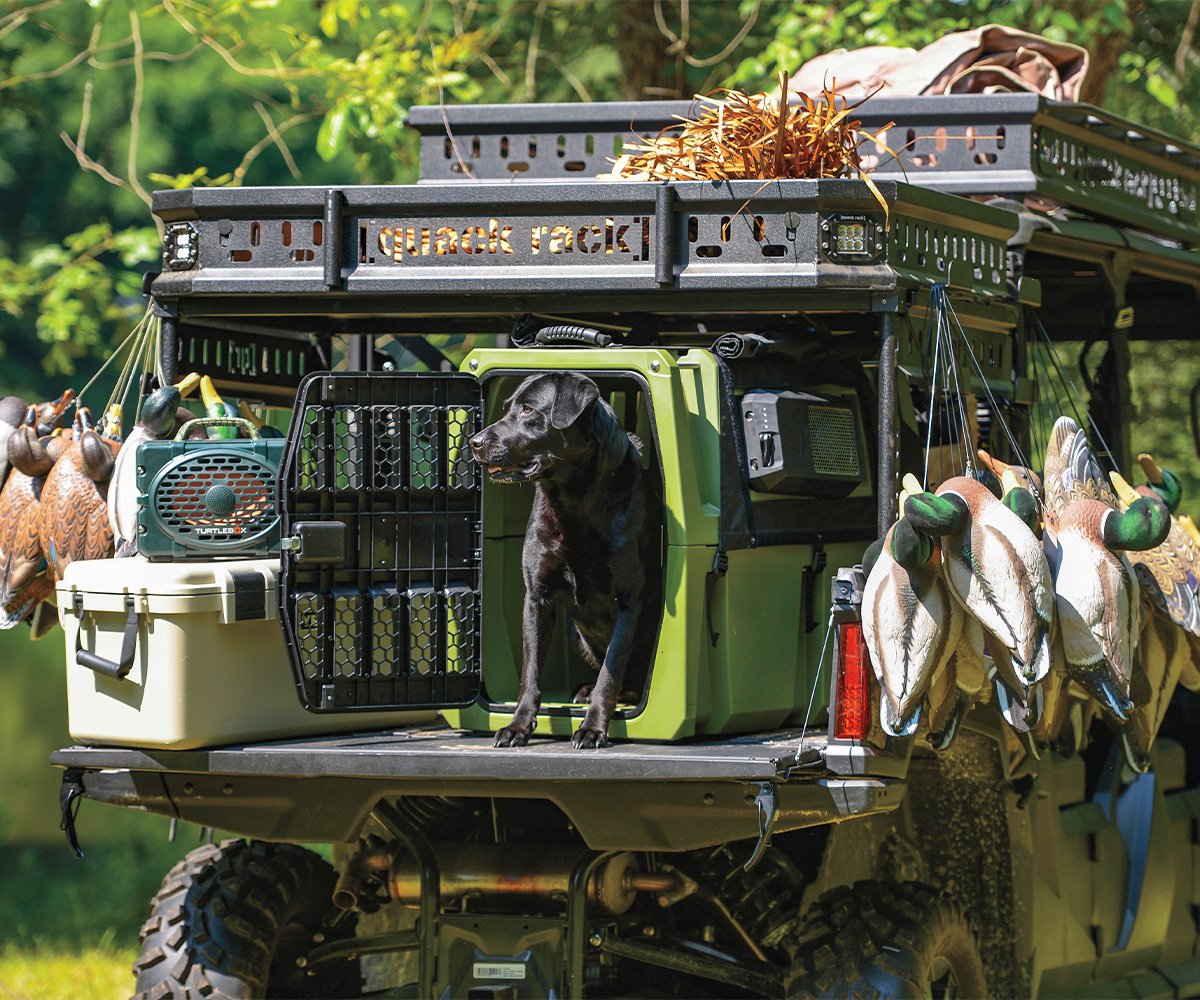 We couldn't forget the dog, so we included a Gunner DU Special Edition G1 Kennel in both of our side-by-sides. This double-walled, rotomolded kennel is guaranteed to keep your canine companion safe and comfortable on the way to the hunting area. Other features include recessed flooring for drainage, a wide base for stability, built-in tie-downs, nonslip elevated feet, and stainless-steel hardware. This DU-branded kennel also comes with an escape-proof, reversible door that's custom welded, powder coated, and reinforced with an aluminum frame. gunner.com
2. Gunner Fan Kit 2.0
Gunner's new Fan Kit 2.0 is waterproof, dustproof, and features a run time of up to 20 hours. The fan, which will help keep your dog cool during warm-weather training or traveling, weighs a little over five pounds, comes with a 110/120-volt AC battery charger, and mounts directly onto Gunner's G1 medium, intermediate, and large kennels. gunner.com
3. Gunner All-Weather Kennel Kit 2.0
This removable kennel cover is made of a TPU-coated nylon material that is waterproof and wind-resistant to help protect your four-legged friend from the elements. The roll-down windows offer additional warmth and protection, and it fits securely over all G1 Kennels. gunner.com
4. Dive Bomb F1 Mallard Floaters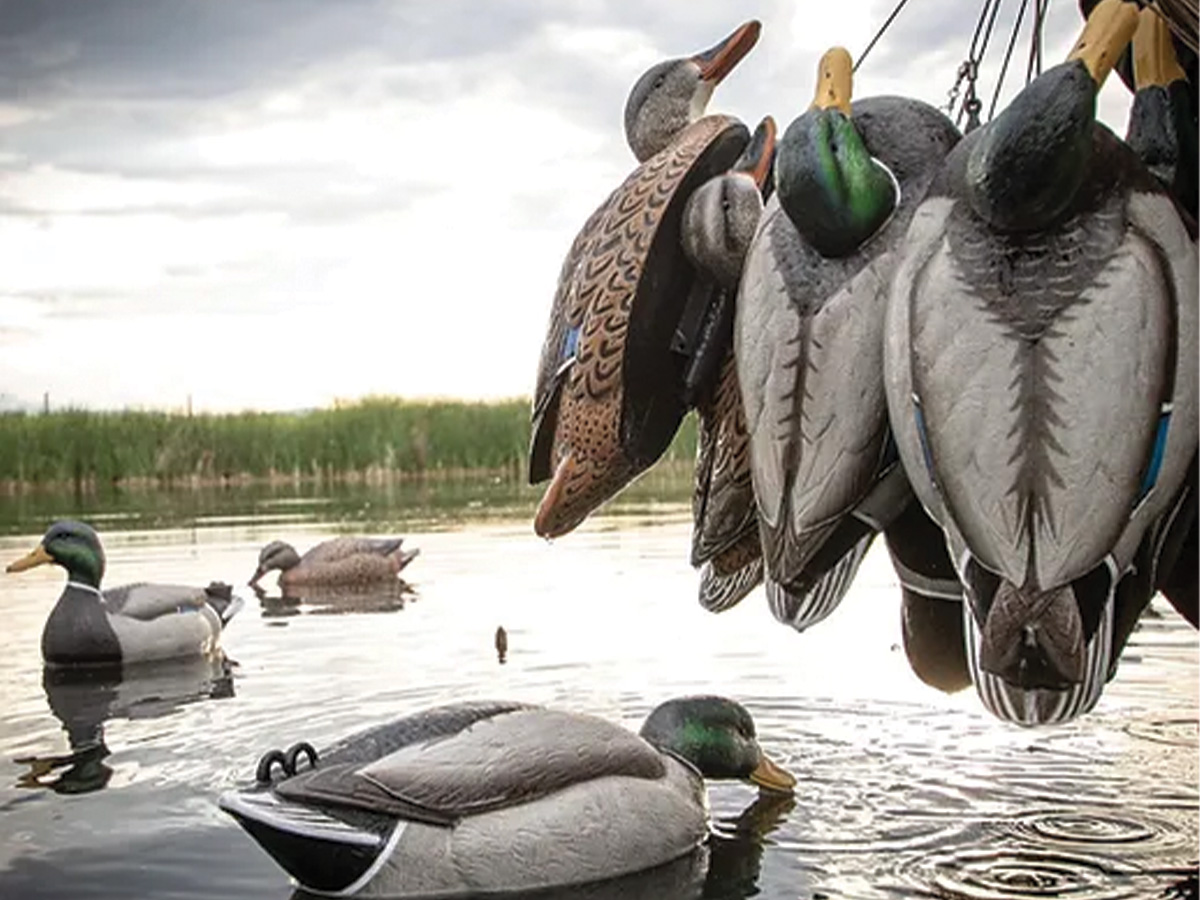 Manufactured with molds created by world champion decoy carver Jon Jones, these mallard floaters come with six unique postures per dozen, including two high-head drakes, two skimmer drakes, two active drakes, two rester drakes, two active hens, and two rester hens. We rigged ours with Dive Bomb's 30-inch, 3-ounce A-Bomb Rigs. divebombindustries.com
5. Dive Bomb F1 Pintails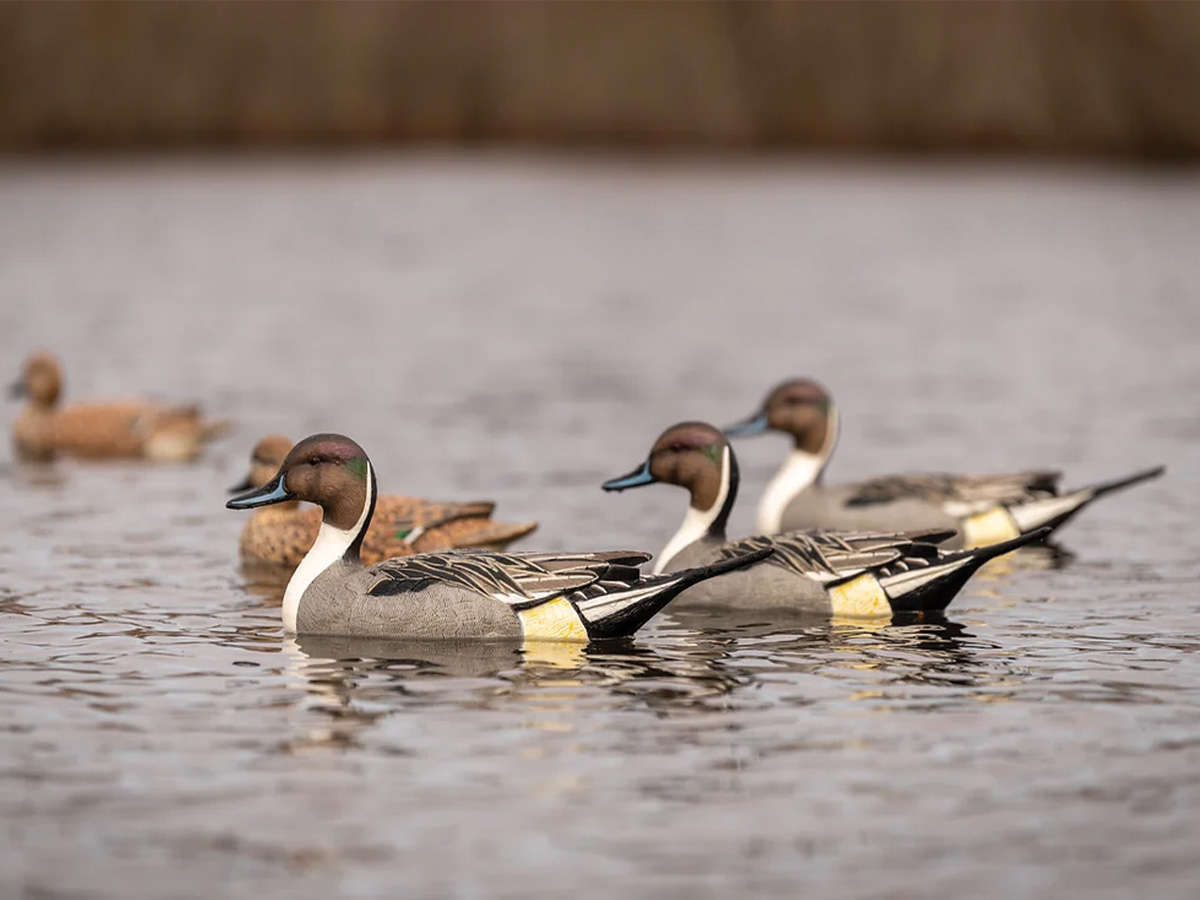 Also manufactured with molds created by Jon Jones, Dive Bomb's F1 pintail floaters will stand out in a crowd. Each six-pack comes with four upright drakes and two active hens. We rigged ours with Dive Bomb's 48-inch, 4-ounce A-Bomb Rigs. divebombindustries.com
6. ALPS OutdoorZ Alpha Waterfowl Blind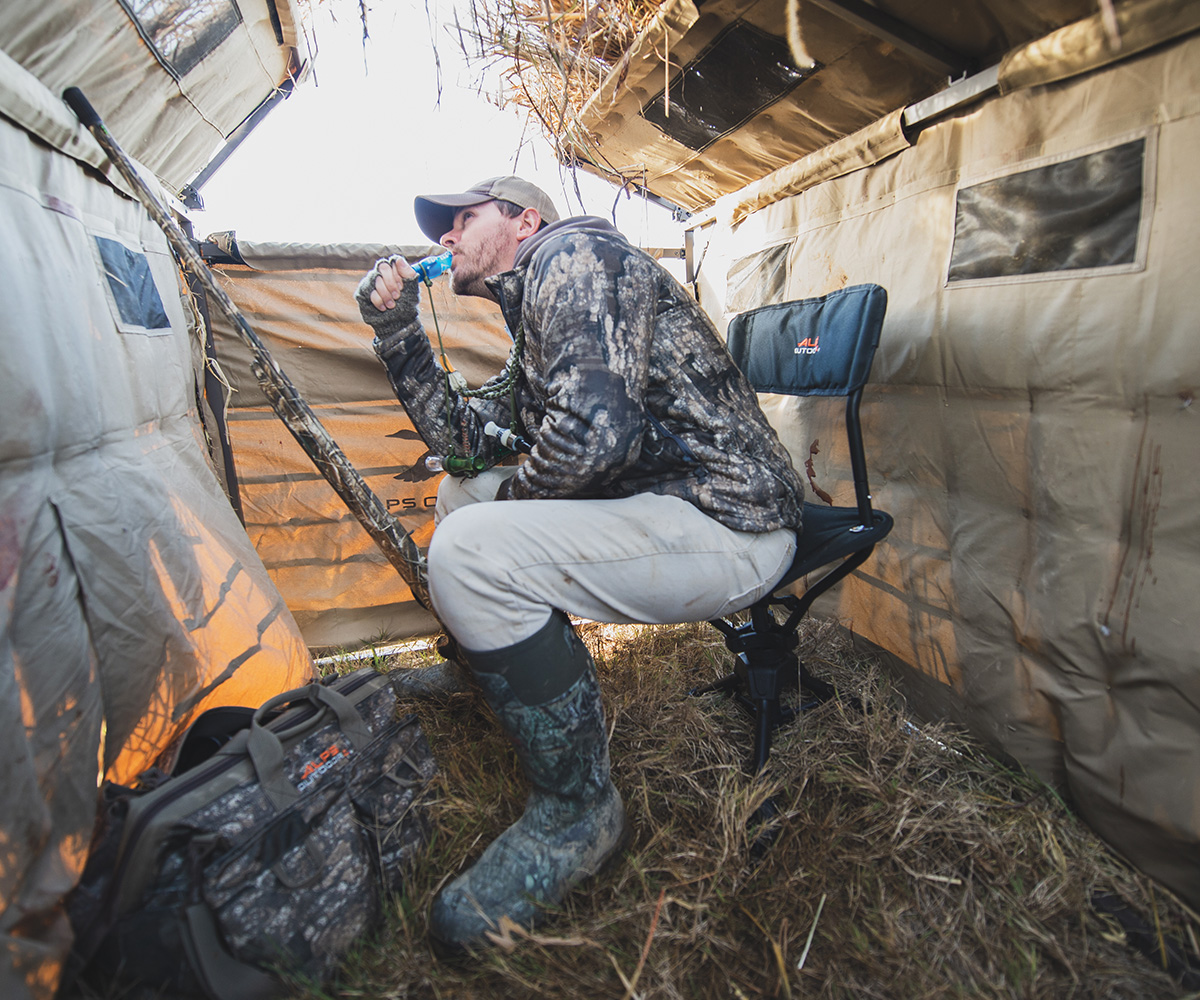 The new Alpha Waterfowl Blind is designed for optimal concealment, function, and adaptability. The rugged powder-coated aluminum frame is equipped with hinges and shock cords, which make setting up and breaking down a snap. Other highlights include full-entry side doors, pop-open shooting doors with mesh viewing panels, dog ports on either end, multiple external brush loops, four removable gun rests, mesh pockets, and interior webbing to hang calls and game straps. The skin is made of tough 600D polyester. When disassembled, the entire blind rolls up tight and is light enough to be carried by one hunter using the sturdy shoulder strap. alpsoutdoorz.com
7. ALPS OutdoorZ Deluxe Mesh Wetland Seat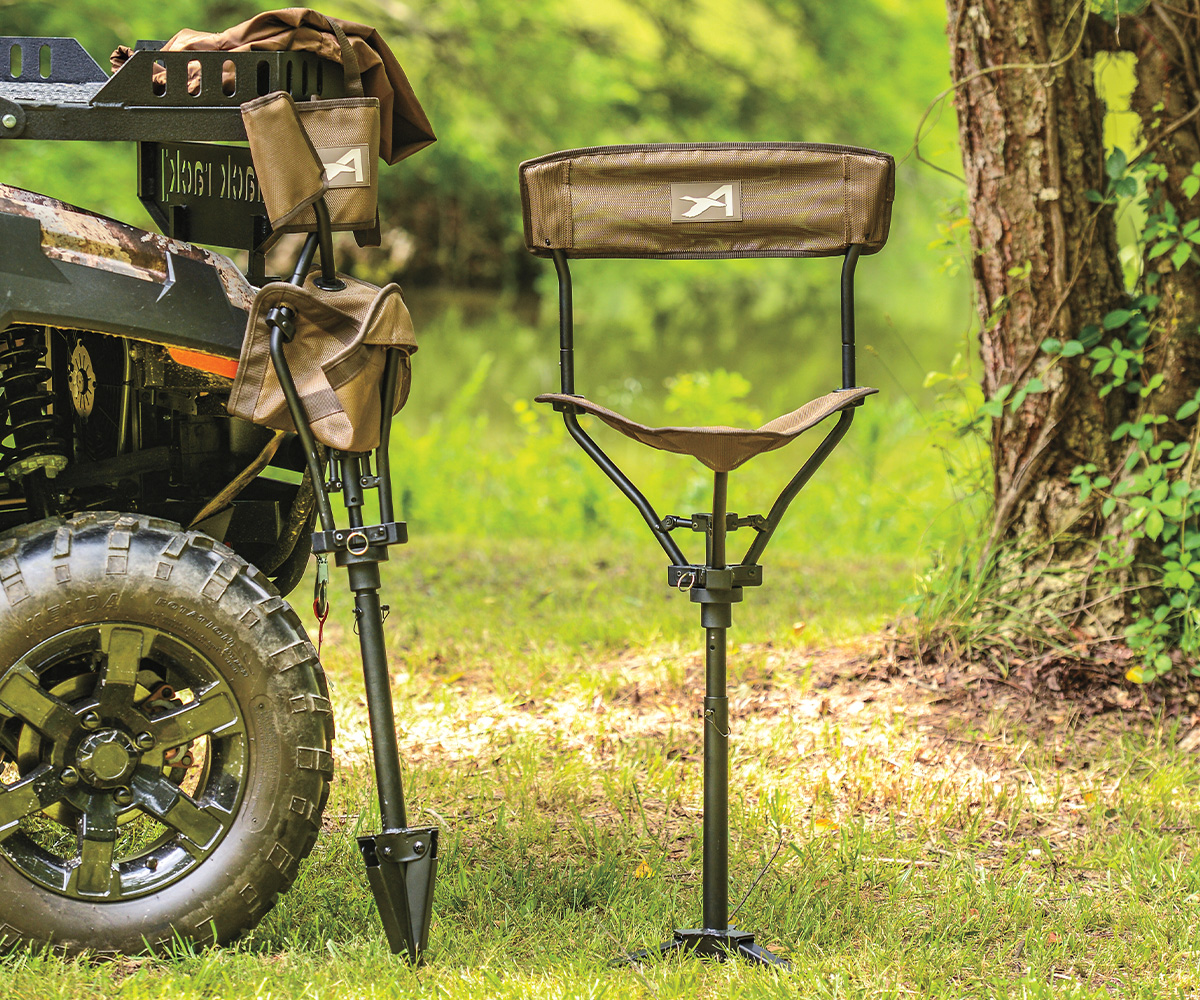 These lightweight, portable chairs will help you set up on the X. The pedestal is constructed of durable aluminum tubing, and the 360-degree swivel seat is made of tough mesh fabric that is comfortable and dries quickly. This product also comes with a removable backrest, and the height is fully adjustable from 25 inches to 36 inches. We included two of them in our duck hunting gear package. alpsoutdoorz.com
8. Greenworks 82V 20-inch 3.4kW Chainsaw

There are plenty of reasons to keep this fully electric chainsaw in your off-road vehicle. The functional equivalent of a 65cc gas-powered saw, the Greenworks Pro 82V has a 20-inch bar, brushless motor, and inertia-activated chain brake. A battery and quick charger are included. commercial.greenworks.com
9. YETI LoadOut GoBox 60 Gear Case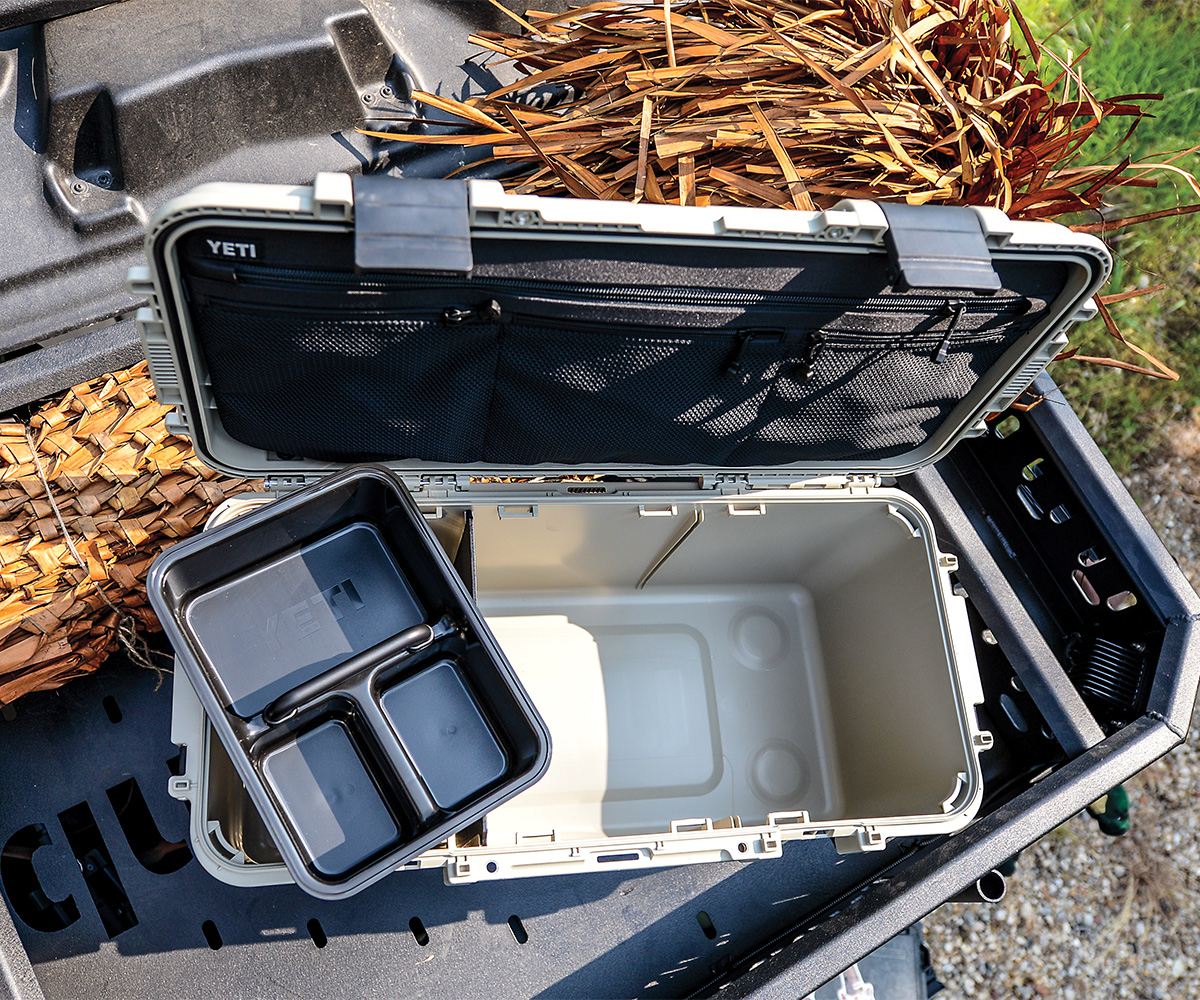 Designed to carry just about anything, YETI's GoBox 60 Gear Case is large enough to hold a full camp kitchen, bulky bedding, and even a rolled-up tent. The pack-and-stack design includes cargo trays and dividers to help keep contents organized. With reinforced latches and YETI's patented waterproof and dustproof construction, this go-anywhere gear case provides excellent protection from the elements. It's available in four colors. yeti.com
10. Bass Pro Shops 20-Can Coldsnap Latch Cooler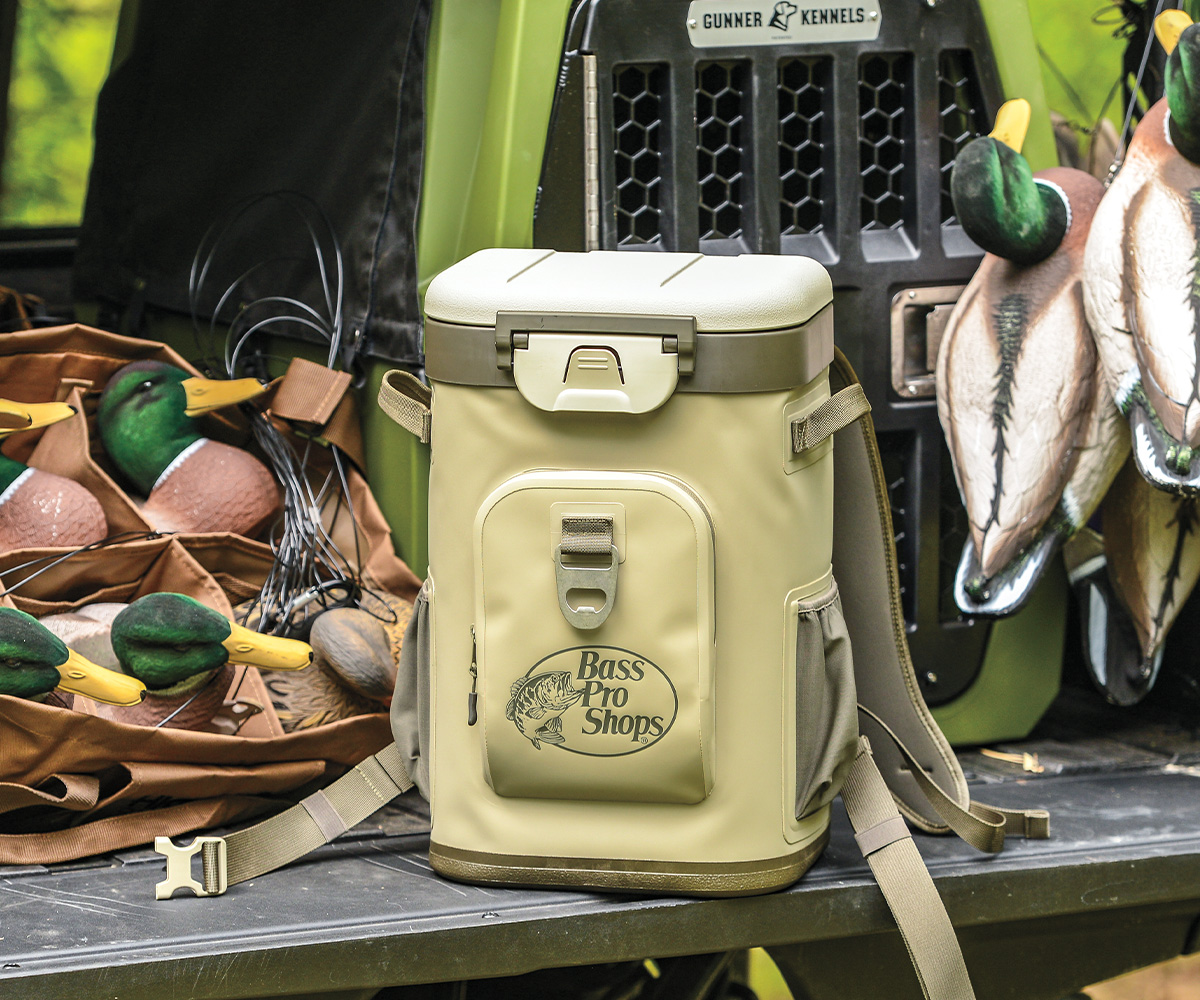 We included one of these compact, portable coolers in both of our side-by-sides. The leakproof design, padded shoulder straps, waterproof front pocket, mesh side pockets, built-in bottle opener, and YKK zipper hardware make it the perfect choice for bringing along snacks and beverages. basspro.com
11. Cabela's Northern Flight Field Grass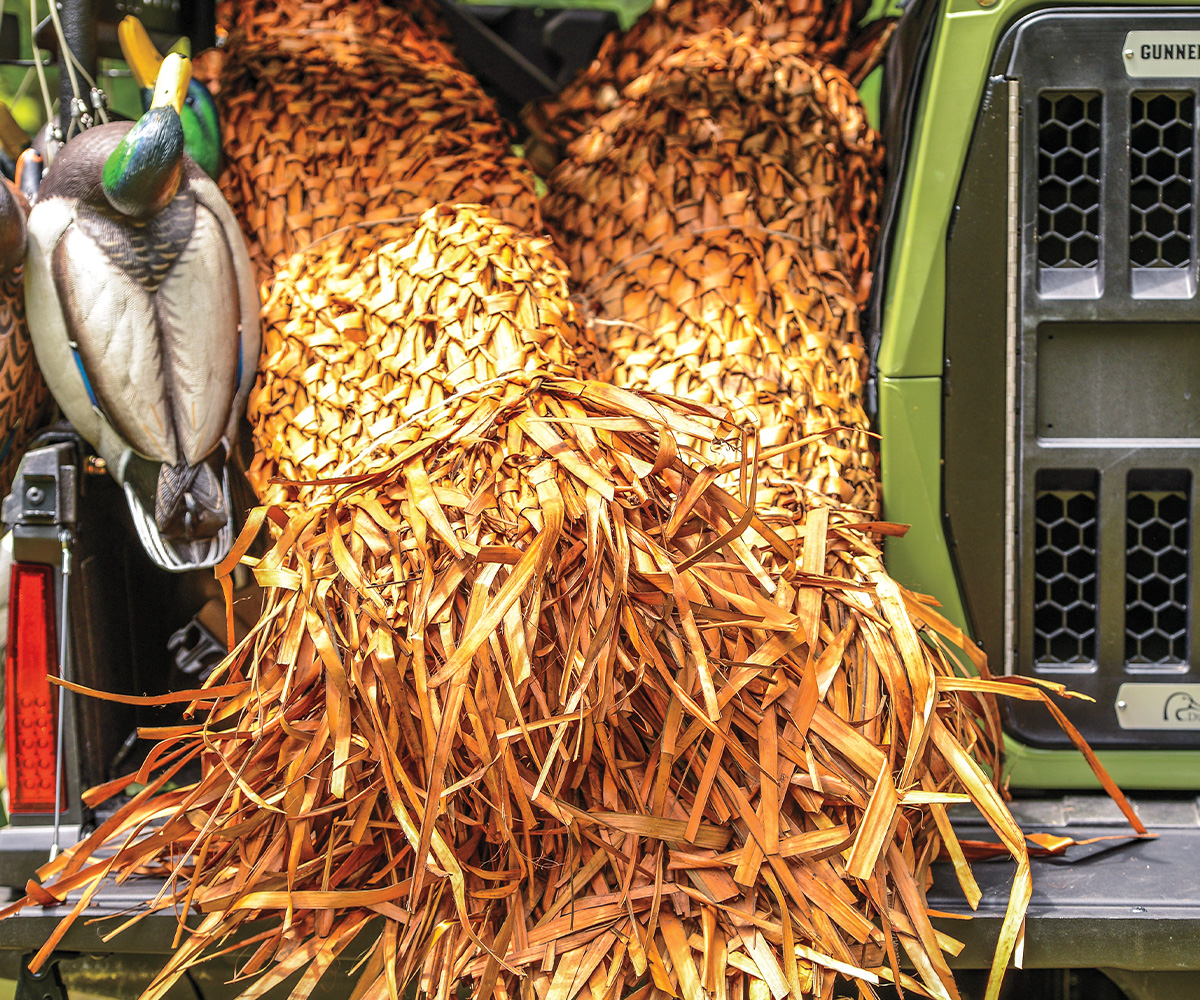 There is always room for more camo when heading to the blind. These camouflage mats are made of hand-woven, 100 percent real grass that blends in with a variety of natural vegetation. Each pack comes with four mats to help you conceal the perfect hide. We loaded one pack onto each of our UTVs. cabelas.com
12. Cabela's Northern Flight Floating Gun Case

To protect our shotguns, we included two of Cabela's Northern Flight floating gun cases in the Tracker and the Greenworks UTV. They come with a 600D polyester shell, 10mm closed-cell foam insulation, a padded shoulder strap, carry handle, and end loop for hanging and storage. cabelas.com
The Ultimate Goose-Hunting UTV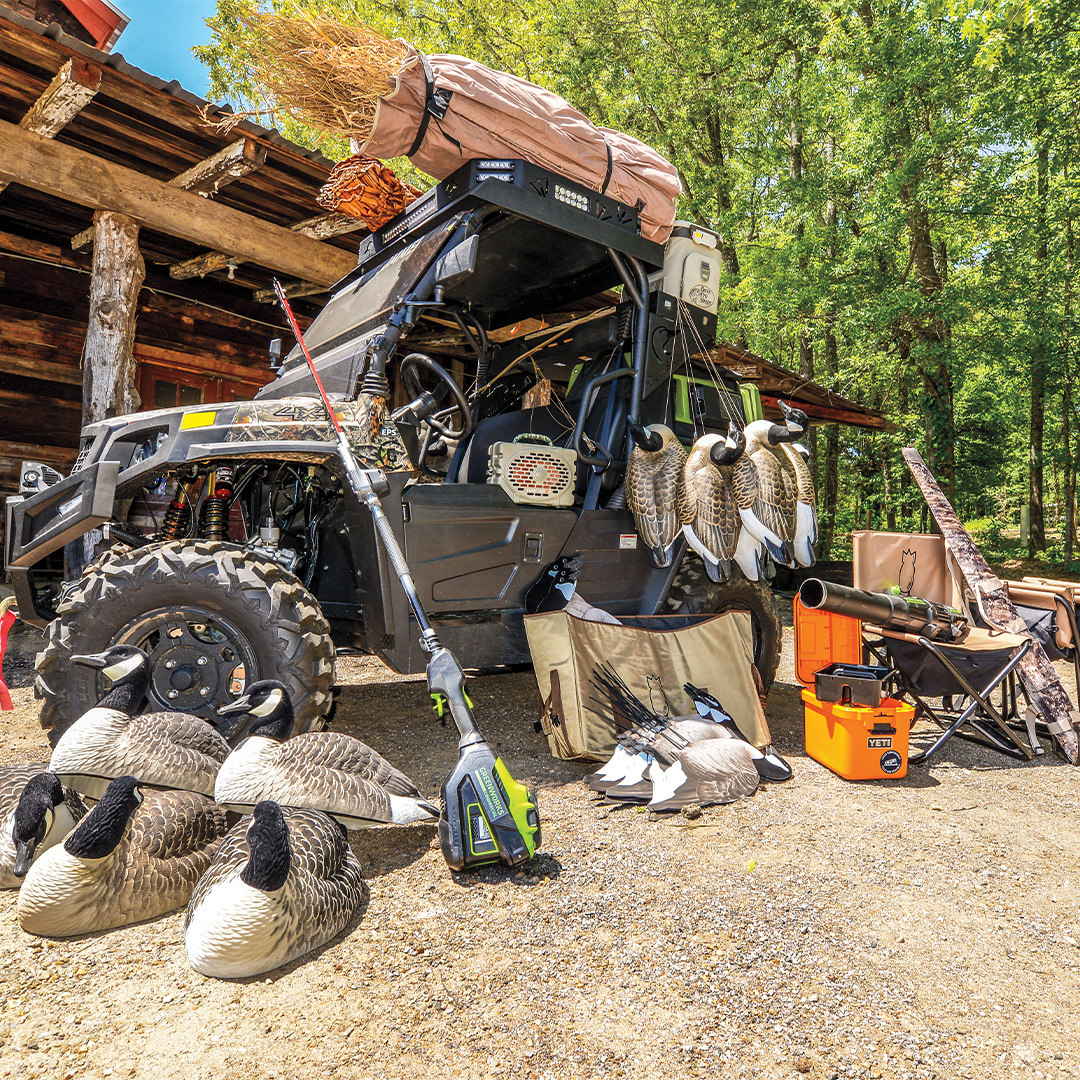 Greenworks 82V Utility Vehicle 800
For chasing geese, we selected Greenworks Commercial's 82V Utility Vehicle 800. Powered by a 16kW built-in battery, this fully electric side-by-side has a range of up to 75 miles and a maximum speed of 29 miles per hour. Other highlights include a spring assisted cargo dump bed, 1,500 pounds of towing capacity, 2,500-pound winch on the front bumper, and high-intensity LED headlights. With 12.2 inches of ground clearance, this machine is built to tackle all types of terrain, including the treacherous mud in fields frequented by goose hunters. commercial.greenworks.com
Ultimate UTV Outdoor Roof Racks and Lights
We shipped our side-by-side to Southern Lite LED in Auburn, Alabama, to add custom racks and lighting, and they did not disappoint. They replaced the factory-installed roof with the company's custom Ultimate UTV Outdoor Roof Rack and added their variable white and green Kick Lites XL, which provide 360 degrees of illumination in and around the vehicle. Southern Lite also added a rear rack with a recessed shelf that is the perfect height for storing guns, blind bags, and other essentials. As a finishing touch, both racks are decorated with cut-out duck tracks and DU logos, which are guaranteed to turn some heads. southernliteled.com
The Ultimate Goose-Hunting UTV Accessories
1. DND Color Change Light Bar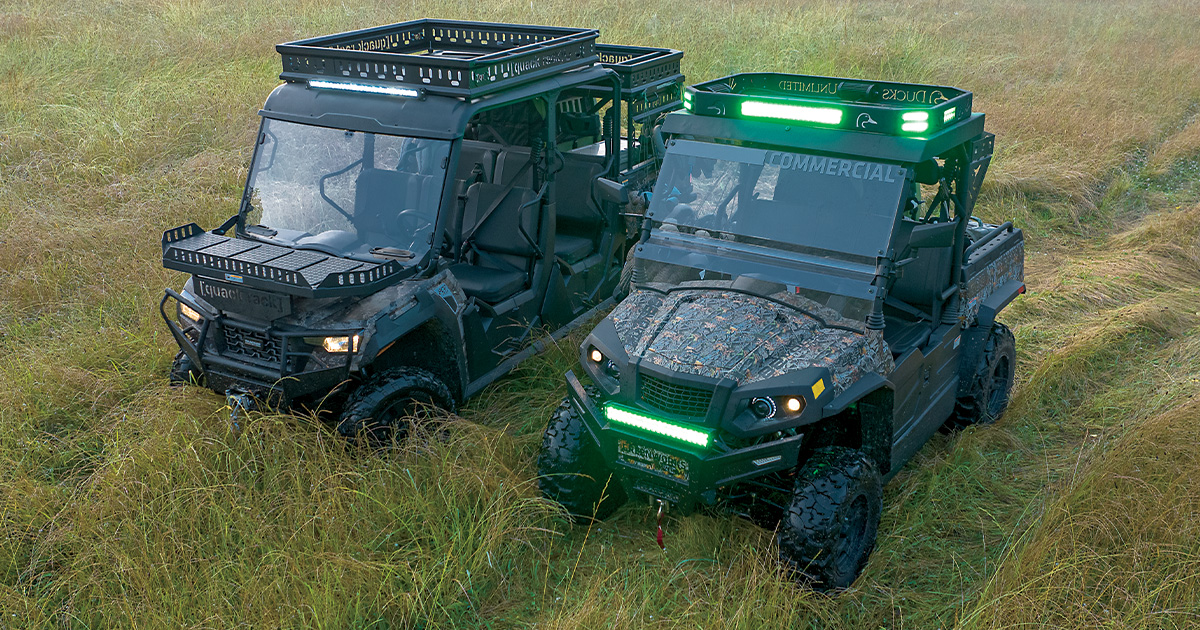 Just above the winch, Southern Lite installed its DND (Do Not Disturb) Color Change LED light bar. It allows you to switch from bright white light when operating at high speeds to bright green when you are ready to go into stealth mode. This 21-inch light bar comes with 40 3-watt LEDs, which produce 120 watts of output. It's waterproof, dustproof, and vibration resistant for rugged use. southernliteled.com
2. Tracker Trailstar Utility Trailer

This single-axle trailer measures 6 feet by 10 feet and has a payload capacity of 2,055 pounds, which was plenty for towing our Greenworks side-by-side. The tube-metal frame includes a durable, corrosion-resistant powder-coated finish that will keep it looking new for years. Other handy features include folding rails, a treated-lumber bed, and a dovetail gate that lowers for easy loading and unloading. trackeroffroad.com
3. Ultimate Switch Panel

All the custom interior and exterior lights can be operated with Southern Lite's Ultimate Switch Panel. Technicians installed a rocker switch that connects to the control panel, which includes switches for each light setting. southernliteled.com
4. Overhead CROC Eye Lights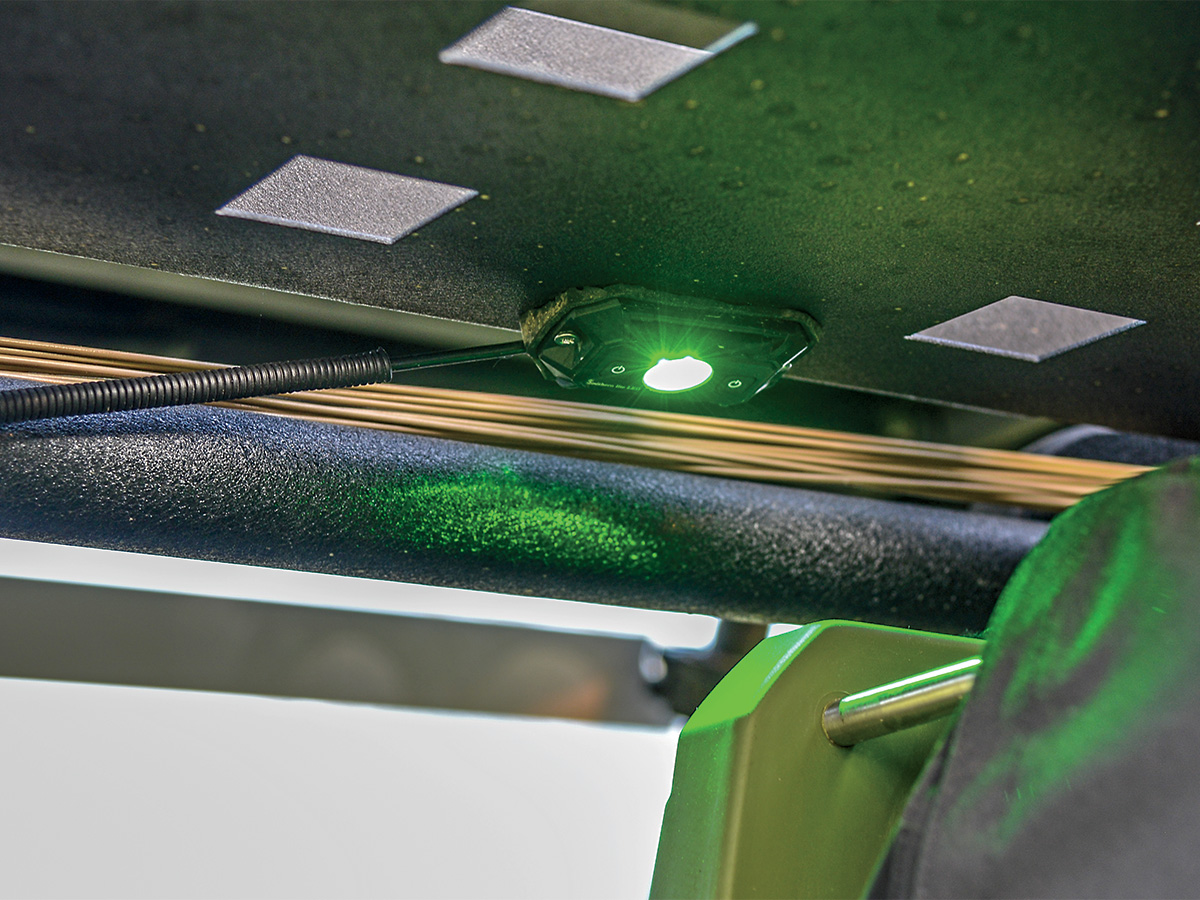 Southern Lite added two push-button dual overhead LED eye lights, also with white and green color settings, to further illuminate the interior of our vehicle. One was installed up front to shine down on the console and the other was placed over the rear cargo area. southernliteled.com
The Ultimate Goose-Hunting UTV Gear
1. Dive Bomb F1 Canada Goose Floaters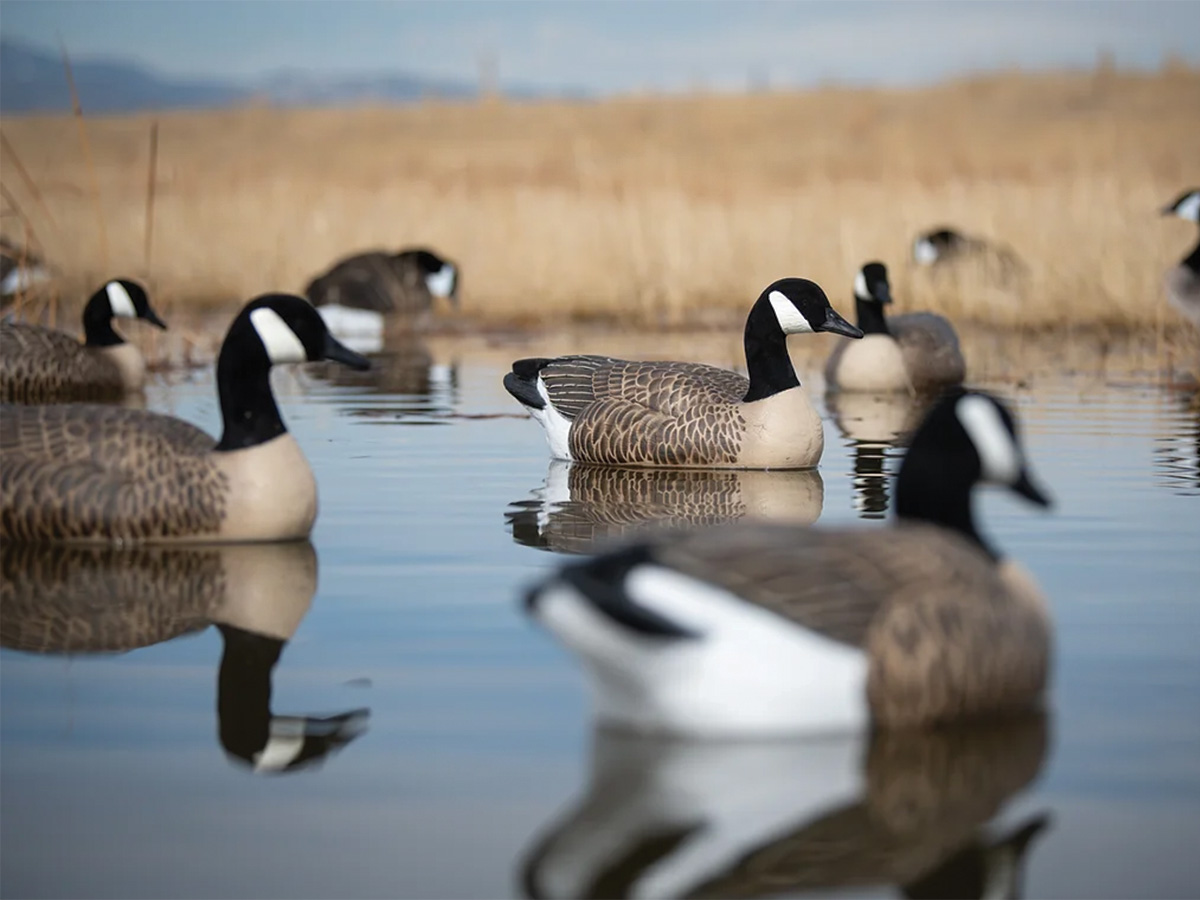 Like other decoys in Dive Bomb's F1 line, these Canada goose floaters feature self-righting keels, flocked heads, and fine feather detail. Made of durable blended plastic, they are built for several seasons of heavy use. We rigged ours with 60-inch A-Bomb rigs with PVC-coated stainless-steel cable and eight-ounce weights. divebombindustries.com
2. Dive Bomb Superflag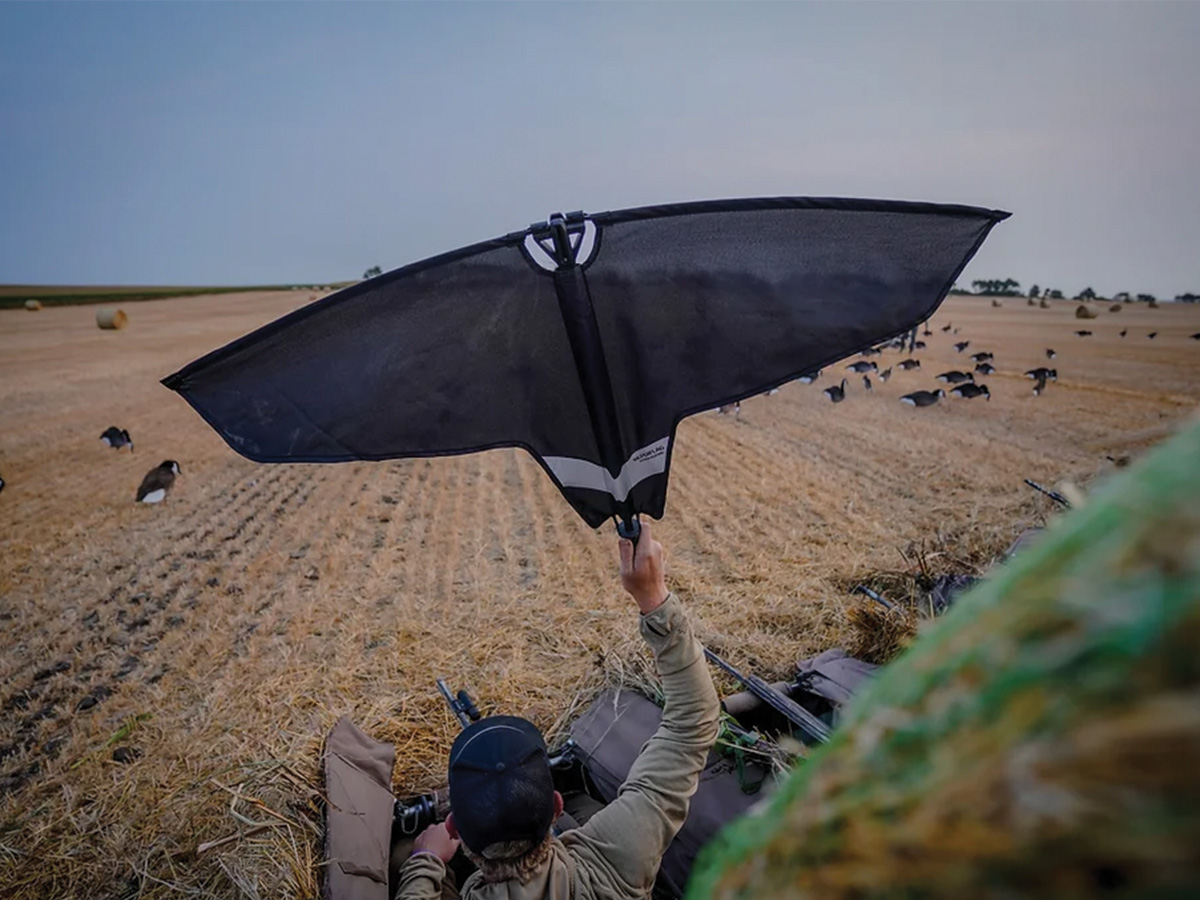 Built with a lightweight carbon fiber shaft and ripstop nylon with reinforced stitching, this flag is ready for the goose pit or blind. Handy design features include an open-and-close system, tapered fiberglass wing rods, and an ergonomic handle for quick deployment and longtime use. It's available in either black or white. divebombindustries.com
3. Dive Bomb V2F Canada Goose Silhouettes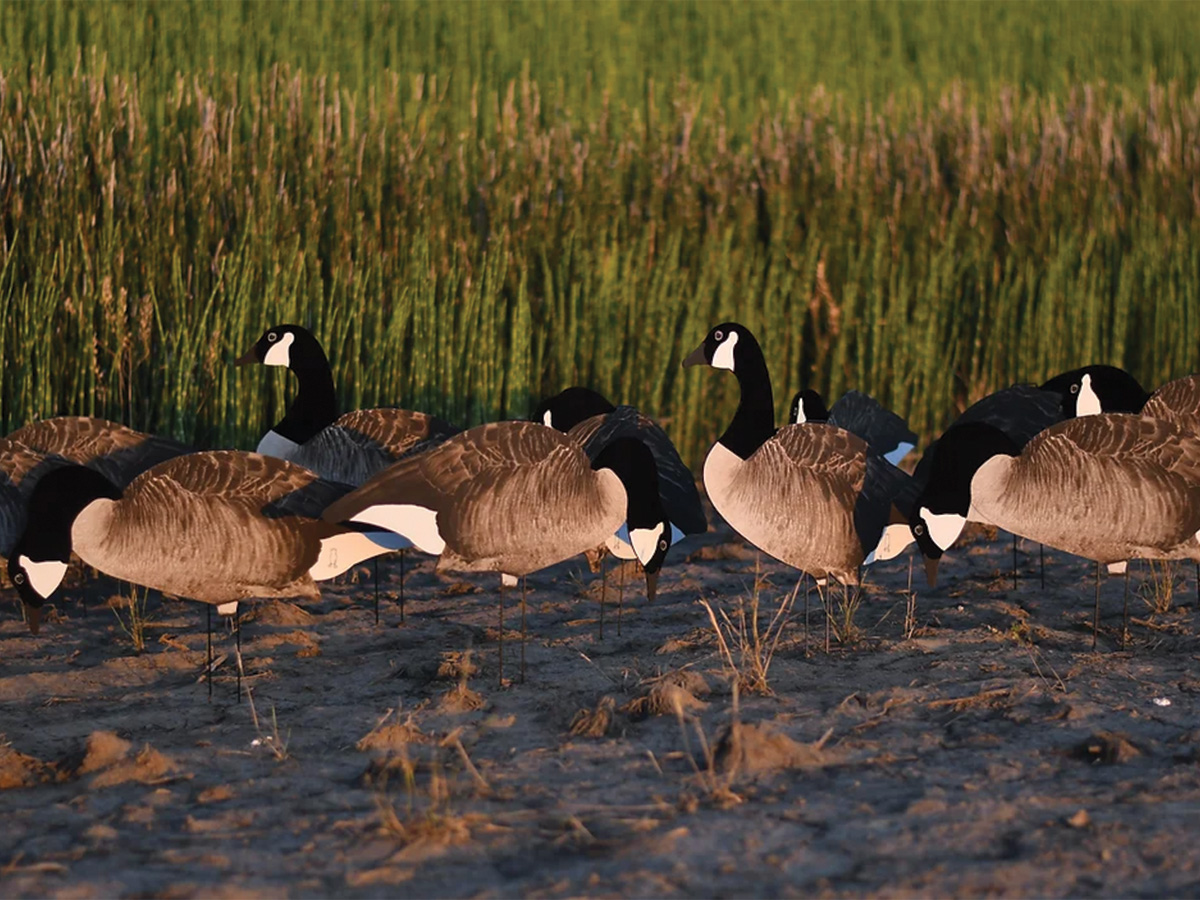 We selected Dive Bomb's highly lifelike silhouette decoys to form the heart of our Canada goose spread. The texturized finish and contrasting colors are complemented by flocked heads. Each dozen includes two resters, two lookers, two quartering-away postures, and six feeders. Twelve two-pronged 20-inch spring-steel stakes are included. divebombindustries.com
4. Avian-X AXP Painted Honker Shell Decoys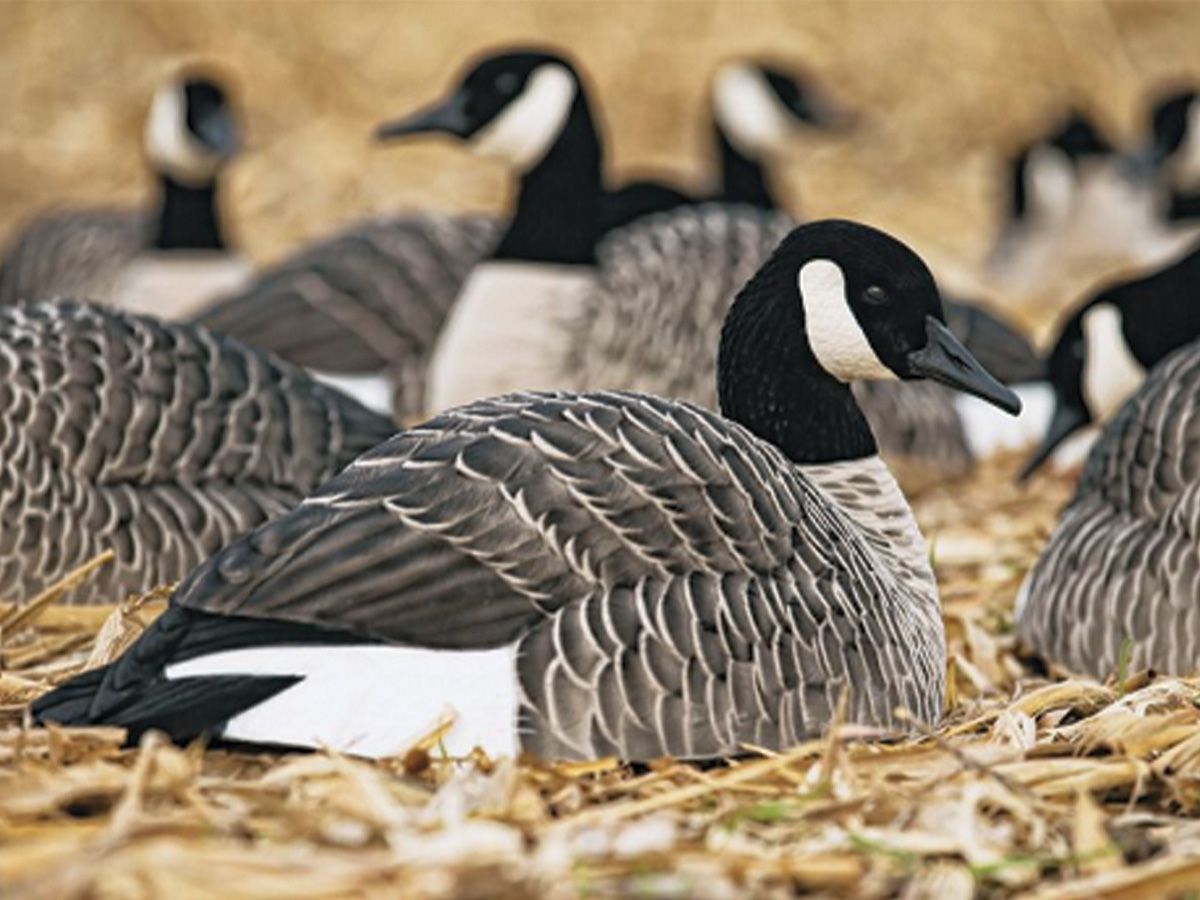 To add depth and realism to our spread, we included a six-pack of AXP Painted Honker Shells. These oversized shell decoys come with fully flocked heads and stack tightly to conserve space. Like other Avian-X decoys, they are made of rubberized plastic, which offers excellent durability and paint adhesion. avian-x.com
5. Dive Bomb HyVert Field Blind
Dive Bomb's Hybrid Vertical (HyVert) Blind System can be adjusted to blend with a variety of backgrounds. Custom lock-pin connectors allow you to quickly switch from an A-frame to a panel blind configuration in the field. Other handy features include a heavy-duty cover, overlapping doors, magnetic barrel rests, multiple dog doors, and large internal storage pouches. divebombindustries.com
6. Greenworks Commercial 82V Short Pole 24-Inch Hedge Trimmer
Brushing blinds is easy when you use this cordless battery-powered trimmer. Equipped with dual-action, laser-cut, replaceable steel blades, it generates speeds of up to 4,300 cuts per minute, and the commercial-grade brushless motor runs for 205 minutes on a single charge. A 2.5Ah battery and dual port charger are included. commercial.greenworks.com

7. Greenworks Commercial 82V Handheld Brushless Axial Blower
Clear debris, snow, or ice off your decoys with this commercial-grade cordless blower from Greenworks. This handheld model generates an impressive 140 mph airspeed with less noise and vibration than a gas-powered blower. It also comes with a variable speed trigger, 4Ah battery, and dual port charger. commercial.greenworks.com
8. YETI LoadOut GoBox 15 Gear Case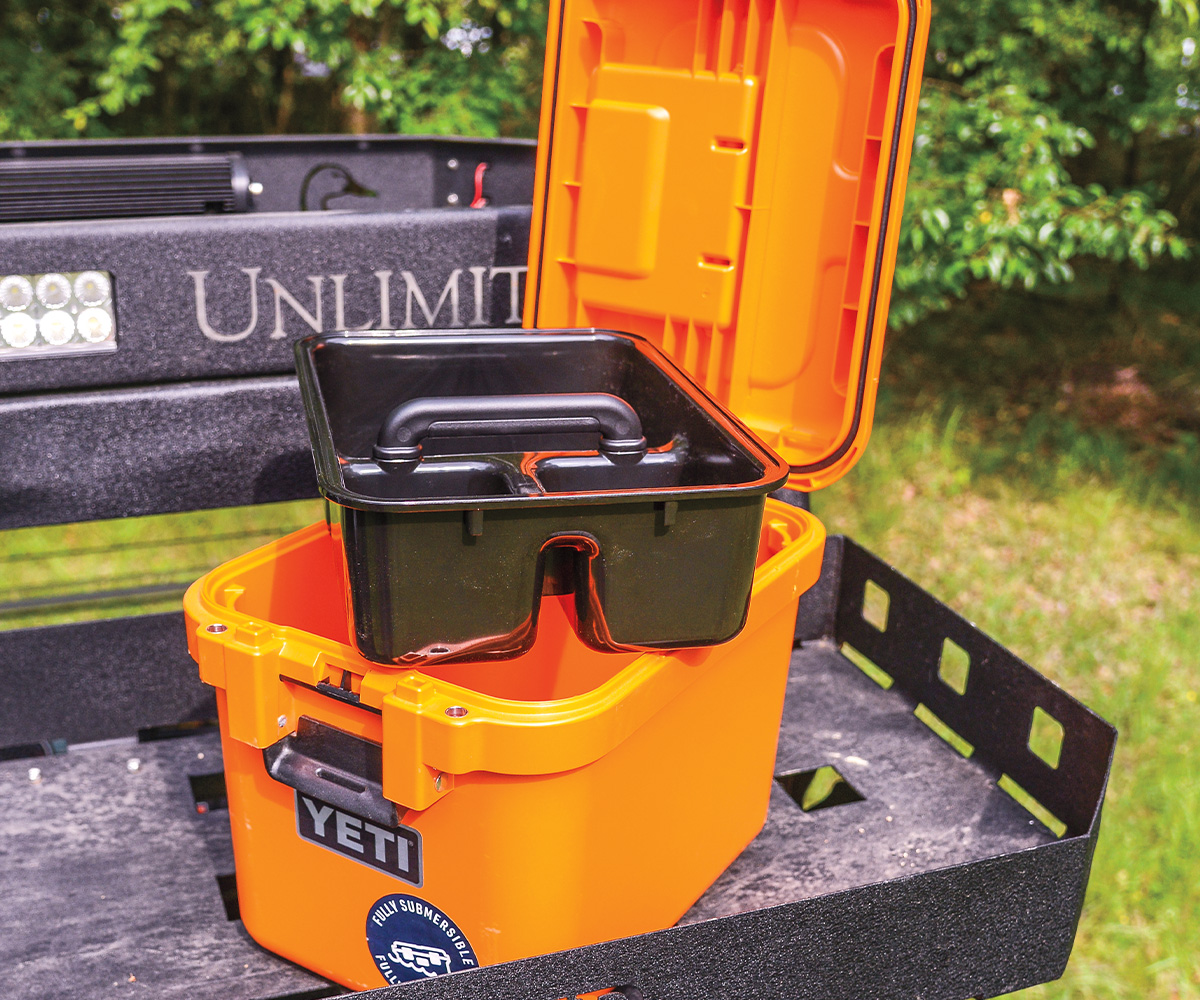 YETI's latest innovation in storage, this compact version of the GoBox Gear Case tucks nicely into the rack of an ATV or side-by-side. yeti.com
9. Dive Bomb HySeat Chair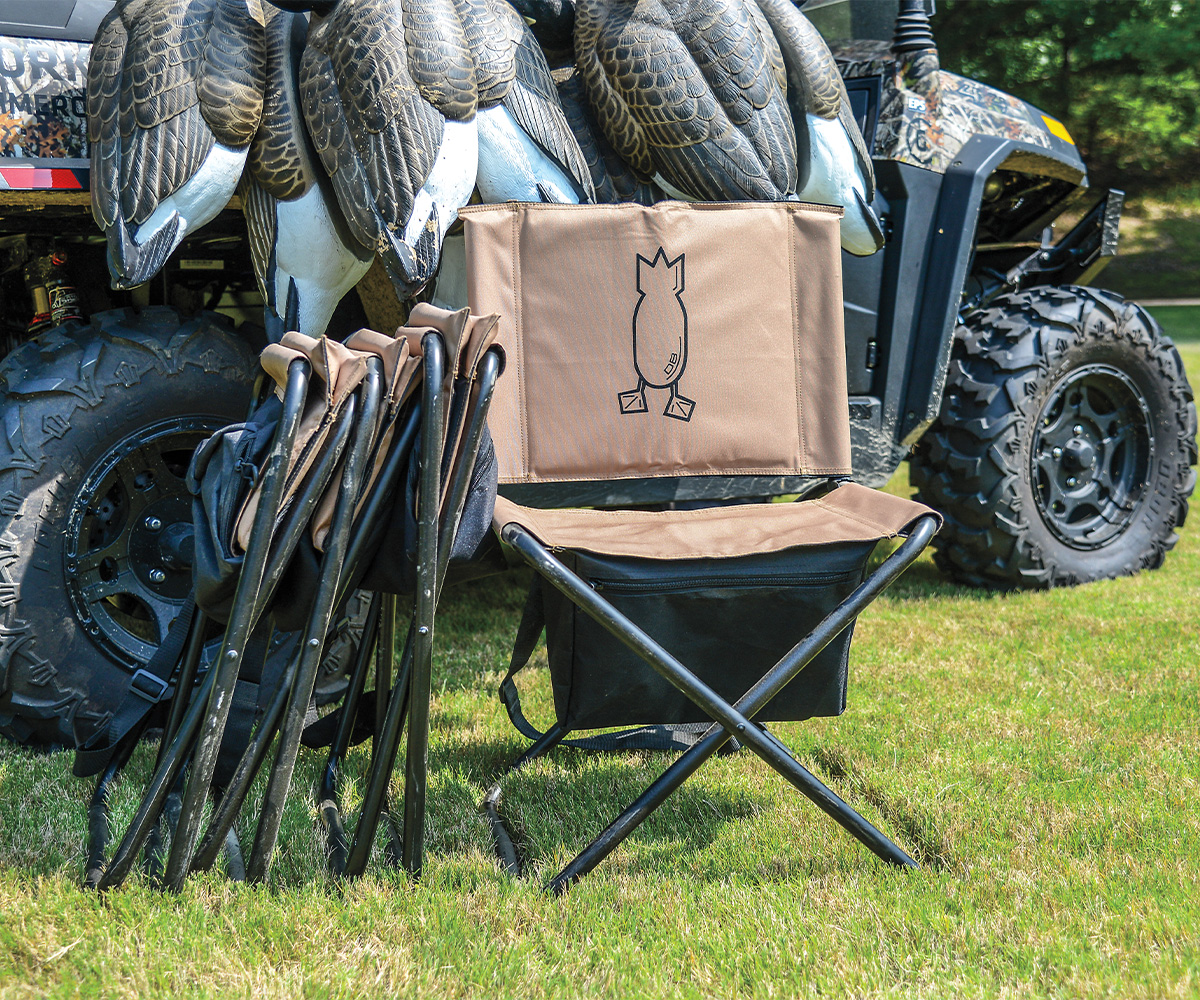 Constructed of high-strength powder-coated steel and 600D PVC-backed fabric, this sturdy, portable chair is designed for use in field blinds. It's 17 inches high and 19 inches wide, and the backrest flips down so it can be used as a stool in tight spaces. Four are included in the goose gear package. divebombindustries.com