Gearing Up: Field-Tested Gear
High-performance equipment and accessories recommended by experienced waterfowl hunters.

By Chris Jennings
Waterfowling can be the ultimate test of outdoor clothing and equipment. These products stood up to the mud, rain, cold, and general abuse of an entire season and are ready to go again.
Polaris Ranger XP 1000 Waterfowl Edition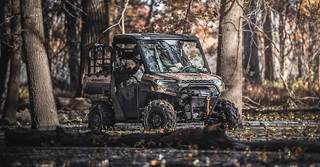 I spent most of the 20212022 season with the XP 1000 Waterfowl Edition. This beast was set up with key features to meet the unique needs of waterfowlers, including 29-inch Pro Armor Mud XC tires, arched A-arms to maximize the 14 inches of ground clearance, a Polaris Pro HD 4,500-pound winch, sealed electrical components, high-mounted air intakes, and much more. Navigating agricultural fields, the machine had zero issues chewing up the mud, and the lift offered additional clearance in flooded areas. ranger.polaris.com
ALPS OutdoorZ Zero-Gravity Layout Blind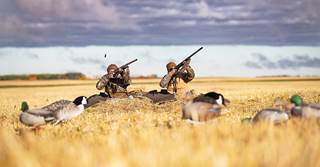 ALPS OutdoorZ shipped several Zero-Gravity Blinds to me for a media hunt in northern Minnesota last fall. Our party hunted rye and winter wheat fields that were cut very short. The blinds offer a low profile and minimize shadows, which helped us when setting up in the open fields. With backpack straps, these blinds are highly portable and offer exceptional comfort for long days afield. alpsoutdoorz.com
1. Beretta Waxwear Field Bag
Ive always struggled to find the perfect balance of size and durability in a blind bag. The Beretta Waxwear Field Bag offers the toughness I need and a compact size that is perfect for the habitats and blinds where I typically hunt. Its treated with Berettas next-generation wax, which makes the bag waterproof, and it can easily tote upwards of six boxes of shells and a variety of other gear. beretta.com
2. First Lite Kiln Hoody Midweight 250 Merino-X
This versatile jacket is super comfortable and was a go-to piece of clothing for me on a regular basis. On cold days, it worked well as a base layer. On warmer days, I wore it as an outer layer. The odor-free Merino-X material also provides warmth and resistance to tears. firstlite.com
3. Drake Guardian Elite G3 Flex Flooded Timber/Field Jacket
I hunted in the rain more than usual last season, so I was fortunate to have this shell jacket on hand. The G3 Flex fabric kept me bone dry, and I could adapt to the days temperatures by adding or subtracting layers underneath. Its cut short for wading timber, and this was also beneficial for getting in and out of blinds and boats. I didnt wear this jacket every day, but when the weather forecast took a turn, I always grabbed it before leaving home. drakewaterfowl.com
4. Benelli Super Black Eagle 3 BE.S.T.
The Benelli SBE3 with BE.S.T. (Benelli Surface Treatment) was announced in 2020, and the 25-year guarantee caught everyones attention. I spent last season testing the proprietary surface treatment on the SBE3 12-gauge. I hunted in all of the good and bad conditions duck hunters face. The scratch-resistant coating held up to abrasion on metal pit blind lids and other rough surfaces. And while I did keep the action clean, I wanted to see how the BE.S.T. would handle the kind of neglect that tends to happen by midseason. It certainly passed the test, and it never missed a beat when the shot was called. benelliusa.com
5. Mojo Pocket Pick Stick
This is one product I dont go to the blind without. It quickly and easily picks up your spent shell casings. The collapsible second-generation Pick Stick is split into three 10.25-inch sections and fits perfectly in a blind bag. mojooutdoors.com
6. YETI LoadOut GoBox 30
The catch-all of storage bins, my LoadOut GoBox 30 stays jam-packed with shotshells, shooting glasses, hand warmers, hearing protection, and other gear. While I dont take it to the blind, its my blind-bag prep station every morning, where I snag essentials for the hunt. This heavy-duty box features dustproof and waterproof construction and includes a compartment divider, removable gear caddy, and zippered Pack Attic. Available in desert tan and charcoal, it carries a five-year warranty. yeti.com