February 2018 Gear Guide: Snow Goose Gear
Find gear that will improve your success during the 2018 LGCO

Light goose hunting is gear intensive, and having the right gear can make the difference on a daily basis. The February 2018 Snow Goose Gear Guide offers a variety of gear to help improve your success during the 2018 Light Goose Conservation Order.
Higdon Decoys Full-Size Full-Body Variety Pack, Snow/Juvenile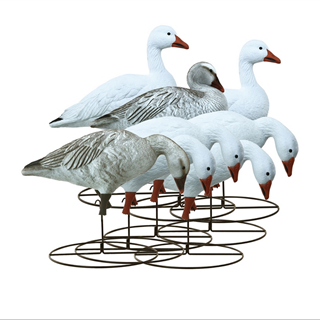 This newly designed, single unit, high definition snow goose pack will improve your spreads realism. The Full-Size Variety Pack comes with 4 snow feeders, 1 juvenile feeder, 2 snow sentries and 1 juvenile rester. Once assembled, the decoy and base system act as one complete unit, which makes setting-up and moving decoys a breeze. Higdon's unique 3-position base system allows for natural decoy movement, even in varying wind conditions. As the official decoy partner of Ducks Unlimited, a percentage of your purchase will go towards wetland conservation. Package Includes: 8 Decoys, 8 Stands.
For more information, visit https://www.higdondecoys.com
Carlson's Choke Tubes Cremator Snow Goose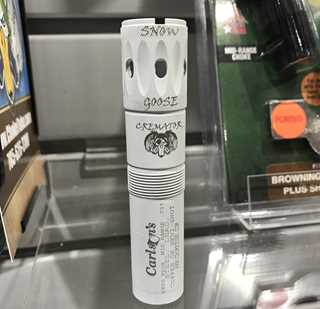 Snow Goose Cremator Choke Tubes have a white, Cerakote finish and feature the new Triple Shot Technology (TST), and is offered in close-, mid-, and long-range constrictions. TST is a series of three graduated rings in the taper section of the choke tube, that allow a more gradual transition from the shotgun bore to the final constriction. The Cremator series conveys a host of benefits to the shooter, like reduced pellet deformation, less flyers, and denser patterns.
The Cremator series has no size or speed restrictions, with steel shot in any of the three constrictions. They are offered in your choice of ported or non-ported configurations. Like all of Carlson's tubes, the Cremator series carries a lifetime warranty, and are constructed out of our premium 17-4 stainless steel.
For more information, visit http://www.choketube.com/
Dakota Decoys X-Treme Snap Lock Blue Goose Windsock Decoys (60 Pack)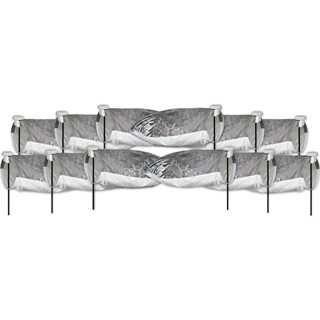 The X-Treme Snap Lock Blue Sock Goose Decoys feature a one-piece collapsible system that offers quick set-up and tear-down. The decoys store flat taking up less room and feature a wind vane system that offers movement in low wind conditions. They also feature a full spine system which holds the sock open in no wind conditions and come with a 28-inch stake to improve visibility.
For more information, visit http://www.dakotadecoy.com/
Hard Core Pro-Series Floating Snow Goose Touchdown 6 Pack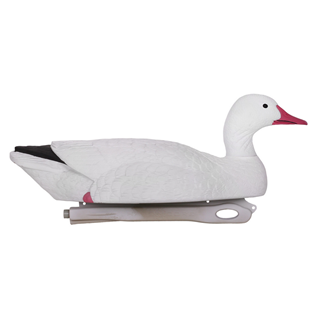 The Hard Core Snow Goose Floaters are a fantastic option for your next over-water hunt. The realistic and durable paint scheme can fool educated and wary birds. This 4 pack includes 3 semi-sentries and 3 resting sentries.
For more information, visit https://www.hardcore-brands.com/
FOXPRO Super Snow Crow Pro Call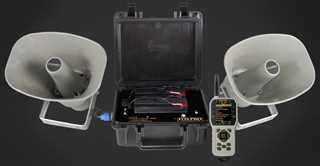 The extreme volume capabilities of the FOXPRO Snow Crow Pro Call will attract snow geese all the way to your spread. It comes with 100 pre-loaded FOXPRO sounds and can store up to 1,000 sounds. Uses 30-watt external speakers and allows you to connect to up to four external speakers so you sound like a large flock of snow geese. Includes TX-1000 remote control so you can easily adjust volume and sounds. The remote features a full-color-graphic LCD screen that displays your sound list or sound categories and has a barometer indicator, moon phase indicator, temperature indicator, and battery level indicator. Powered by two rechargeable 12-volt gel-cell batteries (included). Remote powered by three AA batteries (not included). Made in USA.
10-1/2"L x 9-1/2"W x 5"H
Wt: 13 lbs. with batteries.
For more information, visit https://www.gofoxpro.com
Flextone Landing Strip Blind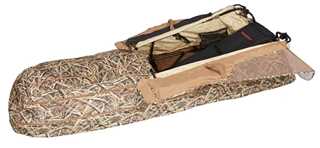 New for 2018, the Flextone Landing Strip Blind features an aluminum frame with steel-reinforced joints and an extra-wide interior. The full-length padded seat and headrest assure comfort, while the super-HD 1800D polyester floor protects the hunter from the hardest, frozen ground. A pair of spring-loaded doors with mesh viewing screens sewn into the upper-half pop open when the hunter sits up to shoot. Until that moment, its like the hunter isnt even there. Inside, a large interior pocket keeps necessities like phones and shotgun shells safely off the floor and within easy reach.
For more information, visit FlextoneGameCalls.com
Clone Decoys Snow Goose Motion Decoy
The Clone Snow Goose Decoy mimics real-life flapping. This real motion captures the realistic wing beat and flying body posture of live birds. Built to last and perform in the most extreme conditions.
Includes:
-Remote
-Stand
-Power Cord
-Durable Carrying/Storage Case
For more information, visit https://www.clonedecoys.com
Drake Waterfowl Walk-In Backpack 2.0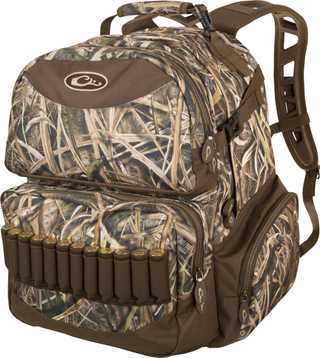 The Walk-In Backpack 2.0 is an excellent choice for a snow goose hunter due to the large storage compartments and plenty of customized pockets hold everything you need in the field. On a big flight day, youre going to need plenty of space for extra shells, snacks, and anything else for all-day sit.
For more information, visit https://www.drakewaterfowl.com