February 2017 Gear Guide
Light Goose Gear

Light goose hunting is as gear intensive as it gets. Having the right equipment when you need it is paramount to your success. The following is a collection of new light goose hunting gear for those willing to put the time and effort into chasing the spring goose migration.
Higdon Outdoors Full-Size Full-Body Blue-Goose Decoys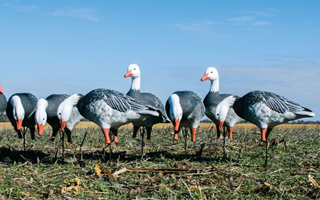 Higdon Outdoors' Full-Size Full-Body Blue-Goose Decoys add contrast to your spread, providing a realistic touch for even high-flying geese. Built with a durable one-piece construction, the decoy and base act as one unit, making setup and moving a breeze. Three-position base allows lifelike movement. Includes - five feeders, two sentries and one rester. HigdonDecoys.com
DOA Migration Series Snow & Blue Sock Decoys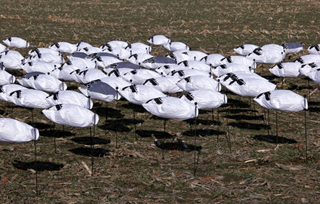 Bulk up your spread with the DOA Decoys Migration Series Snow and Blue Socks. Screen-printed with UV-resistant inks to ensure long-term use, each decoys has a Power Grip handle and 28-inch pointed fiberglass stake for easy setup and takedown. Heavy-gauge spring wire backbone keeps the socks inflated, even when the wind isn't blowing. Coil support keeps the mouth open to create lifelike motion in the slightest breeze. Includes 40 snow-goose socks and 10 blue-goose socks. Per 50. Cabelas.com
White Rock Decoys 5 Dozen Rockonomy Decoys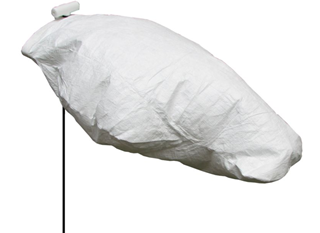 Add a quick five dozen decoys to your spread. White Rock Decoys Rockonomy Windsock Decoys are constructed with Tyvek bodies and can be custom painted. These decoys feature a Tuf-Snap Collapsible Support System to keep the decoys up off the ground and in full-body shape in even the slightest breeze. Support system folds down completely for compact storage and transport. Includes 24-inch fiberglass stakes for anchoring. Per 5-dozen. Cabelas.com
Tanglefree Snow Goose Flag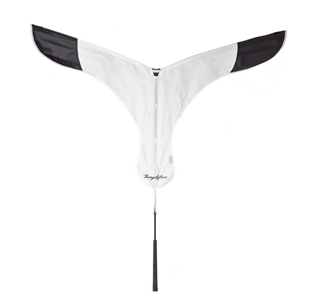 Add a snow goose flag for additional movement to your spread. Each flag is collapsible for compact storage and constructed with a sturdy graphite handle. If hunting Snows or Canada geese, from a layout or pit blind... we have a flag to fit your needs. rogerssportinggoods.com
Lucky Duck Flocker Four-arm Rotary Machine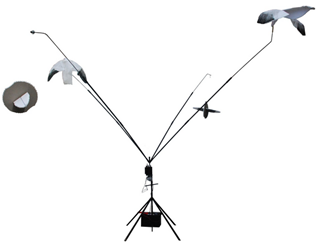 The Flocker is the most rugged and durable four-arm rotary machine on the market. It features a 12-volt heavy duty motor, quick set quad spike stand, and four 8-foot arms for realistic decoy movement. The Flocker includes a remote control and a carrying bag for the arms and stand. It is compatible with most flyer decoys including Lucky Duck, Sillosocks, Reel Wings, Heavy Hauler and Deadly Decoys. The recommended power source is a 12 volt deep cycle battery (not included). Flyers not included. rogerssportinggoods.com
Federal Premium BlackCloud Snow Goose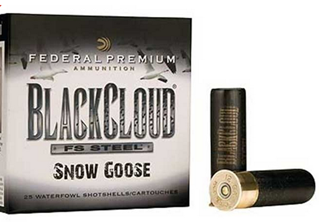 Designed specifically for the long-range demands of snow goose hunters, Snow Goose is perfect for the avid light goose hunters. This new load is available in BB and moves out of the muzzle at 1,635 feet per second. The proprietary and rear-braking FLITECONTROL wad and FLITESTOPPER steel (40 percent) combined with standard steel (60 percent) to create consistent patterns.
Deadly Decoys Flyer Snow Goose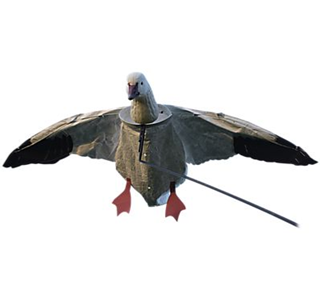 This Snow Goose flyer has wings with full color and realistic feather details that activate and flap in the wind, simulating a flying goose setting into a flock. Deadly Decoys feature a BackBone™ Support, and a Tyvek® Body Bag with intricate detail and colors. The bags have a wide mouth that catches the slightest breeze, and it is lightweight, waterproof, and rot proof. A true-to-life 3D feeder head and attachable feet complete the natural appearance of the bird. basspro.com
SX XXL Decoy Bag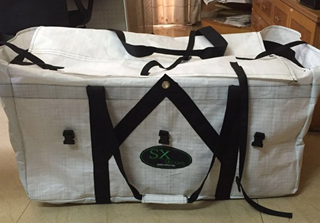 The SX bag is made of the high-quality material that stands open on its own for easy loading and unloading decoys. The bag features heavy-duty handles on all four sides, a top handle with Velcro, adjustable lid buckles and straps. The SX decoy bag also comes with three large grommet holes in the bottom to drain excess water. Size: XXL 40-in. x 28-in. x 20-in. Holds 30 to 40 dozen headless windsock decoys. snowgoosewarehouse.com