February 2016 Gear Guide
Spring goose, light goose hunting gear

At the first hint of spring, or even a stiff south wind, light geese will begin nosing north. For those willing to brave the unpredictable elements offered by spring snow goose hunting, quality gear is imperative. This compilation of light goose gear covers a wide range of equipment necessary for effectiveness and all-day comfort, including ammunition, blinds, decoys and much more.
Mossberg Pro-Series Waterfowl Shotguns Ideal for Light Geese

O.F. Mossberg and Sons Inc. has continued its tradition of bringing reliable, purpose-built shotguns to the market with its 930 and 935 Magnum Pro Series Waterfowl autoloading shotguns. These new guns are available in Mossy Oak Shadow Grass Blades camouflage and feature Pro Series special finishes and competition-proven components.
Boron nitride coating on the gas pistons, piston rings, magazine tubes, hammers, sears, return spring plungers, and return spring provide enhanced corrosion resistance and easy cleaning and maintenance. These premium autoloaders are built to stand up to the rigors of waterfowl hunting. For more information, visit mossberg.com
Hard Core Full-Body Blue Goose Sentry Decoys
Featuring TruMotion bases that add lifelike movement, Hard Core's Full-Body Blue Goose Sentry Decoys will add realism to a spread. Molded shells stand up to harsh every-day use, while a realistic pose brings geese in close. Detailed, durable ArmorCoat paint. Per 4.
TruMotion bases deliver lifelike motion to attract wary birds
Rugged molded shells stand up to harsh every-day use
Realistic, durable ArmorCoat paint scheme
For more information, visit http://www.hardcore-brands.com/
SilloSocks Economy Snow Decoy - 10 Dozen
Sillosock offers an effective way to economically build a light goose spread without spending a fortune. Unpainted bodies can be used as is or painted for a custom look. Includes unprinted heads, Tyvek® bodies, liner bags and stakes. Imported. Per 10 dozen.
For more information, visit Cabelas.com
Rig'Em Right™ Low Rider Layout Blind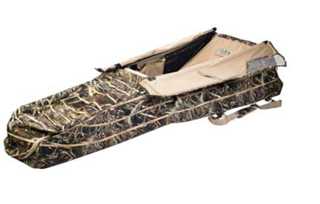 Build for mobility, Rig'Em Right's Low Rider Layout Blind is constructed without pins and sets up in seconds, allowing hunters to get right down to business. This blind's low-profile design eliminates shadows to ensure your presence goes undetected until it's too late. Supportive multilayered padded seat, backrest and headrest provide fatigue-fighting comfort. Storage compartment behind headrest keeps essentials within easy reach.
Quick and simple to set up, no pins needed
Low-profile design eliminates shadows
Supportive, padded seat, backrest and headrest for comfort
Rugged, oversized aluminum frame and metal hardware
Folded: 44-in.L x 36-in.W x 5-in.H.
Set up: 96-in.L x 36-in.W x 17-in.H.
Wt: 20 lbs.
For more information, visit http://rigemright.com/
Sitka Launches Layout Series for Field Hunters
Sitka's new Layout Series pants and jacket have been designed with field hunter's horizontal approach to waterfowling at the forefront. The complex build of the jacket and the pants revolves around Sitka's GroundShield Insulation, heavily reinforced GORE-TEX® fabric, and a unique body-mapped Primaloft insulation. The pants and jacket are available in Gore Optifade Concealment Waterfowl pattern.
For more information, visit sitkagear.com.
Hevi-Shot Goose
If you're searching for an ideal goose load, Hevi-Shot Goose may be the answer. Heavier Than Lead® HEVI-Shot® Goose delivers a powerful payload and is designed to have additional knock-down power on larger birds from long range. Designed with a heavier payload than the HEVI-Shot® Duck loads, and at 1,350 feet-per-second with the 3-inch shells, Hevi-Shot Goose provides above average lethality in any light goose field.
For more information, visit http://www.hevishot.com
Cabela's Northern Flight™ Ultimate Plus Layout Blind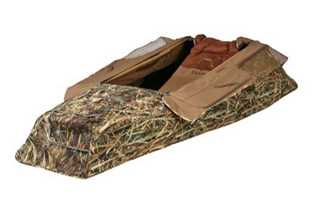 Cabela's Northern Flight Ultimate Plus Layout Blind offers first-class comfort and concealment. The blind's 600-denier polyester shell with weather-resistant PVC backing. Waterproof floor is sealed 1,000-denier PVC tarpaulin with 1,200-denier polyester corner reinforcements. There's even a movable drink holder, adjustable back support and two mesh shell pouches.
Wider bottom results in fewer shadows
Framed footbag
10-in. waterproof bottom
Zippered foot pouch
Adjustable seat cushion
Folded: 49-in.L x 36-in.W x 2.5-in.H.
Set up: 86-in.L x 36-in.W x 15-in.H.
Wt: 25 lbs.
Camo pattern: Cabela's Zonz™ Waterfowl
For more information, visit http://www.cabelas.com.
Banded Gear Tenon Layout Blind
The low-profile, slow-tapered-edge design provides outstanding flattened concealment and no perimeter shadows. Heavy-duty steel framework withstands the rigors of daily use. Roomy interior fits bodies up to 6' 10-in. Cockpit opening is 29-in.W x 44-in.L. When folded blind measures 48-in.W x 56-in.L x 7-in.H. Features heavy duty 900D construction with PVC backer, 2-in. thick padded head rest and back rest, flagging panels, flag storage, ammo storage pouch, mesh windows, concealment straps to add natural camouflage and 1050 denier double reinforced bottom. Realtree Max5 camo pattern.
For more information, visit http://banded.com.
Mud River Dog Products - Magnum Hoss Food Bag
Light goose hunting typically means extended travel while chasing these birds north. Pack your retriever's food a durable, water resistant travel bag. Mud River's Magnum Hoss Food Bag is an excellent way to transport dry dog food.
Water resistant laminate material shell
Roll and buckle closure
Storage zipper at base for food bowl and water bowls
Capacity: 30 lbs. of dry food
For more information, visit https://mudriverdogproducts.com
X-Socks® Cabela's Edition Men's Hunting Radiactor Socks
All day comfort in the field means finding an all-day solution for your feet. Cabela's Edition Men's Radiactor Hunting Socks by X-Socks deliver all-season thermal regulation. X-Socks® Advanced Foot Protection system (APS) feature a wide range of technology to keep you comfortable. Revolutionary Xitanit™ material wicks moisture and is highly conductive, reflecting radiated heat back to your feet. Heel protectors and Achilles' tendon protectors relieve pressure and guard against friction. Knee-high, self-adjusting fit. 42% polyester, 30% nylon, 15% wool, 11% polypropylene, 2% spandex. Imported.
Advanced Foot Protection system with wicking Xitanit material
Highly conductive material reflects radiated heat back to feet
Air-Conditioning Channels ventilate with each step
X-Cross Bandages cushion and stabilize ankles
Anatomically shaped for a true left and right fit
Ht: 18-in.
Men's sizes: L (8-9.5), XL (10-12.5).
Color: Green/Silver
For more information, visit http://www.cabelas.com
Federal Ammunition Black Cloud Snow Goose
Light goose hunting offers a variety of shooting opportunities, and sometimes lots of them. Black Cloud Snow Goose is a rare snow goose specific load, built for long-range knockdown power. Black Cloud Snow Goose features the famous FLITESTOPPER® pellets and the revolutionary FLITECONTROL® wad to help get more pellets on target.
For more information, visit https://www.federalpremium.com