The 2017 boots and waders collection displays the new comfort and protection emphasis most manufactures are targeting.
---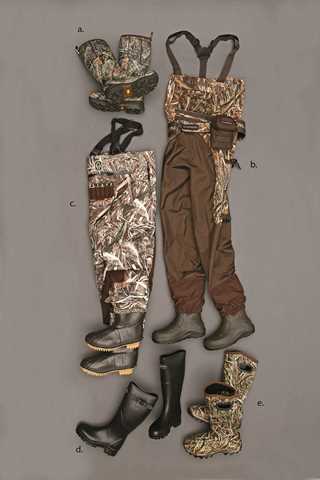 a. Muck Boot Woody Arctic Ice Boots
When the mercury drops, these calf-high boots from the Muck Boot Company stand up to the challenges of cold-weather waterfowling. Woody Arctic Ice boots are fleece lined and feature an 8mm layer of CR flex-foam in the upper boot and a 2mm underlay of thermal foam in the foot area. The boots' Bob-Tracker outsole is molded to be rugged for steady footing even on ice.
b. LaCrosse Aero Elite Breathable Waders
New from LaCrosse, these Aero Elite Breathable Waders are lightweight and comfortable for early-season hunts. Durable construction includes double-stitched seams, gaiter brush guards, a MOLLE-compatible shell belt, and a 3.5mm neoprene core for maximum mobility. Roll them down and convert them to wader pants by simply removing the suspenders.
c. Hard Core All Seasons Breathable Waders
Hard Core Brands launched a full line of waders for 2017, including the company's flagship All Seasons Breathable Waders. These new waders feature a four-ply polyester shell with a single seam, 1,200-gram Thinsulate boots, 900-denier gaiter brush guards, and a unique zip-out insulated liner. They're available in Realtree MAX-5 and Realtree Original camo.
d. Gumleaf Norse Boots for Women
Built for style and function, these handmade women's boots from Gumleaf USA are constructed of 85 percent natural rubber. They feature a top strap that can be adjusted for a perfect fit, as well as an air-cushioned heel and forefoot for support and comfort. These waterproof hunting boots are also lined with 4mm neoprene for warmth.
e. Itasca Marsh Trekker 800g Neoprene Boots
Itasca's new Marsh Trekker 800g neoprene hunting boots sport DU's official Mossy Oak Shadow Grass Blades camo pattern. Wear them with pride and keep your feet warm in the coldest conditions. Completely waterproof, these DU-branded hunting boots feature a 4mm neoprene upper, 800 grams of 3M Thinsulate insulation, a comfort-cushion insole, and an EVA midsole. A portion of the proceeds from the sale of this officially licensed product is used to support DU's conservation programs.