An essential waterfowling tool, these new products for 2017 may help you organize important gear more efficiently this season.
---
a. Mud River Ducks Unlimited Shoulder Bag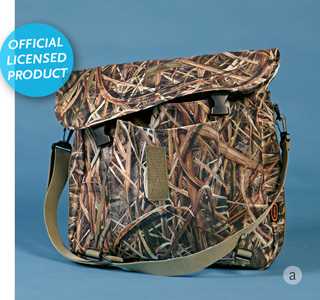 This messenger-style shoulder bag from DU partner Mud River is as fetching as it is practical. Carry it proudly at work or play to show your support for the ducks. Available in Mossy Oak Shadow
Grass Blades or Bottomland camo, this water-resistant bag features the DU logo, a nylon shoulder strap, and a fold-over flap with quick-release fasteners. A portion of the proceeds from the sale of this officially licensed product is used to support DU's conservation programs.
b. Wren & Ivy Heirloom Ditty Bag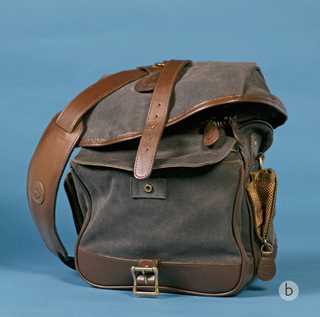 This stylish bag from Wren & Ivy is handmade of bridle leather and waxed canvas. The Heirloom Ditty Bag comes with a shoulder strap for easy carrying and an oversized rain flap that buckles down to keep
your gear secure and dry. The main interior pocket features a zipper for added security. There's even a handy water-resistant smartphone pocket with a clear window that allows you to use your phone without removing it from the bag.
c. Heavy Hauler Outdoor Gear AR-1 Layout Blind Bag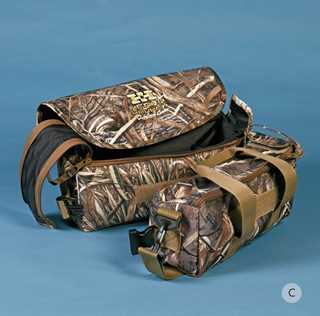 Heavy Hauler's new AR-1 Layout Blind Bag has a unique design that makes it adaptable to different hunting situations. Basically, it converts from a standard-style blind bag to a narrower size that you can fit inside a layout blind or strap around a tree. Use it to hunt dry fields or flooded timber-the bag's versatility is built right in.
www.heavyhauleroutdoorgear.com
d. L.L. Bean Waterfowl Blind Bag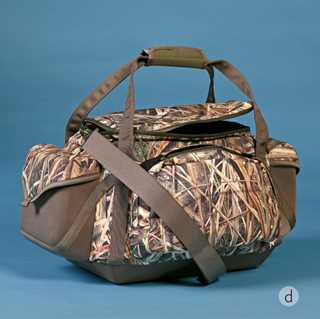 A built-in LED system allows you to view the contents of this new blind bag in the predawn darkness of a duck blind. Better still, the soft glow of the red light won't interfere with your night vision.
The L.L. Bean Waterfowl Blind Bag's outer shell is made of lightweight ripstop polyester while its lining is 100 percent nylon. This bag is available in Mossy Oak Shadow Grass Blades camo.