2021 Light Goose Gear
Innovation meets spring migration

ALPS OutdoorZ Snow Goose Chair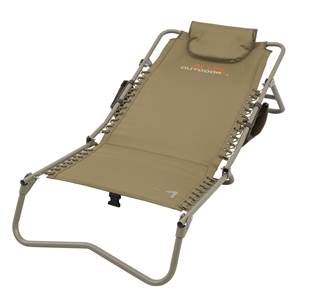 The Snow Goose Chair is an adaptation of ALPS OutdoorZ's popular Zero Gravity Layout Blind but is made specifically for snow goose hunters. It features an ergonomic lounge chair without the blind panels, and adjustable backpack straps for easy transport. https://www.alpsbrands.com
Drake Waterfowl 9-inch Hi-Top Migrator Boot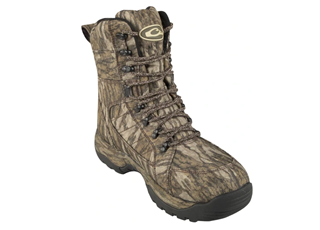 Featuring 400-gram 3M Thinsulate Insulation with breathable, 600-denier uppers, Drakes Migrator Boot was designed for all day comfort in dry or muddy fields. The hi-top construction and rugged outsole will deliver the support and traction needed for setting a decoy spread or chasing cripples.
https://www.drakewaterfowl.com
Sitka Gear Nodak System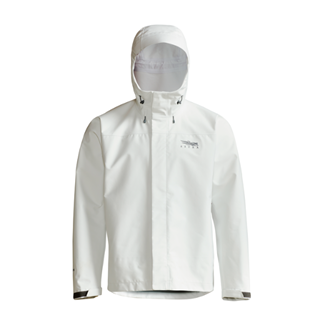 Sitkas new Nodak Jacket is a solid solution to hunting inside a light goose spread. This jacket is designed to mimic the UV reflectance profile of snow goose feathers so you wont be seen as a threat while laying out in the spread. Made from a waterproof/breathable GORE-TEX 3-layer fabric, with comfort- and protection-focused features like a fully adjustable hood, and mud flaps to protect all zippers.
Boss Shotshells 12-gauge, 3-inch 2s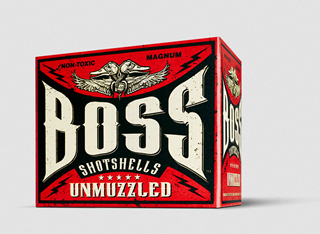 Utilize copper-plated bismuth during the LGCO for an additional level of confidence. Boss Shotsells 3-inch, 2s provide efficient knockdown power for these tough-to-decoy birds.
Yeti Loadout Box30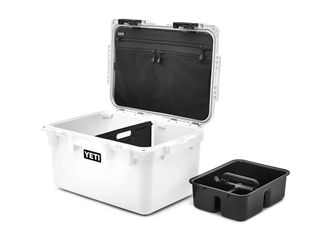 Having your equipment accessible and protected in a goose field is non-negotiableand yet typical gear cases arent built to stand up to the demands of the outdoors, and lack organizational capabilities. The YETI LoadOut GoBox is waterproof, dustproof, stackable, and meant to store your must-have tools until you need to get up and go.
Accessories included: Divider, Caddy, and Pack Attic
Higdon Outdoors APEX Full-Size Full-Body Variety Pk, Snow/Juvenile (8pk)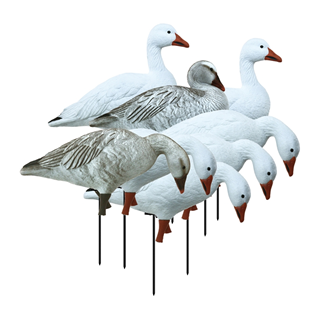 Higdons full-body snow goose decoys offer multiple poses for a lifelike look and feel. The APEX one-piece design is made for a lightning fast setup, durability, realistic motion and high visibility thanks to the APEX stake system, XHD HyperFeathering and a more flexible body. Package includes eight decoys: 2 sentry, 3 feeders and 1 relaxed head position with eight APEX stakes.
Stoeger M3500 Snow Goose

M3500 Snow Goose is optimized for high-volume shooting under extreme conditions. Oversized controls aid operation with gloved hands and the distressed-white weather-resistant Cerakote finish blends in with winter environments. The extended 10+1 magazine is out-of-the-box ready for big flocks and follow-ups shots.
https://www.stoegerindustries.com
Banded Tough Mudder Snow Goose Backpack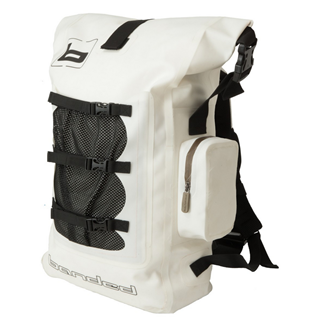 Bandeds Tough Mudder Backpack is 100 percent mud-proof with a long lasting DuraMax 600D armor coated exterior. Features include side storage pockets with water-resistant zipper and comfortable padded shoulder straps.
FoxPro Snow Digital Game Call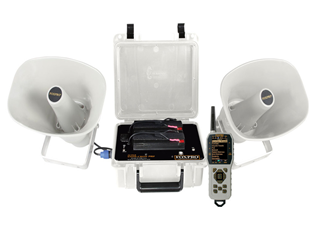 This FoxPro Snow Digital Game Call comes standard with 100 high quality FOXPRO sounds and can store and access up to 1000 sounds. FOXPRO introduces the Super Snow Crow Pro (SSCP) which is powered by two 12-volt gel cell batteries. The SSCP comes with two 30-watt external speakers and allows you to connect up to four external speakers, which have heavy duty connector plugs to hold up in the worst conditions. The SSCP comes standard with the TX-1000 remote control. The TX-1000 features a full color graphic LCD screen which displays your sound list or sound categories.
Frogg Toggs Pilot II Guide Bib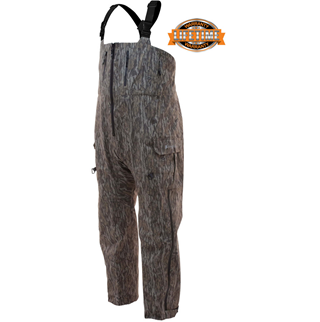 Pilot II Guide Bib is the perfect way to maintain warmth on cold mornings on the water or anywhere in the outdoors. Ultra-comfortable and breathable, the Pilot II offers a customized fit, easy on-and-off, tons of storage, and features comfort-stretch suspenders with locking buckles, multiple accessory D-rings, zippered waterproof chest-storage pockets and quick-drain, expandable cargo pockets.