2020 New Guns and Gear: Shotguns
The following is an in-depth look at new shotguns for this year

Savage Renegauge

Savage made a splash in 2020 with the new Renegauge, a 3-inch 12-gauge gas gun that is the company's first semiauto in over 50 years. Powered by the Dual Regulating Inline Valve (D.R.I.V.) gas system, the Renegauge vents excess gases through two valves instead of one, which Savage claims helps the gun cycle faster and more reliably. With a fluted barrel to save weight, the Renegauge still scales at eight pounds, making it a good choice for those who like heftier waterfowl guns. The Renegauge's stock offers a wide range of adjustments, which allow it to fit almost anyone. It's available in black or Mossy Oak Shadow Grass Blades. savagearms.com
Remington 870 Express Trap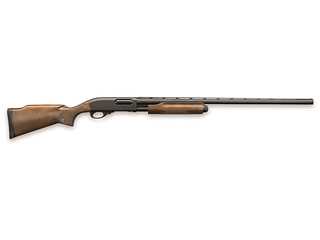 As the ranks of Scholastic Clay Target Program athletes grow-due, in part, to DU's support-the demand for target guns at all price points increases as well. The new 870 Express Trap puts a well-made, dedicated trap gun within reach of almost anyone.
With a 30-inch barrel, Monte Carlo stock, and softer recoil pad, it is a gun that can
hold its own against pricier competitors. The gun has hardwood furniture and the matte-finish metal familiar to Express owners, and it comes with three choke tubes made to deliver optimal patterns at 16-yard and handicap ranges. remington.com
Browning BPS

Since its introduction in the 1970s, the bottom-ejecting BPS has a been a favorite of left-handed shooters and anyone who likes a pump that ejects empties at their feet. This year the BPS gets a more modern look. The trigger guard is slimmer and larger, like that of the Maxus semiauto. The stock has been reshaped and includes a molded-in swivel hole and Browning's soft Inflex pad, which includes spacers to change length. Also, the last inches of the butt are solid, making it easier to cut down and fit with a pad if you need to shorten it. It's available in 10-, 12-, and 20-gauge; 3- and 3 1/2-inch chambers; and in black, Mossy Oak Shadow Grass Blades, or Mossy Oak Break-Up Country. browning.com
Winchester SX4 Hybrid Hunter

Winchester introduces a series of SX4 Hybrid Hunters this year, with synthetic furniture in new camo patterns and metal components treated with Cerakote for abrasion and rust resistance. The latest in the SX series, the SX4 makes use of the gas system proven in the SX2 and SX3, housing it in a lightweight package with enlarged controls and a stock that can be adjusted for length. Available only from certain dealers, these guns are offered in 3- and 3 1/2-inch 12-gauge and 3-inch 20-gauge in Mossy Oak, Realtree, and TrueTimber
patterns. winchesterguns.com
Mossberg 500 Turkey

As hunting turkeys with smallbore guns and Tungsten Super Shot loads becomes more popular, Mossberg responds with a turkey version of the Model 500 pump in .410. The gun has a 24-inch barrel, X-full extended choke, and fiber-optic bead. The receiver is drilled and tapped for an optic, and the gun is dipped in original Mossy Oak Bottomland camo. The 6 1/2-pound gun is equipped with sling swivels and will ride easily on anyone's shoulder. mossberg.com
Benelli Super Black Eagle 3 BE.S.T.

Benelli's big introduction for 2020 is BE.S.T., which stands for Benelli Surface Treatment. This new finishing technology is a perfect fit for the reliable Super Black Eagle 3 (SBE3). Made from carbon dust that binds to steel surfaces, BE.S.T. protects guns from the ravages of weather, and treated parts are backed by a 25-year warranty against rust and corrosion. Otherwise, the gun is the same SBE3-a 3 1/2-inch inertia shotgun with a bolt engineered to always close into battery. The SBE3 also features a ComforTech 3 stock to reduce recoil. benelliusa.com
Benelli Ethos BE.S.T.

The Ethos receives the BE.S.T. treatment as well as a synthetic stock, positioning it as the 3-inch 12-gauge in the Benelli waterfowl lineup. Like the Super Black Eagle 3 BE.S.T., it has a ComforTech 3 stock and a 25-year warranty on treated parts. A two-piece carrier latch and beveled loading port make it easier to slide fresh shells into the magazine. It weighs 6.6 pounds and is currently available only in 12-gauge,
with a choice of 26- or 28-inch barrels. benelliusa.com
Stoeger M3500

The M3500, Stoeger's 3 1/2-inch inertia gun, now comes in two different Mossy Oak patterns. For waterfowlers, there's a Bottomland version with a 28-inch barrel. For turkey and predator hunters, there's a pistol-gripped version with a 24-inch barrel in the predominantly gray Overwatch pattern. Already nearly eight pounds, the 3500 comes with a removable 13-ounce stock weight to further soften its kick, making it a good choice for hunters who shoot a lot of magnum loads but prefer an inertia system. stoegerindustries.com
CZ All-Terrain

CZ introduced a new line of "All-Terrain" models this year, including the Redhead, Drake, and Upland Ultralight over/unders; Bobwhite side-by-side; and 1012 semiauto. The guns feature matte-finish walnut stocks and olive-drab Cerakoted metal and swivel studs. Tiny rare-earth magnets in the ejectors or extractors of the break-action guns keep loaded shells from falling out, simplifying the task of loading the gun in a blind. cz-usa.com
Franchi Affinity 3.5

Long considered a solid value in an inertia gun, the Franchi Affinity now comes in Mossy Oak Bottomland. The Affinity 3.5 shoots the heaviest magnums, relying on its thick TSA recoil pad and a removable weight in the stock to tame the kick of this seven-pound shotgun. It has the oversized bolt handle and bolt release button many waterfowlers demand, and it comes with three chokes and a small fiber-optic bead. The Bottomland version has a 28-inch barrel. franchiusa.com
Weatherby 18i Deluxe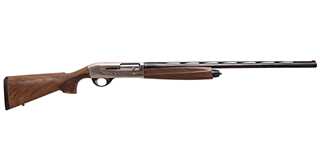 Weatherby's Italian-made inertia gun, the 18i, is now offered in a Deluxe version with nickel metalwork, a billet aluminum receiver, and a matte-finish, highly figured walnut stock and forearm. It has a fiber-optic bead and the sling swivel studs preferred by waterfowlers and comes with five choke tubes and a shim kit for altering fit. It's available in
12- and 20-gauge. weatherby.com
TriStar Trinity Series

If you want a good-looking gun that you're not afraid to take hunting, the Tristar Trinity line is worth your consideration. Tristar's newest over/under shotguns feature 24-karat-gold inlays and scroll engraving on the receivers, complemented by satin-finish walnut stocks. The guns come in 12-, 16-, and 20-gauge and are lightweight, with even the 12-gauge version weighing under seven pounds. Five choke tubes are included with each gun. tristararms.com
Syren Elos D2

Stocked and balanced to fit female shooters, the Syren Elos D2 is intended to serve as an all-around over/under, and it's a more practical waterfowl gun than it might appear. Its matte-blue barrels won't cause glare, and the easy-care Triwood finish sheds water. Barrels are bored with Fabarm's TRIBORE HP system, which has been shown to increase ammo velocity slightly. The Elos D2 is available in 20- and 28-gauge and weighs 6 1/2 pounds. The 20-gauge is chambered for 3-inch shells. syrenusa.com
Charles Daly CA612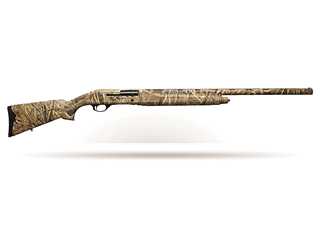 The Charles Daly name has been around since the 19th century as an importer and marketer of guns. Current Daly guns come from Turkey and include the CA612, which is intended for waterfowlers. A 3-inch 12-gauge inertia gun, the CA612 comes with a 28-inch barrel and fiber-optic bead, five choke tubes, and Realtree MAX-5 finish. The gun weighs in at 7.2 pounds. charlesdaly.com
Escort PS Camo

Escort's extremely affordable PS gas guns come in a camo series this year, with a choice of Realtree APG, Realtree MAX-5, and Mossy Oak Bottomland. The 12-gauge guns have 28-inch barrels and weigh around seven pounds. The Smart Valve Piston gas system cycles everything from target loads to 3-inch magnums. The guns feature an enlarged bolt release button, fiber-optic bead, and five choke tubes. escortshotgunsusa.com
Caesar Guerini Revenant

The Revenant is a remarkable gun, an almost totally machine-made high-end over/under that rivals guns costing two or three times its admittedly high price. A round-action over/under that recalls the classic British Boss guns, the Revenant has ornately decorated, gold-inlaid sideplates and iron forearm "wings" that are precisely laser engraved and then enhanced with hand engraving. Well-balanced, with a solid rib that won't collect debris in the field, it's a shooter as well as a looker. The Revenant comes in 20- and 28-gauge, with
28- or 30-inch barrels. gueriniusa.com
Retay Masai Mara 20-Gauge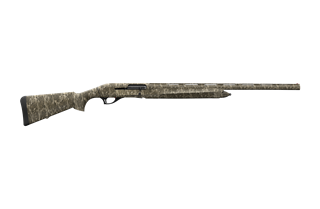 The Masai Mara has taken off among waterfowl hunters as a well-made, lower-priced inertia alternative. The growing popularity of lighter-gauge guns makes the introduction of 20-gauge synthetic and camo versions of the Masai Mara welcome. These scaled-down shotguns have all the features of the 12-gauge, including a trigger group that drops out at the push of a button and a bolt engineered to go back into battery, eliminating the biggest headache of inertia semiautos. They are available in 24-, 26-, 28-, and 30-inch barrels in black, Mossy Oak Bottomland, and Realtree MAX-5 or Timber. retayusa.com
Ithaca Model 37 Waterfowl

Ithaca continues to make a waterfowl version of the venerable Model 37 pump with the same care and precision that have always been Ithaca hallmarks. Made in Ohio, this waterfowl gun features a black synthetic stock and metal components treated with Perma-Guard to protect them from rust and abrasion. The guns feature 3-inch chambers and come in 12- and 20-gauge versions with a choice of 28- or 30-inch barrels. ithacagun.com
DU Shotgun of the Year The Ducks Unlimited 2020 Shotgun of the Year: Beretta A400 Xtreme Plus

This 12-gauge semiautomatic shotgun features a 3 1/2-inch chamber, 28-inch polished blued barrel with five interchangeable choke tubes, silver receiver, and DU-exclusive oil-finish walnut stock. A gold inlaid waterfowl scene completes this elegant firearm, and a special DU serial number and gun lock are included. This beautiful firearm is available only at DU events. To find an event near you, go to ducks.org/events.