Saskatchewan – A Dream Destination for Waterfowl Hunters
Diversity of species makes this prairie province an all-around waterfowling paradise

By John Pollmann
The skies above Saskatchewan come alive each fall with the sights and sounds of migrating ducks and geese which provides tremendous waterfowl hunting opportunities. And while the variety of birds that can be found on any given day make this province a top destination for duck and goose hunters, read on to discover how Saskatchewan is also the perfect place to check off a dream hunt for a handful of specific waterfowl species.
Snow Storm
With its abundance of food and water, the Quill Lakes region of Saskatchewan plays a critical role for migrating snow geese each fall. It also may be home to the best light goose hunting in North America during the fall season.
Ive hunted snow geese in a lot of places, but there really isnt anything that compares to the hunting that can be had in Saskatchewan in the fall, says Matt Kostka with Top Gun Guide Service.
Kostka explains that flocks of Rosss geese are typically the first light geese to arrive from their Arctic breeding grounds, migrating into central Saskatchewan in mid-September, shortly after area farmers finish harvesting peas and barley. In the weeks that follow, the number of light geese in the region continues to build into a crescendo of white.
Similar to the spring conservation order, hunters are allowed to use electronic callers to decoy light geese during the fall season in Saskatchewan, though a large spread of sock-type or full-bodied decoys is equally important for attracting flocks of birds. Hunters may shoot 20 geese per day, though Kostka appreciates the limit, as it forces hunters to get out of a field and allow the geese to feed and perhaps provide hunting opportunities again in the future.
Even with the limit, this is a high-volume hunt thats really hard to beat, Kostka says. Even if youve hunted snow geese in other places, you owe it to yourself to experience snow goose hunting during the fall in Saskatchewan at least once.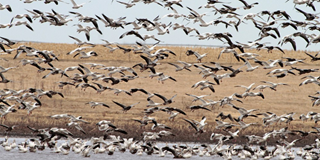 Mallards in the Field
The thousands of small, shallow wetlands that dot the Saskatchewan landscape help produce large flocks of ducks that migrate south each fall, including a large number of mallards. But before these birds leave the province, they provide hunters with a quite a show.
Our field hunting for mallards is second to none, says Darin Placsko of Bucket List Lodge. There are mornings when there are so many ducks working the decoys that hunters dont even know where to shoot. It really is something to behold. The wind produced from all of those wings beating is almost enough to blow your hat off.
Hunters in Saskatchewan enjoy an eight-bird daily duck limit, which may consist entirely of mallards, though Placsko says it is highly likely it will also include pintails and even wigeon.
The liberal limit is a big draw for hunters, but a lot of folks enjoy how easy it is to hunt in the fields, Placsko says. It is something that anyone can do.
The ease of the experience is often aided during the early portions of the season because of the more temperate weather conditions, but hunters should not ignore the field hunting opportunities for fully-plumed greenheads that exist in mid- to late October.
By this point in the season, weve picked up additional birds from the north, and while the weather can be an issue, it is usually when the mallard hunting is at its finest, explains Kevin Rowswell of Big Sky Outfitting.
The sheer number of mallards that hunters can see in October makes it an experience youll never forget, Rowswell says, but add to it that the birds are relatively new to the area and eager to prepare for the migration, and you have the perfect conditions for a frenzied morning or afternoon in the field.
Late-season field hunting for mallards in Saskatchewan is something that you have to see for yourself to truly appreciate, Rowswell says.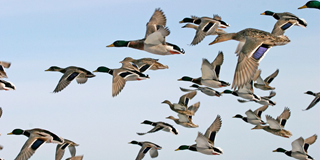 Lights-Out Action for Dark Geese
From the seasons opening bell to its frozen ending, Saskatchewan is also home to world-class hunting for dark geese, including several subspecies of Canada and cackling geese as well as white-fronted geese.
Large, locally-produced Canada geese produce the bulk of the opportunities at the start of the season, but it doesnt take long for the first lesser Canadas to arrive in big numbers.
Lessers can be tough to hunt, but when they do it right, it is something else, says Tyler Mann of the Saskatchewan Goose Company. Having several hundred geese in the hole is just wild.
Mann says that mid-September to mid-October is also the peak time to decoy white-fronted geese, or specks, before they shift further south, and the decoy spreads the birds encounter in parts of Saskatchewan are often some of the first they have seen. The birds are vocal, responsive to calling, and decoy readily.
The specks do move through quicker than the Canada geese do, so if they are a species that you want to harvest, youre better off coming a little earlier than later, Mann says. But if big geese are your aim, early or late are both great.
Rowswell, with Big Sky Outfitting, adds that just about any time a hunter visits Saskatchewan, theres a good chance that a morning hunt will include multiple species of geese.
Once the migration kicks in, wherever you find geese feeding, youre going to find everything in that field togetherCanada geese, specks, and more, Rowswell says. And there is something enjoyable about all the different geese, whether youre listening to the calls of the specks and seeing the unique coloration on those adult birds in one flock and then working honkers in another. Theres something in Saskatchewan for everyone.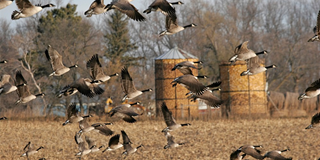 For more information about hunting in Saskatchewan, visit Saskatchewan Tourism.
This content was created in coordination with Saskatchewan Tourism as part of a Sponsored Content package.