Plan Your Louisiana Teal Trip Now
South Louisiana bluewings offer a great start to the waterfowl season and much more

By Chris Jennings
Many waterfowl hunters kick off their season by participating in early teal hunts, and with liberal bag limits currently in place, September blue-winged teal hunts have become wildly popular. Fantastic hunts can be found all along the Central, Mississippi, and Atlantic Flyways, but there's no better place to experience a bluewing hunt than the marshes of coastal Louisiana. This colorful destination serves up rich waterfowling culture and heritage as well as eye-opening glimpses of the unique wildlife and habitat this region is known for.
I've participated in several of these early-season Louisiana hunts, and each one has ended with me planning my next trip to the Sportsman's Paradise before I even get back home. Here's a handful of recommendations to help you take advantage of this year's early teal season in Louisiana.
When to Go
The state's proposed early teal season for 2017 is September 15-30, so if you have grand visions of bluewings over the decoys, now is the time to start making arrangements.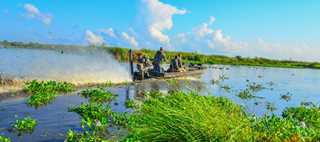 Jared Serigné, marketing director for Gator Tail Outboards, hunts the marshes near his home in St. Bernard Parish and keeps close tabs on bluewings as September approaches.
"Teal kind of come and go in south Louisiana, but they will stick around if conditions are right," Serigné says. "The areas we hunt will hold bluewings throughout the entire waterfowl season. Anytime during that September season, there's a chance big numbers will be holding in the marsh."
Fast Action
Teal hunting is a "be ready at legal shooting time" kind of experience. Flocks of these acrobatic early migrants tend to arrive in droves at first light, fluttering just above the marsh grasses. They'll be in your decoys and then gone in a split second. Waterfowlers who are not prepared for fast fliers should be on notice.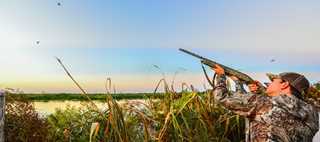 "When my clients see that first big flock of teal come into the pond at first light, they are like a kid at Christmas, they just light up with excitement," says Capt. Jimmy Corley, owner and guide with Waterfowl Specialist Guide Service in St. Bernard, Louisiana. "It is a good experience. In September, the marsh is still real green and the vegetation is thick. It's great time to see other wildlife and birds. People always like seeing the alligators here in the marsh-and they are everywhere."
Teal migrate south from their breeding grounds on the U.S. and Canadians prairies from mid-August through September. They puddle-hop their way down the flyways, offering hunting opportunities to waterfowlers in midlatitude states. But once they reach Louisiana these birds concentrate in the lush, vegetation-rich marshes, where they feed and rest before their next migration south to (Caribbean, Mexico, South America).
This is what makes Louisiana a hotbed for bluewing hunting action.
It's Hot
Some waterfowling aficionados would frown upon Louisiana's weather for a proper duck hunt, but those are the same hunters who spend several hours in a 100-degree dry field, hunting doves in shirtsleeves in early September. Let's not fool ourselves here, most hunters are accustomed to cold-weather wingshooting, but being able to hunt in lightweight gear, ball caps, and slip-on boots is a welcome change.
"I never really get bothered by the heat on a teal hunt. Honestly if the hunting is decent, your natural adrenaline should be taking over and you will be thinking about when the next drove of teal will arrive, not how hot it is," Serigné says. "Still, it could reach the 90s by late morning, so wear breathable materials. I like breathable long-sleeve shirts because they keep the mosquitoes off a little better and keep direct sunlight from hitting your skin. Also make sure you keep cool drinking water on board."
Because insects can be relentless in the predawn hours, be sure to pack a rain jacket and bug repellent.
Extracurricular Activities
Along with its prime wingshooting opportunities, Louisiana is home to some of the best inshore saltwater fishing in the world. The chance to hook redfish, spotted seatrout, flounder, black drum, and a long list of other saltwater species can easily turn an early-season teal hunt into a popular cast-and-blast adventure.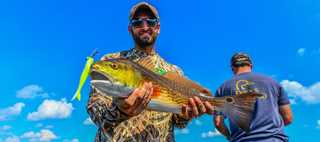 "We like to enjoy a great duck hunt, head back for lunch, and grab the fishing rods," Corley says. "I had a group last year and the kids had the best time catching redfish all afternoon. The hunting is great, but when you turn it into a cast-and-blast trip, it really makes it something different."
One afternoon last year, I had the opportunity to venture into the marsh in pursuit of a different quarry: wild hogs. One part marsh sightseeing tour, one part hog hunt, Capt. Ronnie Adams, owner of Elite Airboat Hog Hunting in Chalmette, Louisiana, hosts clients on his airboat to scour the marsh for these invasive species, which are wreaking havoc on the crucial vegetation that is holding this region together.
Adams's adventure-packed airboat rides offer sightings of alligators, deer, and other wildlife, and if you're lucky enough to be able to find a hog in the dense vegetation in September, it's a quick way to fill a cooler with fresh pork.
"These pigs are tearing up the marsh, and we do everything we can to control them," Adams says. "Our pig-hunting trips are a great, safe way to experience the marsh in a different way, and we kill about 400 pigs a year."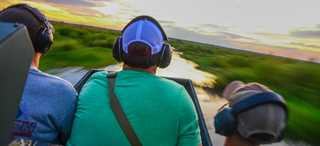 The Food
If you've never eaten your way across south Louisiana, you're missing out. Shrimp spills off the boats into coolers and cookers, and fresh, never-frozen shrimp opens visitors' eyes to the sweetness and succulence stripped away during the freezing process.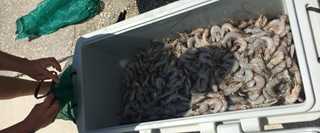 "If you're hunting teal in September in south Louisiana you won't be far from some kind of seafood dock or store that sells fresh seafood," Serigné says. "The same marshlands that attract early bluewings also support the country's greatest inshore fishery, so there is an abundance of crab, shrimp, and oysters. Bring an ice chest or two to take some fresh seafood home with you."
Post-adventure Restaurants:
There's a fantastic meal everywhere you turn in south Louisiana, but here are a few of my recommendations in the southeastern portion of the state.
Lil G's Cajun Kitchen - Belle Chasse
Lil G's Cajun Kitchen is everything you want from a casual post-hunt meal. Featuring a variety of local treats, including chargrilled oysters, an array of po' boys, and fresh boiled shrimp, the diner's extensive menu is a collection of the region's finest.
MeMe's Bar and Grille - Chalmette
MeMe's offers a classy, casual dining experience with just the right amount of local flavor and Americana. Recommended by the locals, MeMe's several different styles of chargrilled oysters are a must, and the BBQ shrimp and grits and crab cakes round out the perfect dinner.
Guillory's Grocery/The Green Store - St. Bernard Just out of the marsh, The Green Store is at the top of most locals' lists for their favorite places to stop for a sandwich and a cold drink. Yes, it looks like a convenience store-and that's because it is a convenience store. But don't make any judgements until you've eaten the food. The muffulettas here are famous, and there's something special about those butcher paper-wrapped po' boys.
Boutte's Bayou Restaurant - Lafitte
Boutte's is a small mom-and-pop restaurant that serves up local delicacies and daily specials. It is deceiving in its simplicity, however, offering an out-of-this-world oyster po' boy that is not to be missed.
Rocky & Carlo's Restaurant and Bar - Chalmette
If you find yourself needing a break from seafood, Rocky and Carlo's offers a taste of Sicilian/New Orleans fusion that is as appetizing as it is intimidating. Cafeteria-style service gives visitors a peek at each dish, and one can easily bounce from traditional shrimp jambalaya to veal parmesan in a wink. Although I prefer local seafood-based dishes while visiting south Louisiana, the veal parmesan with macaroni and red gravy is worth stepping away from an all-seafood diet, at least for one meal.
Localized Feast
A successful Louisiana adventure is rich with memories that will last a lifetime. But before you sit back to cherish them, take the time to celebrate the bounties of the marsh at your dinner table. Bluewings, fish, and wild boar-all of which could make up your bag on your next trip-are delicacies to be matched with local commercial offerings of shrimp, crab, and oysters.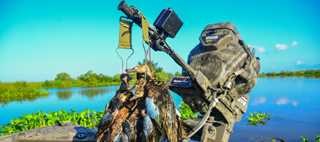 Here's a few recipes to get you started:
Teal Quesadillas
Wild Boar Jambalaya