Manitoba's Unique Waterfowl Hunting Opportunities are Calling
Three fantastic hunts to help plan your next Canadian waterfowling adventure

By John Pollmann
With a diverse landscape that attracts massive flocks of ducks and geese each fall, Manitoba offers a unique waterfowl hunting experience for everyone. And while a trip to this province can deservedly be considered one of a lifetime, here is a look at three hunts that will have you eager to come back for more.
Hudson Bay for a Hunt Unlike Any Other
If a remote, unique waterfowl hunting destination is calling your name, then look no further than a trip to the coast of Hudson Bay, where visitors are treated to tremendous multi-species hunts in a setting unlike anywhere else.
Snow, Rosss, lesser and greater Canada geese, mallards, pintails, black ducks, and more are found in this region, says Randy Duvell, who hosts small groups of hunters at his Kaska Goose Lodge near the mouth of the Kaskattama River for three weeks each September. Hunting is done from natural blinds, where guests wait in anticipation for decoying flocks of waterfowl near the top of the flyway. Wildlife doesnt just fill the sky, however.
There are great wildlife viewing opportunities both in camp and from the helicopter for moose, woodland caribou, wolves, foxes, wolverines, black bears, and polar bears, Duvell says. And when the river is at normal or low-water levels, there is tremendous fishing for sea-run brook trout. It is not unusual to catch over 40 brook trout measuring 15- to 25-inches-long in an hour.
Hunters can also chase willow ptarmigan in the Hudson Bay lowlands or simply soak in the scenery of the Hudson Bay coast.
Hunters who have travelled all over the world tell us that a trip to the Hudson Bay is their absolute favorite, Duvell says. It is a trip of a lifetime.
Manitobas Parkland a Canada Goose Mecca
Home to some of the first fields of harvested barley, wheat, oats, and corn that migrating waterfowl encounter on their way south through the province, Manitobas Parkland region is a hub for both ducks and geese in the fall. And while the gunning for mallards and other puddle ducks is second-to-none, its the Canada goose hunting that hunters should experience at least once in their lifetime.
The combination of food and water that we have in the area is a huge draw for both lesser and greater Canada geese, says Rick Liske of Agassiz Outfitters. Our hunting really starts to heat up around the third week of September. Usually the migration is in full swing and the geese are around by the thousands.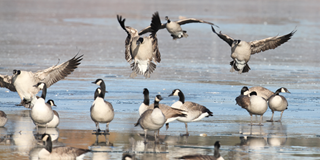 The sheer number of waterfowl that visit the region make it worth a trip, but the natural features of the Parkland region its forests of conifers bordered by stands of aspen and lakes of clear water create a unique backdrop for hunters peering from their blinds at flocks of decoying Canada geese.
This region of the province is an absolute mecca for waterfowl, but especially for Canada geese, Liske says.
Diver Hunting Like the Good Ol Days
Manitobas Delta Marsh has a well-earned reputation as a top destination for diving ducks, but hunters interested in experiencing tremendous flights of canvasbacks, redheads, bluebills, and ringnecks shouldnt ignore the lakes and marshes found in the northern portion of the province.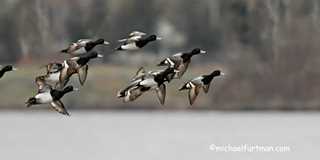 Canvasbacks, in particular, are a favorite target of hunters who visit the Evergreen Resort near The Pas, says lodge owner Ken Kobelka, with hunters commonly filling half their daily bag limit with the iconic diving duck.
With the number of ducks and the ability to shoot more than one or two per day because of our daily limit, it feels an awful lot like the good ol days of diver hunting around here, Kobelka says. Timing is important, though. Most hunters try to plan a visit by the middle of October, when many of the divers will begin migrating south out of the region.
Variety is the spice of life for diver duck hunters near The Pas, Kobelka says, as opportunities to hunt a variety of species in a variety of settings are the rule rather than the exception.
One day you might be hunting the narrows those little stretches of water between two lakes and have canvasbacks or bluebills over the decoys. The next day you might be hunting near a stand of wild rice, which those ring-necks really love, he says. And wherever you go, youre likely to have the opportunity to shoot some puddle ducks over your diver spread, too.
For more information on hunting waterfowl in Manitoba, visit www.huntfishmanitoba.com