High-Country Geese
Hunting honkers and cacklers in the shadow of the Colorado Rockies

by Phil Bourjaily
"They're going to land behind us. Turn around!" exclaimed guide Jeff Colwell. That was easier said than done in the narrow confines of the pit. As I attempted to follow Colwell's instructions, I accidentally dropped the sliding pit lid into my lap, flaring a hundred geese that were gliding toward the decoys, the leaders already with their feet down. A hundred pairs of eyes goggled, a hundred pairs of wings backpedaled, and they were gone, taking with them our only chance of the day. In my defense, I have spent lots of time in layout blinds and very little in goose pits.
"What happened?" Colwell asked.
"I dropped the pit lid," I mumbled. There was a long pause.
"Well, you have to admit, it was kind of funny the way they all freaked out," he said.
The next day, I would have my chance to look back and laugh, but at the moment, it was too soon. My son John and I were fulfilling my long-held dream of hunting Colorado's famous Front Range geese. Wary late-season birds, 60-degree bluebird weather, and my inability to operate a simple pit lid had just handed Colwell what would turn out to be Front Range Guide Service's only skunk during the long Colorado dark goose season.
Even at a time when Canada geese can be found just about anywhere in the country, the Front Range is famous for its goose hunting. A look around the Loveland/Fort Collins area shows the reason why: temperatures are relatively mild, seemingly every creek and river on the arid landscape has been dammed to collect precious water, the original scrub has been turned into corn and alfalfa, and suburban sprawl has created numerous de facto refuges. In short, it has everything a goose could want. The dark goose season in this area runs through mid-February, making it one of the latest in the country. You've got a spectacular backdrop of mountains to look at when the geese aren't flying, although they usually are. And as a bonus, there are nearly as many microbreweries in the Fort Collins area to visit after the hunt as there are geese.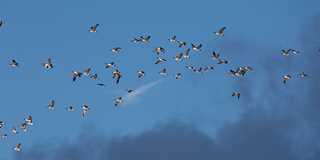 Geese Great and Small
Between 75,000 and 100,000 geese winter along the Front Range in most years, reports Jim Gammonley, avian research leader for Colorado Parks and Wildlife. At least that many geese pass through the region at various times during the fall and winter. The migratory population includes lesser Canada and cackling geese, which arrive first, and midsized honkers from the Hi-Line population that show up later in the fall.
Northern Colorado also has a large resident population of giant Canada geese. Restoration efforts began in 1957, when longtime Colorado Game, Fish and Parks (now Colorado Parks and Wildlife) conservation officer Gurney Crawford let his own chickens incubate a clutch of eggs brought to him by waterfowl researcher Jack Grieb. Crawford released the first brood on College Lake on Colorado State University's Foothills Campus and then kept on hatching and releasing geese. The program was successful enough that Crawford earned the nickname "father goose," and by the 1970s and '80s, Colorado was trapping and transplanting geese to other states.
Despite the growth in goose numbers, hunting regulations weren't liberalized until the 1990s. Colwell, a native of the area, remembers the days before Canada goose hunting took off along the Front Range. He shot his first honker at age seven and has guided for 25 years. "There weren't many geese around when I started. The limit was two, and if three of you went out and you shot your geese, it was a big deal," he says. Now the limit is five, and with more geese and more people chasing them, the game has changed. Land is leased, competition is intense, and increased pressure makes the geese warier, especially late in the season.
The secret to success lies in keeping up with the geese and staying ahead of other hunters. Colwell changes tactics depending on which geese he's hunting. "Little geese like huge spreads and lots of calling and flagging. You can flag them right up until you call the shot," he says. "It's really something to see when they get here. It's not unusual to decoy flocks of more than 100 birds when they show up."
The local giants may not be particularly wary, but they require a different approach, preferring smaller decoy rigs, deeper-pitched calling, and a lighter touch with the flag. Then there are the Hi-Line birds, which have earned Colwell's grudging respect. "They can be really tough; they hate everything," he says.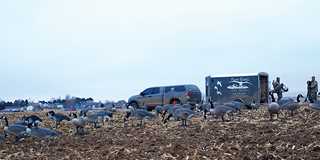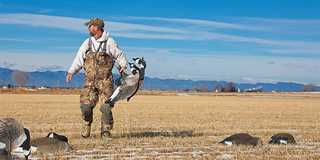 The Rocky Mountain Way
That first balmy morning we met Colwell in a strip mall in Windsor, just after sunrise, and set up near the edge of town in an alfalfa field next to a new housing development. There was a roost lake somewhere behind us and mountains rising in front of us. To show the geese something different, Colwell opted for a spread of shells set more or less in a U-shaped configuration. The shells, he thought, would look like contented geese.
Throughout the morning singles and pairs would lock up, drop to about 60 yards, and just as we were reaching for our guns, slide away like they had hit an invisible barrier. Colwell, who has seen this behavior many times, does a good imitation of a Canada goose realizing it's a trap. "Mannequins!" he says in a panicked voice while performing backpedaling hand gestures. It pays to have a sense of humor when you're a goose guide.
The larger flocks lifting off the lake shunned us altogether, while the singles and pairs got our hopes up, then dashed them throughout the morning. I'm not sure there was ever a moment when we couldn't see geese in the air somewhere. We broke for lunch at a small-town tavern, where the other goose hunters we met hadn't done any better than we had.
That afternoon we moved to a cornfield near another lake, hoping to lure in birds for a snack before they headed back to roost. This time we used a smaller spread of all full-body decoys. We were farther from the mountains now, in flat, wide-open country, where we could see low flocks of geese coming for what seemed like miles. Many of the geese responded to our calling and swung within a hundred yards of our spread, but all kept going to points unknown-except for that one large flock that I mentioned earlier along with the fumbled pit lid. Shortly after those birds left, geese found the field next door. Goose mannequins can't compete with the real thing on the ground, and all we could do was watch flock after flock pile in a few hundred yards away.
Ending on a High Note
"It's a whole new day," said photographer John DePalma when we met in the motel lobby the next morning. DePalma wasn't spouting idle clichés, either. Outside it was cold, windy, and spitting snow. It was a whole new day indeed.
Colwell brought his son, Colton, to help with the decoys and calling. We were going to a field being used by large numbers of both big and little geese, and that meant setting dozens of full-body decoys and silhouettes. Once our sprawling rig was set, all that remained, as Colwell put it, was to "sort through them." There were geese in the air nonstop. Jeff and Colton would confer as flocks approached our field. "Look at this bunch over here" or "I like these" they would say, and then decide how to call to them. Shortly after we settled into the pit, Colwell spotted a big, low bunch of cacklers. "Let's give these some high hat," he said to Colton, meaning a lot of fast, high clucks. Their tandem calling and plenty of flagging peeled three birds out of the group. I shot one, John doubled, and we were on our way to taking our limits.
Despite the huge numbers of geese, the hunting was still tough, and 99 percent of the birds that we saw kept going. But enough singles, pairs, and small bunches decoyed for us to shoot one here, one there. I even managed to turn around and shoot a bird behind us without fumbling the pit lid. At noon John bagged the last bird of the day, a lone giant Canada that sucked into a gap in the dense spread. We had five apiece, a mix of little geese, one giant, and even a couple of the difficult Hi-Line birds, a sampling of the very best the Front Range has to offer.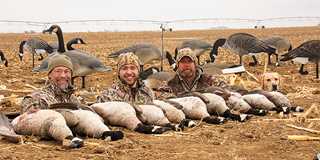 ---
DU on the Front Range
Northeastern Colorado is a crossroads for Central Flyway waterfowl that migrate along the South Platte River between their breeding grounds in Canada and the western Great Plains states and wintering areas to the south. As in other parts of the West, rapid human population growth along the Front Range poses a serious threat to the region's wetlands and waterfowl. A major challenge is ensuring sufficient water for people, agriculture, and wildlife. Preserving open space is another.
Fortunately, Ducks Unlimited has many willing partners in the area. "We're able to work closely with the agricultural community here because conservation practices that benefit waterfowl also benefit farmers and ranchers," says Martin Grenier, DU's manager of conservation programs in Colorado and Wyoming. DU also receives key support from the North American Wetlands Conservation Act, Colorado Parks and Wildlife, and many other partners.
In addition to restoring and protecting wetlands and associated habitats, DU works with private landowners, municipalities, and other partners to implement river augmentation projects. Restored recharge wetlands capture irrigation water as it flows off surrounding agricultural fields, providing habitat for waterfowl during the winter and spring migration while also filtering water back into the aquifer. Participating landowners receive water credits for this ecological service and everyone wins.
Along with being a vital migration stopover for waterfowl and other wetland birds, Colorado plays an outsized role in DU's conservation fundraising. The Denver Sponsor Gala has reigned as DU's top fund- raising event for many years, with the 2018 gala raising $1.7 million. "Each year this group of volunteers works hard to top the previous year's success," says DU Senior Regional Director Erik Wettersten. "It's a high-end event that attracts business leaders and philanthropists, but there's nothing formal about it. It's a great conservation celebration for everyone."