Five Mississippi Flyway Public Land Hotspots for 2020
Find ducks and geese on public land in the Mississippi Flyway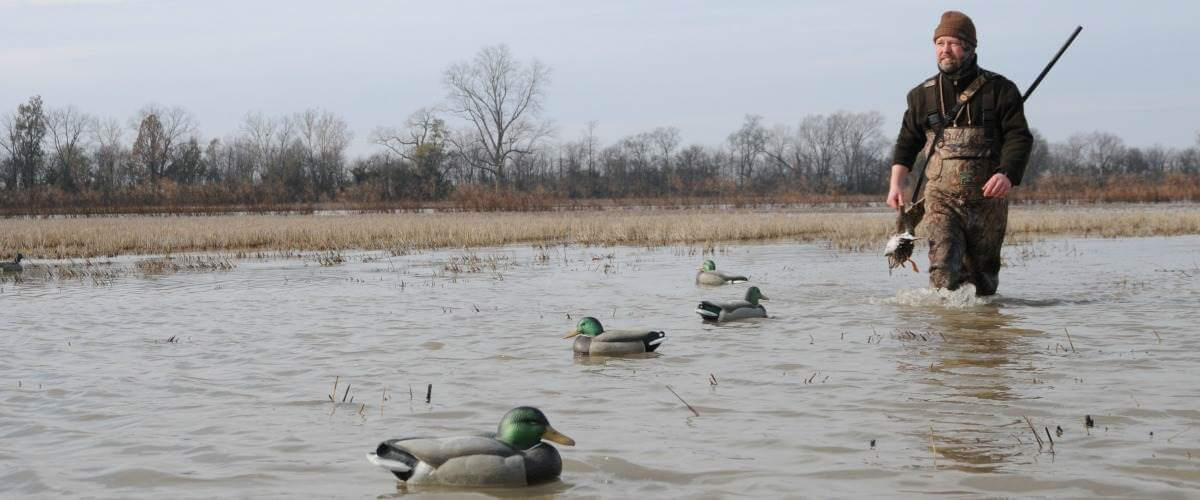 The storied Mississippi Flyway offers an abundance of public hunting opportunities for those willing to put in the time and effort. Let this be your guide for a public land adventure this season.
St. Marys River, Michigan
Along the eastern edge of Michigan's Upper Peninsula, the St. Marys River flows for 74 miles, connecting Lakes Superior and Huron. The international border separating Michigan and Ontario runs the length of the river as well. This is big water with multiple channels, and in many spots the St. Marys River is more like a lake with an archipelago of islands ranging in size from barely an acre to 20 miles long.
Despite the intimidating and potentially dangerous nature of this waterway's strong currents and heavy shipping traffic, many of its bays and shorelines are fringed by miles of marsh, much of it accessible by boat or by wading.
Shallow inlets such as Munuscong Bay, where you'll find a wildlife management area (WMA) of the same name, offer some of the finest waterfowl habitat found anywhere in the Great Lakes region.
"The eastern UP and particularly the St. Marys River is an important migration corridor. We certainly see a variety of waterfowl species migrate through the area," says Dave Jentoff, wildlife biologist for the Michigan Department of Natural Resources (DNR).
According to Jentoff, there are several state-owned boat ramps along the river as well as private launches at several resorts. Munuscong Bay WMA also offers walk-in access.
"This area offers a fair amount of puddlers and geese during the early season as well as a few local bluebills and redheads, but as the season carries on, the St. Marys offers great diver hunting," says DU volunteer Dylan Graves. "Redheads and bluebills eventually give way to buffleheads, goldeneyes, scoters, and long-tailed ducks."
Besides waterfowl hunting, this area offers excellent upland hunting for grouse and woodcock and is known for outstanding fishing for perch, walleye, and northern pike.
There are plenty of resorts along the river that cater to hunters and anglers, and several have their own private boat ramps. However, those who hunt by boat should take note that traffic on the river includes oceangoing bulk carriers as well as specialized thousand-foot Great Lakes freighters. Suffice it to say that great caution must be taken when venturing through shipping channels near the Canadian border.
For more information, https://www.michigan.gov/dnr/things-to-do/hunting
Horicon Marsh, Wisconsin
Located in southeast Wisconsin, 33,000-acre Horicon Marsh is the largest freshwater cattail marsh in the United States. This massive expanse of wetlands is an important migration stop for hundreds of thousands of ducks and Canada geese each year.
Horicon Marsh was established for breeding redheads and supports the largest nesting population of this species east of the Mississippi River. The northern two-thirds of the marsh is managed as a refuge by the US Fish and Wildlife Service (USFWS), while the southern third is managed by the Wisconsin DNR as Horicon Marsh State Wildlife Area, spanning 11,000 acres.
"Waterfowl hunters may explore and use the marsh as they see fit. Many use surface-drive motors to navigate through various types of vegetation and open water, but outboard motors also work fine in most spots," says Wisconsin DNR wildlife biologist Paul Samerdyke.
"We have decent numbers of birds early in the season, including mallards, wood ducks, blue-winged teal, and redheads," Samerdyke explains. "As the season progresses, we get our share of diver species such as ringnecks, canvasbacks, and more redheads as they migrate through."
Horicon Marsh once attracted hundreds of thousands of Canada geese. According to Samerdyke, goose numbers have decreased in recent years, but plenty of honkers still visit the area. There are no longer any special restrictions for Canada geese in the Horicon area and regulations are the same as in the rest of the southern zone.
"DU has adopted Horicon Marsh through the state's Adopt a Wildlife Area program and recently completed a project by contributing money and engineering services on one of our impoundments. The new structures and pumping capability will enhance and maintain 234 acres of prime moist-soil habitat," Samerdyke says.
"We just finished the $322,000 Greenhead Flowage project funded by the North American Wetlands Conservation Act," says DU biologist Brian Glenzinski. "This is another great example of the DU conservation machine at work, using state dollars and leveraging them to obtain federal dollars to complete an important project on Horicon Marsh."
Crab Orchard National Wildlife Refuge, Illinois
Once a mid-flyway mecca for Canada geese, 44,000-acre Crab Orchard National Wildlife Refuge (NWR) and surrounding farmland near Marion, Illinois, is legendary in honker-hunting circles. An impressive list of famous guides and call makers who changed the face of modern goose hunting cut their teeth in the area, and generations of hunters still rise early every day of the season to continue the long-standing tradition of southern Illinois waterfowl hunting. Today, however, they are more likely to pick up their duck calls and give their short-reed goose calls a rest.
Given harsh conditions to the north, Canada geese still make their way to Crab Orchard NWR, and diehard goose hunters often focus on these big birds. The refuge is situated between the Mississippi, Wabash, and Ohio Rivers, and waterfowl hunters are increasingly taking advantage of the impressive numbers of ducks that work their way down the heart of the Mississippi Flyway into the river-bottom funnel of southern Illinois.
"Crab Orchard is still a pretty good waterfowl area. About 70 percent of our harvest consists of mallards," says USFWS Visitor Services Manager Neil Vincent. "Of course, hunter success rates depend on the migration, and last year was kind of slow because we didn't get the ducks we usually do."
Future plans for the refuge include projects to improve water control and promote natural vegetation growth on mud flats, which can then be flooded at the best possible times and at optimal levels for waterfowl. Like many federal and state hunting properties, work slated for summer 2020 was disrupted by the pandemic.
Besides over 20,000 acres of public waterfowl hunting, several clubs in the area offer daily hunts for geese and ducks.
Arkansas/Missouri Border WMAs
Straddling the border of northeast Arkansas and southeast Missouri are several federal and state properties managed for waterfowl. At more than 12,000 acres, Big Lake WMA is among the largest public waterfowl hunting areas in the state. Bordering the WMA on the west is the slightly smaller Big Lake NWR. On the Missouri side is 3,400-acre Hornersville Swamp Conservation Area, which also happens to be the lowest point in the state.
"Our target is to flood a little over 10,000 acres on Big Lake WMA. We start flooding it about the middle of November," says area manager James Foster, with the Arkansas Game and Fish Commission. "We don't have to pump any water; it's gravity-fed so if we get a good rain in the Bootheel, we can flood up to 100 percent by the season opener."
While several inches of rain may result in deep flooding at Big Lake, during dry years it may take until December or even January to hit target levels. Nevertheless, hunting from a boat is preferred by most hunters, and ample boat access is available.
Besides bottomland habitats, both Hornersville Conservation Area and Big Lake WMA also have managed moist-soil areas. Wild millet and smartweed growth are encouraged, but there is no guarantee these areas will be holding water during duck season. Scouting before a hunt is vital to success.
Mobile-Tensaw Delta and Mobile Bay, Alabama
When cold weather hits the northern and middle sections of the country, waterfowlers at the bottom of the Mississippi Flyway anxiously await migrating ducks to fill vast stretches of marsh and bottomland found along the Gulf Coast. Alabama boasts the second largest river delta system in the country, where five rivers converge and eventually feed into Mobile Bay. This massive complex of waterfowl habitat is known as the Mobile-Tensaw Delta.
There is plenty of public hunting available in this part of the country. Upper Delta, Mobile-Tensaw Delta, and W.L. Holland Wildlife Management Areas (WMAs) add up to over 90,000 acres of duck habitat. These areas feature a mix of bottomland hardwood forest, swamps, sloughs, small lakes, and marsh. While Upper Delta is separated from the other WMAs by Interstate 65, all three areas are essentially contiguous.
"Top to bottom, delta terrain varies," says Alabama Department of Conservation and Natural Resources biologist Thomas Harms. "At the top, in the upper delta, there are hardwood bottoms and bowl-shaped islands. Depending on the water table, these ponds will vary in size and depth. As you move south into the lower delta, there is less timber and eventually marsh grass is the predominant vegetation."
Like many bottomland systems in the South, water levels are largely dependent on rainfall. According to Harms, when central Alabama receives heavy rainfall, the delta's rivers spill out of their banks and the islands in the mid- to upper delta flood. This usually occurs toward the end of December and lasts through the winter.
"It rarely freezes down here, and obviously cold weather farther north really helps push the birds down," Harms explains. "In the bottomlands of the upper delta we see a lot of woodies and some mallards. In the marshier midsection, there is typically a mix of dabblers, including teal, gadwalls, pintails, and mottled ducks, as well as some divers. Farther south, on the open waters of Mobile Bay out to the barrier islands, hunters will find mostly divers, including scaup, redheads, and some canvasbacks."
While most hunters use mud motors to navigate the delta and open bays, Harms says there are areas on the WMAs where gas motors are restricted to alleviate hunting pressure. In recent years he has seen a dramatic increase in the number of waterfowl hunters using kayaks to access isolated spots holding birds. The bottom line: the water is usually shallow and hunters should observe extreme caution if hunting an unfamiliar area.
In addition to state license requirements and regulations, a WMA permit is required to hunt these areas. For more information, visit https://www.outdooralabama.com/.