Five Great Public Hunting Destinations in the Central Flyway
2016 public waterfowling destinations
By John Pollmann
Top to bottom, the Central Flyway is blessed with a wealth of great waterfowl hunting opportunities as well as an abundance of public land. Following are five of the Central Flyway's best freelance waterfowl hunting areas.
Ducks Unlimited Canada Projects, Saskatchewan
Although Saskatchewan is renowned for spectacular dabbling duck and goose hunting, the diving duck hunting opportunities on large bodies of water in this province are virtually untapped.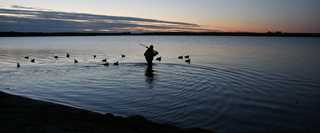 "Saskatchewan has some fantastic diving duck hunting on areas that are open to public access," says DU Canada's Chris Benson, "and Ducks Unlimited projects are often a great place to start looking."
Public hunting is allowed on all properties owned by DU Canada, Benson says. "Canvasbacks, redheads, bluebillsthey all can be found in good numbers, but you have to scout a bit to find them," Benson says.
According to DU Canada's Chuck Deschamps, smaller potholes often hold diving ducks in September, but as the weather turns colder in October those birds start congregating on larger wetlands and lakes. "And it's not just one or two species; you're going to see a variety of diving ducks on the bigger water," he says.
Deschamps notes that interest in diving duck hunting remains relatively low in the province. "There are a few diehard hunters we see every year, but most hunters are after puddle ducks and geese in the fields," he says. "A diver hunter will likely have the water to himself."
For more information, visit www.waterfowling.com and https://www.saskatchewan.ca/residents/parks-recreation-heritage-and-arts/hunting-trapping-and-angling/hunting.
Colorado's South Platte River
The South Platte River in northeastern Colorado not only provides vital habitat for migrating waterfowl, but the river and surrounding sloughs also offer some of the best public hunting opportunities in the state. Roughly 32,000 acres of land is open to public access in this region, including the massive Tamarack Ranch State Wildlife Area, which spans 15 miles of the South Platte River.
Water levels, weather, and hunting pressure all influence waterfowl numbers and behavior, says Greg Kernohan, director of conservation services for DU in Colorado, making scouting a top priority when hunting the South Platte's ample public areas.
"The conditions can change on a daily basis, so it's always worth the effort to do your homework," Kernohan says.
Although ducks and geese use the South Platte throughout the waterfowl season, the action tends to heat up during the late season on the area's warm-water sloughs, where mallards and Canada geese gather to escape the icy cold. Kernohan says that during the final stages of the season, hunting success increases when inclement weather sets in.
"Those cold, wintry hunts are part of what has made the South Platte so popular, but the weather can create difficult conditions for hunters," Kernohan notes. "Hunters need to mind the water levels and ice conditions. For the most part you can wade across the South Platte in a pair of hip boots, but there are holes out there where one wrong step can make for a long, cold walk back to the truck."
For more information, visit http://cpw.state.co.us/thingstodo/Pages/Waterfowl.aspx.
Chase Lake Wetland Management District, North Dakota
Situated in the heart of the Prairie Pothole Region, North Dakota's Chase Lake National Wildlife Refuge and Wetland Management District (WMD) encompass some of the most productive waterfowl breeding habitat on this continent. The abundance of waterfowl in this area has attracted duck hunters from across the United States for more than a century, says refuge manager Neil Shook.
"There is a rich waterfowl hunting history here, dating back to the days when trains brought hunters in from cities like Chicago and Minneapolis, and it continues today, as hunters still travel here to take advantage of the birds that stage in the area throughout the fall," Shook says.
Managed by the U.S. Fish and Wildlife Service, Chase Lake WMD includes 136 waterfowl production areas, encompassing over 43,000 acres of public hunting land. At just over 2,600 acres in size, the Woodworth Station WPA is one of the district's largest, while the Medicine Lake WPA is the nation's smallest, at just under one acre in size.
"Hunting opportunities run the gamut," Shook says. "You'll find everything from puddle ducks on small shallow wetlands that you can walk across in hip boots to diving ducks on bigger lakes that require a sturdy boat to hunt. There's a little something for everyone here."
However, Shook cautions that the northern plains can be an unforgiving environment and visiting waterfowl hunters should be prepared for a variety of weather and hunting conditions.
"Bring enough clothes and equipment to handle whatever the weather throws at you and whatever adventure you find out here on the prairie," Shook advises.
For more information, visit https://gf.nd.gov/hunting/ducks.
DU's Verona Complex, Nebraska
With the highest density of seasonal and temporary wetlands remaining in Nebraska's Rainwater Basin, DU's Verona Complex is a 1,000-acre paradise for migrating waterfowl. Even better, this flagship DU property is open to public hunting, and it's surrounded by state and federally managed wetlands, which also provide good public hunting opportunities for waterfowlers.
Despite the abundance of open land, you still have to work for your birds. "Hunters should be prepared for longer walks," saysTim Horst, DU land manager for Nebraska and Kansas. "The wetlands are spread out and there is no driving on the property. Lightweight, portable gear is a must out here."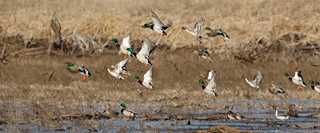 According to Horst, the best shooting occurs when a weather system on the northern plains spurs a large migration of pintails, green-winged teal, mallards, and other ducks into the area. Good waterfowl hunting is usually available until freeze-up, which often occurs around Thanksgiving.
But even if a cold snap brings an end to the area's duck hunting, that doesn't mean hunters will leave home empty handed.
"The Verona Complex offers some of the best pheasant habitat in the state," Horst says. "If you like to hunt pheasants, this is a pretty good place to do it."
For more information, visit http://outdoornebraska.gov/huntingseasons/.
J.D. Murphree Wildlife Management Area, Texas
The J.D. Murphree Wildlife Management Area (WMA) near Port Arthur, Texas, contains the largest contiguous tract of coastal wetlands in the state.
Located just over an hour from the Houston metro area, this 25,000-acre WMA is extremely popular with hunters.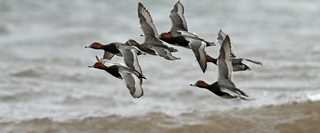 "Hunting spots are available on a first-come, first-served basis, but access is probably the biggest challenge, as there are very few walk-in areas," says Mike Rezsutek with the Texas Parks and Wildlife Department. "A boat is a necessity."
Boat traffic and hunting activity cause waterfowl to move frequently, Rezsutek says, so knowledge of the property and the birds is necessary for success. When a concentration of birds is found, chances are there will be multiple species present, including blue-winged teal, green-winged teal, gadwalls, and resident mottled ducks.
"J.D. Murphree winters a large number of canvasbacks as well," Rezsutek notes. "All the birds are here to take advantage of the food sources found in this highly diverse coastal wetland community. Just like in real estate, it's all about location, location, location. The wetland habitats and the managed impoundments found here contain the right mix of what ducks need for the winter. That's why it is so popular with the ducks, and that's why it is so popular with duck hunters."
For more information, visit http://tpwd.texas.gov/regulations/outdoor-annual/hunting/migratory-game-bird-regulations/.