Five 2019 Public Waterfowling Hotspots in the Pacific Flyway
Your public-land waterfowling adventures begin here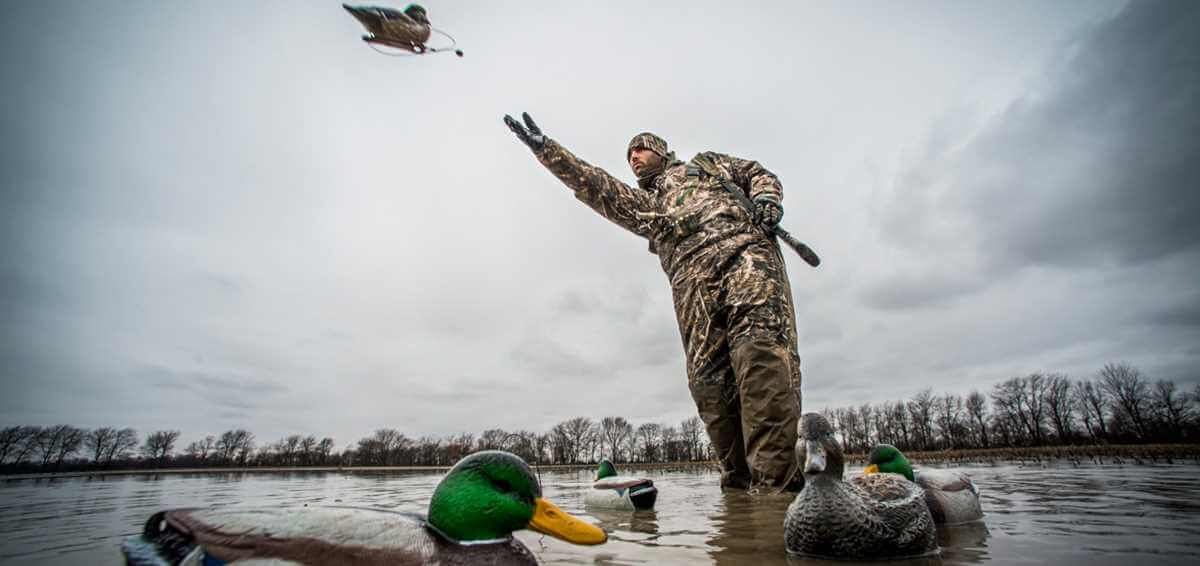 By Bill Monroe
The Pacific Flyway offers wide-open spaces for waterfowl hunters and boasts the longest duck seasons in the country. Habitats range from the salt marshes of the Pacific Northwest, across the expansive watersheds of the Columbia, Snake, and Sacramento Rivers, over high-desert playas and lakes, to the nation's lowest-elevation hunting hot spot, the Salton Sea, which lies 226 feet below sea level. Here are five fantastic hunting destinations in this diverse flyway to help get your 2019–2020 waterfowl season started on the right foot.
Washington—Skagit Wildlife Area
Located just to the north of Everett and Olympia, Skagit Wildlife Area offers 13,000 acres of public hunting on several state-owned properties, stretching from Stanwood north to Padilla Bay. Other units are designated as refuge zones and, paired with Puget Sound's placid roosting waters, significant numbers of birds remain in the area throughout the season.
"It's an excellent area for hunting and just waterfowl-watching as well," says Belinda Rotton, who manages the sprawling wildlife area for the Washington Department of Fish and Wildlife (WDFW). "Our birds are mostly dabbling ducks such as wigeon, mallards, gadwalls, and teal."
Peak times for duck hunting run from late November through the end of December.
While many parts of Skagit WMA offer walk-in hunting, the best opportunities are from a boat in the tidal zones. Rotton urges hunters to do their homework and heed tide tables. Skagit-area tides are nearly identical to those in Seattle.
"We're very much tide-dependent here," Rotton says. "There are a lot of things hunters need to understand about tides. I've had experienced waterfowl hunters get into trouble. Have a plan of retreat."
Predicting the perfect combination of tides and weather is challenging for even the most seasoned hunters, Rotton says. "We've had years when the tides weren't quite right, and sometimes it rains early and the uplands flood," she recalls. "Then there are some bluebird days when the birds are on the move anyway. The hardest part is just being prepared to go."
Be sure to check local regulations: https://wdfw.wa.gov/places-to-go/wildlife-areas
https://wdfw.wa.gov/places-to-go/wildlife-areas/skagit-wildlife-area
Oregon—North Coast Marshes
The tidal marshes along the north Oregon Coast offer extensive public hunting opportunities in a wild and scenic environment.
"These marshes are an important migratory stopover for waterfowl," says Brandon Reishus, waterfowl coordinator for the Oregon Department of Fish and Wildlife. "Most folks do best early in the season when new birds are arriving from the north."
Early duck season also coincides with fall Chinook salmon season, providing unique opportunities to combine hunting and fishing. Even better, waterfowl hunters can plan their trips based on the tides rather than the time of day. Ducks often head to the bays to roost, then return with the tide.
"You often don't have to be out there at dawn," Reishus says. "Hunt the incoming tide and then the slack into the ebb."
The most common ducks in this area include pintails, wigeon, and green-winged teal early, followed by mallards and wigeon through the winter. All of the north coast is within the state's unique special permit goose zone.
Small boats, kayaks, and canoes are best for accessing coastal marshes. Walk-in hunters don't need more than a few decoys, but a good dog will help reduce fatigue from retrieving birds in boot-sucking tidal muck.
For in-depth information on hunting Oregon's Bays, visit https://www.dfw.state.or.us/
Idaho—Fort Boise Wildlife Management Area
Located about an hour's drive west of Idaho's capital city is historic Fort Boise, which is now home to one of the state's most popular public hunting areas. Fort Boise Wildlife Management Area (WMA), owned by the Idaho Department of Fish and Game, encompasses 1,548 acres of floodplain at the confluence of the Snake and Boise Rivers. The area offers unfettered hunting access to shallow ponds, marshes, and riparian habitats.
Waterfowl, mostly mallards, move back and forth between the area's fields and marshes, says Brett Amdor, senior technician at Fort Boise. "When the freeze-up comes in November, the birds and hunters take to the rivers," he says.
Amdor points out that the managed wetlands are all very shallow, designed to "make the area attractive to dabbling ducks," he says.
By late November, many Idaho hunters move to the Snake River Valley, following wintering mallards looking for open water. "The Snake rarely freezes," Amdor notes. And the Boise River parallels the Snake through Fort Boise.
The best hunting, according to Amdor, is available during the first few weeks of the season, and you'll be better off hunting on a weekday. "Some people arrive at 1 a.m. and curl up in the cattails to get a prime location," he notes.
Besides mallards, the area also supports green-winged teal, gadwalls, and wigeon.
For detailed information, visit https://idfg.idaho.gov/d7/wma
California—San Francisco Bay
Did you know that good public waterfowling is available within a short drive from San Francisco and Oakland? No-fee, public hunting areas span much of the 13,289-acre San Pablo Bay National Wildlife Refuge (NWR) on the north end of San Francisco Bay. Hunters have access to open federal refuge lands as well as thousands of acres of public land owned by the state of California.
Public hunting is available on 10,000 acres of the 30,000-acre Don Edwards San Francisco Bay NWR, encompassing both shorelines of the south bay.
Alviso ponds along the bay's south end, offer Wednesday-Saturday-Sunday hunts for those with permits.
Both NWRs offer boat and walk-in hunting. Boaters are urged to heed the bay's tidal swings. Lightweight, shallow-draft boats are recommended as hunters must pull boats over levees to reach hunting areas.
Common diving ducks on San Francisco Bay include scaup, ruddy ducks, and scoters, while the adjacent marshes typically support pintails, gadwalls, mallards, and shovelers.
"We even see a lot of buffleheads in some of the drainages, but no one knows why they're there," says Louis Terrazas, wildlife refuge specialist at San Pablo NWR. "The best hunting seems to be from about the third week of October through December."
Matt Brown, project leader for Don Edwards NWR, points out that special ADA hunting accommodations for physically challenged hunters are available in Mountain View.
"There's no upland hunting on the refuge," Brown says, "but we have plenty of waterfowl."
Be sure to check for specific state and national regulations before heading into the field.
Nevada—Ruby Lake National Wildlife Refuge
With an elevation of 6,000 feet above sea level, Nevada's Ruby Lake National Wildlife Refuge is one of the most unique waterfowling venues in the Pacific Flyway. The refuge's 39,928 acres include marsh, meadows, grasslands, brush-covered uplands, and true western history, with an old Pony Express trail and centuries of native Shoshone tribal use.
The lake hosts nesting sandhill cranes and the densest population of nesting canvasbacks west of the Mississippi River (in the lower 48 states). Waterfowl hunting is allowed in certain sections of the refuge, so be sure to check maps and specific regulations.
The refuge is a great place to bag a cinnamon teal early in the season. Later, mallards, gadwalls, and other dabblers make up the bulk of the harvest.
Refuge manager Pete Schmidt says that while there is typically a hard freeze toward the end of November, spring-fed waters keep ducks in the area all season. "We have 220 springs feeding the lake, so there's always at least some open water," he says.
Walk-in hunting is available on one area of the refuge. Boat hunting on Ruby Lake offers the best chances of success but comes with a stark warning: "Ruby Lake marsh is a labyrinth of channels, islands, and heavy vegetation," reads a caution sign to hunters. "Do not proceed into the marsh unless you have a GPS unit and know how to use it, or you are very experienced in this particular marsh."
Schmidt's staff cut new trails in and out of the marsh last year, but the warnings remain in effect, he says. He recommends using kayaks and canoes to reach some of the best hunting spots on the refuge.
Finally, if you're going to travel this far to hunt, consider bringing along your rod and reel—much of Ruby Lake is open year-round for trout and bass fishing.
Be sure to check specific state and refuge regulations.