Five 2019 Public Hunting Hotspots in the Central Flyway
Your public-land waterfowling adventure begins here

Millions of waterfowl funnel through the Central Flyway each fall, offering hunters a variety of opportunities to target ducks and geese. The quality of the hunting is some of the best that North America has to offer, and much of it can be found on public land. Following are five Central Flyway public hunting areas where you may want to find yourself this season.
San Luis Valley, Colorado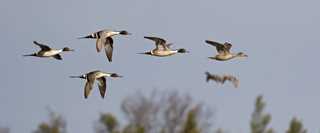 Located along the extreme western edge of the Central Flyway, Colorados San Luis Valley is a high-altitude magnet for waterfowl. It features a number of public hunting areas set against a picturesque mountain backdrop.
Public hunting opportunities in the valley are anchored by the Monte Vista and Alamosa National Wildlife Refuges, where Ducks Unlimited has recently helped complete some vital habitat improvement projects. There are also several properties managed by Colorado Parks and Wildlife that contain shallow wetlands and food resources that attract mallards, pintails, Canada geese, and other waterfowl species.
In a wet year, the San Luis Valley is very productive, both in terms of attracting migrating waterfowl and producing local birds, including a large number of cinnamon teal, says Martin Grenier, DUs manager of conservation programs in Colorado. Because of this, the region can produce quality hunting from the start of the season until freeze up. It is a popular place for waterfowl hunters.
Hunters on public ground in the San Luis Valley are likely to shoot a mixed bag of puddle ducks, Grenier says, including cinnamon teal, though the drakes lack their stunning coloration at the beginning of the season. It is mostly your classic marsh hunting set up, though there is public access to portions of the Rio Grande river, which runs through the area and can provide some late-season action, Grenier says. Primarily, though, youre hunting shallow-water wetlands, which are a great place to work your duck dog.
For more information, visit https://cpw.state.co.us/
North Dakota PLOTS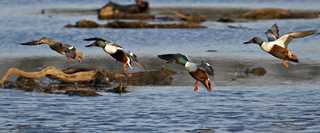 In North Dakota, the Private Land Open to Sportsmen (PLOTS) program provides nearly 800,000 acres of public access to privately owned lands across the state. And while the program receives substantial interest from big game and upland bird hunters, there are also plenty of opportunities for public land waterfowl hunters.
We do work to lease ground in areas throughout the Prairie Pothole Region that historically hold concentrations of waterfowl throughout a typical season, including the Devils Lake region and more, explains Nate Harling, private lands field operations coordinator with the North Dakota Game and Fish Department. These PLOTS parcels include everything from your typical prairie pothole wetland complex for water hunts over decoys to fields of small grains or corn that provide field-hunting opportunities for waterfowl staging in that area.
The variety of options for hunters on PLOTS lands means a strong chance at taking a mixed bag of waterfowl species, from blue-winged teal early in the season to mallards and Canada geese when the weather turns cold.
In most cases, waterfowl hunters do not need permission to hunt PLOTS parcels. The exceptions include those PLOTS areas with unharvested or partially harvested crops, like swaths of barley. Before hunting such a field, Harling says to look for special signage along the border or, better yet, call a local conservation officer.
The other significant restriction involves driving trucks and trailers into fields to drop off decoys, blinds, and other gear, which cannot be done unless a sign is posted saying vehicle use is permitted, Harling says. Overall, PLOTS are very popular for waterfowl hunters. Like anywhere else, finding the best opportunities on these pieces of public ground in North Dakota takes a lot of scouting.
Visit North Dakota PLOTS Guide for more information. https://gf.nd.gov/plots/guide
North-Central Montana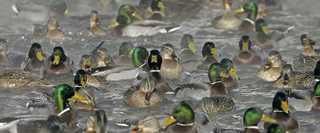 When water conditions are right, waterfowl hunting in north-central Montana can produce tremendous opportunities for those willing to scout the regions vast expanse of grass and wetland basins. This includes public-ground hunters.
If theres sufficient water, a lot of attention in this region is spent on Bowdoin National Wildlife Refuge near Maltaand for good reason. The habitat there can produce a lot of ducks and it also attracts large numbers of migrating waterfowl, says Bob Sanders, DUs manager of conservation programs for Montana. But there are other state-managed areas in the vicinity of Bowdoin that are worth the time to inspect. This includes land enrolled in Montana Fish, Wildlife and Parks Block Management Program, as well as federal waterfowl production areas.
Birds tend to trade between the different wetlands in the area, particularly out of Bowdoin if there is hunting pressure, Sanders says. And if you can find a pattern of mallards and pintails using one of the wetlands to rest after hitting the peas, lentils, or wheat in the area, you can have quite the late morning hunt when they are done feeding.
Hunting pressure in this region can be high, Sanders says, but it tends to cool off when Montanas big game seasons kick into high gear. The nature of the wetlands in this area makes them susceptible to freezing, too, so youll really want to keep an eye on the weather forecast, he says. But even if you do get iced out, you can always hit the wetland edges for pheasants in the cold.
For more information, visit http://fwp.mt.gov/hunting/
South Dakotas Missouri Coteau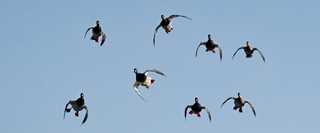 The northeast corner of South Dakota is perhaps the states most popular area for waterfowl hunters because of its consistent opportunities for both locally produced and migrating ducks and geese. But hunters should not overlook a region known as the Missouri Coteau.
The Missouri Coteau includes land generally west of the James River Valley all the way to the Missouri River, from the North Dakota border down to Lake Andes National Wildlife Refuge. Rocco Murano, chief waterfowl biologist with South Dakota Game, Fish and Parks, considers it the true heart of the Prairie Pothole Region in the state, where nesting pintails, mallards, and other species benefit from abundant grass and shallow wetland basins. Locally produced birds can provide plenty of action in the early weeks of the season, while migrating ducks and geese will also stop on their way south.
For hunters, there are thousands of acres of both state and federal public ground spread out from north to south throughout the region, Murano says. This area doesnt get the pressure like the northeast corner, but thats mainly because it just doesnt hold the water from year to year. When the Missouri Coteau is wet, though, watch out. Its got birds.
Finding concentrations of waterfowl in the vast Missouri Coteau can be a challenge, particularly when the region is wet and waterfowl can spread out, so binoculars are a must-have piece of equipment.
It is also good to remember that this region is home to some of the states best pheasant hunting, so these public areas see a lot of foot traffic come the third week in October, Murano says. Theres a lot of ground out there, though. If one spot doesnt work, keep looking.
Reminder, non-resident waterfowl hunters must apply for a license. For more information, visit https://gfp.sd.gov/
Nebraskas Niobrara Confluence Wildlife Management Area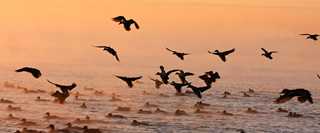 Spanning over 1,200 acres in the northeast corner of Nebraska, the Niobrara Confluence Wildlife Management Area contains a mix of wetland habitats that makes it a prime destination for public land waterfowl hunters in the Cornhusker State. The Nebraska Game and Parks Commission recently acquired the property through a partnership with Ducks Unlimited, and the expectation is that the area will get a lot of attention from waterfowl, other wildlife, and hunters.
This particular piece of public property has a little bit of everything, from mixed grass prairie to cattail marsh, explains John Denton, DUs manager of conservation programs in Nebraska. The diverse mix of habitat types is already home to upland birds, big game, and, of course, waterfowl. As we continue to develop and improve the property, the opportunities on this area are only going to improve.
Hunters will find boat access for launching a hunting rig into the Missouri River, but Denton says that it is possible to access the backwater marshes and other wetland and river habitats by foot. Public access is important to DU, and I think that hunters are going to come to love this property, he says. From mixed-bag hunts in the early season to mallards and Canada geese when the cold and snow roll in, this area is going to produce.
For more information, visit http://outdoornebraska.gov/