Best of the Flyways: Mississippi Flyway
This flyway is perhaps the most storied of them all

By Will Brantley
This flyway is perhaps the most storied of them all. With a vibrant duck hunting culture, the Mississippi Flyway is home to nearly half of the duck hunters in the United States, and collectively they account for 40 to 50 percent of the nations annual duck harvest. It doesnt hurt that more ducks winter here than in any other region in North America. Wherever your Mississippi Flyway adventures take you, youre likely to find plenty of birds, friendly folks, and heartland hospitality.
Southern Manitoba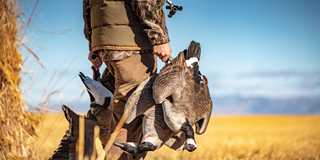 Its tough to beat the variety and opportunity found in southern Manitoba. The province is home to large lakes, sprawling wetlands, and plenty of Canadas signature crop fields and potholes. Chris Benson, a guide for Birdtail Waterfowl in western Manitoba and a former employee of DU Canada, says that variety makes Manitoba worth a visit. Every couple of weeks, the season changes, he says. The weather is a huge factor in the migrations. Early in the season, a lot of hunters are focused on early Canadas, blue-winged teal, and sandhill cranes. The crops arent usually out then, so a lot of people hunt shallow marshes and wetlands.
By late September and early October, crops are being cut. Adult mallards and gadwalls begin trickling through, and diving ducks begin amassing on larger wetlands. By the final weeks of the season, the diver hunting can be off the charts, the dry-field mallard hunting is action packed, and goose hunters are liable to shoot everything from giant honkers to cacklers in a single morning. Benson points to Delta Marsh as being one of Canadas great public hunting areas. Its a popular staging area for bluebills, canvasbacks, and a variety of other species. No motors are allowed in the marsh, and its a massive wetland, he says. Its really just a matter of how far youre willing to paddle.
When to Go
The first of October to the middle of the month is prime time for everything from mallards to geese to divers.
After the Hunt
The Kiln Drive-In is a popular burger and ice cream joint in Stonewall. Near Delta Marsh, in Portage la Prairie, youll find Bills Sticky Fingers, which specializes in ribs but has a menu full of delicious options.
Local Attractions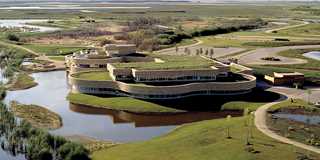 DU Canadas national headquarters is on the shores of Oak Hammock Marsh near Stonewall. Although the marsh is closed to hunting, the waterfowl youll see make it worth a visit. Benson also recommends a trip north of Churchill. Polar bear activity is at its peak during October, he says. If youre coming a long distance anyway, its well worth a few extra days to see bears, the northern lights, and beluga whales.
Lake Erie and Lake St. Clair
The marshes and open water around western Lake Erie and Lake St. Clair offer a diverse setting where you might be gunning canvasbacks from a layout boat one day and waiting in line for a chance at a hot public blind the next. DU volunteer Greg Bires hails from northern Indiana and has been traveling north each year to hunt diving ducks on the Canadian side of Lake St. Clair. Its big water, so you need good equipment, but you can almost count on the redheads and bluebills being there, Bires says. And were always hoping for canvasbacks.
Fred Zink, founder of Zink Calls, agrees. He lives in Port Clinton, Ohio, on the shores of Lake Erie. The diver hunting here is tremendous, he adds. In the late season, guys who know what theyre doing and have the equipment can take a limit every day.
Puddle duck hunting can be just as good. Shoreline hunters find freelance access in shallow-water flats and shorelines. There are numerous public marshes, including famous areas like the Harsens Island Unit of Michigans St. Clair Flats State Wildlife Area and Fish Point State Wildlife Area.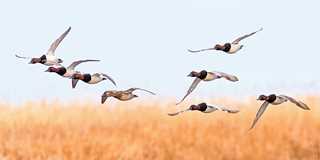 When to Go
Late October into early November, when diver numbers peak, is the time to be there.
After the Hunt
Grab a cold beer and a pizza at Bell Mell Tavern, established in 1935 in Port Clinton and now owned by Dawn and Fred Zink. Look for the neon DU duck head blazing inside.
Local Attractions
Check out the waterfowl taxidermy and hard-carved decoys at the Sportsmens Migratory Bird Center at Magee Marsh Wildlife Area in Oak Harbor, Ohio.
Upper Mississippi Alluvial Valley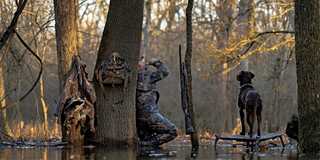 At Cairo, Illinois, the Mississippi River converges with the Ohio River, marking the northern reaches of the Mississippi Alluvial Valley. Tommy Akin of Greenfield, Tennessee, has been hunting this region since he was a kid. He has watched countless sunrises from blinds on Reelfoot Lake in Tennessee and across the river in southeast Missouri. A lot of things have changed here in my lifetimebut there are still a bunch of ducks, he says.
Hunting from pit blinds in flooded agricultural fields is the name of the game in southern Missouri. Akin says pintails, teal, shovelers, and mallards make up the bulk of the bag. Its a fantastic spring snow goose area, and the specklebelly hunting is coming on strong too.
On the east side of the river, Reelfoot Lake offers a far different experience, typically beginning with a predawn boat ride to a blind surrounded by hundreds or even thousands of decoys. Many of the lakes best blinds are grandfathered into families who have owned them for generations, but plenty are also available for an annual public drawing in August. Reelfoot is notoriously competitive, but the hunting can be second to none.
When to Go
Hunting in this region is highly weather dependent. Seasons generally open in late November and run through January, but its usually best from Christmas to the end of the season.
After the Hunt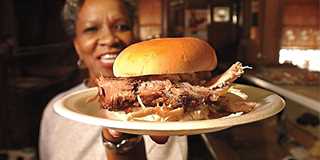 Order the Reelfoot Traditional Dinner at the Lakeview Dining Room in Tiptonville, or enjoy steaks and seafood with a sunset view at the Boathouse Restaurant in Samburg. And of course, you can always make the trip south to hit up the barbecue joints in Memphis.
Local Attractions
The Wade Bourne Nature Centernamed after Ducks Unlimiteds legendary editor-at-largeis set to open this summer in Clarksville, Tennessee. If you do make that trip to Memphis, stop by DUs national headquarters to see the Nash Buckingham exhibit and the DU Waterfowling Heritage Center inside Bass Pro Shops at the Pyramid.
Arkansas Grand Prairie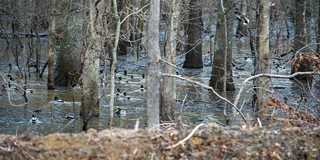 No discussion of the Mississippi Flyway would be complete without a mention of Arkansass legendary green-timber mallard hunting. The little towns scattered around the Grand Prairie regionDeWitt, Clarendon, Stuttgart, and many othersare central to some of the most famous duck hunting in the world. Theres more to it than the timber, though. You can find good hunting in cypress brakes and flooded rice fields on public and private ground.
Brent Birch was born and raised in Arkansas. He serves on the Arkansas Game and Fish Foundation board and is editor of Greenhead magazine. He says the most productive style of hunting can change by the day, depending on the weather. Timber is best on sunny days, while fields are best on those winter-weather days, he says. The specklebelly hunting has become outstanding in the past decade too.
Some of the best timber hunting is on the states public areas, including Rex Hancock Black Swamp Wildlife Management Area (WMA), White River National Wildlife Refuge, George H. Dunklin Jr. Bayou Meto WMA, and others. Hunting a place like Bayou Meto is an experience all its own, Birch says. For public land duck hunting in the timber, thats as good as it gets.
When to Go
The Arkansas season is generally broken into three splits, running from mid- to late November through the end of January. The first split opener is almost always good, though youd be hard-pressed to find an Arkansas hunter who doesnt like the late season.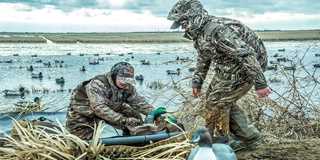 After the Hunt
Grab a bite at the Tamale Factory in Gregory, near Rex Hancock Black Swamp WMA. Birch says the steaks and, of course, the tamales are fantastic. If hole-in-the-wall burger joints are your thing, try the Sportsmans Drive In, in Stuttgart. In DeValls Bluff, hunters come for the barbecue at Craigs, and then head across the street to Ms. Lenas pie shop for dessert.
Local Attractions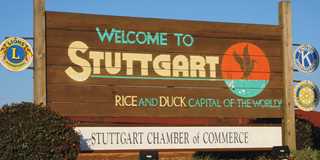 The Wings Over the Prairie Festival, held the week of Thanksgiving, has been the scene of the Worlds Championship Duck Calling Contest since the 1930s. Visit one of the local duck call manufacturers, including Rich-N-Tone in Stuttgart, Elite in Searcy, and Echo in Beebe. Macks Prairie Wings is like a large candy store for hunters. The Waterfowl Wing in Stuttgarts Museum of the Arkansas Grand Prairie gives visitors insights into the areas rich history of waterfowling and strong ties to agriculture.
Louisiana Gulf Coast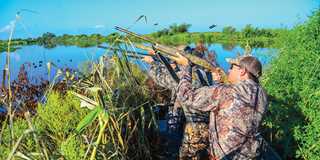 The coastal marshes of Louisiana are an area of contrasts. Theres this incredible biodiversity that 1.8 million acres of marsh brings you, says Jerry Holden, director of operations in DUs Southern Region. But its also industrial. Theres the Port of New Orleans. There are chemical refineries, tanker ships, and all these birds mixed together. I cant think of anywhere else that happens.
These waterfowl habitats are as imperiled as any in the country, and among DUs highest conservation priorities. But they still winter ducks by the millions, with teal, pintails, gadwalls, shovelers, mottled ducks, and whistling ducks regularly showing up on duck straps.
Public hunting can be tricky, since many navigable marshes are privately owned. The best freelance opportunityand what I would consider the Souths best waterfowling adventureis Pass-a-Loutre WMA, at the mouth of the river, Holden says. Its only accessible by boat, and its a 10-mile run from the ramp at Venice. Youre going by supertankers on the Mississippi River, so its not a run to take in a little boat. A lot of guys wait until after daylight to do it. But the hunting there is outstanding.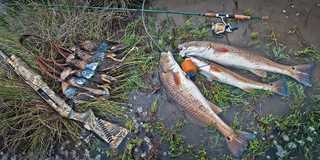 When to Go
The season opens with a split in early November, followed by another in mid-December and running through January. Holden says the first split is always better. Its likely to be 70 degrees in November, and teal will make up the bulk of the bag. Hunt ducks in the mornings and catch redfish in the evenings.
After the hunt
Of course you can head to New Orleans. But Holden prefers an oyster joint 150 miles west, in Abbeville. Its a place called Shucks. Get an Abita Amber and a dozen charbroiled oysters, he says.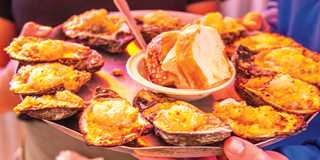 Local Attractions
Seriously, go to New Orleans. After camping at the boat ramp in Venice to hunt Pass-a-Loutre, you might want to splurge for a night or two at Hotel Indigo in the Garden District or Hotel Monteleone in the French Quarter.