5 Pacific Flyway Public Waterfowl Hunting Hotspots for 2017-2018
Breakdown of 5 Pacific Flyway public waterfowling destinations

By Devin Blankenship
The Pacific Flyway is rich with public waterfowl hunting areas. With liberal bag limits and a 107-day season, choosing to visit the West Coast may not be a bad idea this season. The following destinations may help you plan a waterfowling adventure on public land during the 2017-2018 season.
Potholes Reservoir Unit, Columbia Basin Wildlife Area, Washington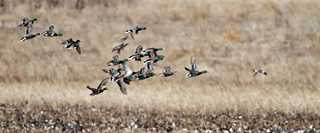 The 32,820-acre Potholes Reservoir Unit of central Washingtons Columbia Basin Wildlife Area has earned quite a reputation among waterfowl hunters in its nearly 70-year history. The unit is located south of Moses Lake and was designed to collect and distribute unused irrigation water from the Columbia Basin.
Its in the middle of a massive Bureau of Reclamation project that has a lot of irrigated corn and wheat in the area, so there is ready feeding for ducks, says Matt Monda, regional wildlife program manager for the Washington Department of Fish Wildlife (WDFW). Most birds shot on the Potholes Reservoir Unit are mallards, and they are attracted to the area because of the food resources attached to the irrigation project.
Today, nearly 1,000 islands lie in the north and west parts of the reservoir where the OSullivan Dam initially inundated the nearby Crab Creek channel and 800 small ponds scattered among the area sand dunes, forming the reservoir.
What makes the Potholes Reservoir Unit so successful is a game reserve in the northern area that was designed to be a hunter-free sanctuary for waterfowl. Even as hunting pressure mounts around the reservoir, the sanctuary is strategically located to provide cover and keep birds from leaving the area.
Monda says that weather is the biggest issue for hunting Potholes Reservoir Unit and suggests that hunters avoid the area during ice-up. The hunting in Potholes is always good on opening weekend because you have some migrants and locals in the area, but the action really heats up in the early to mid-season, when cold weather up in Canada brings a big influx of birds, he explains. If you hit that window when these new birds are coming through, youll have dynamite hunting. There is always good hunting here, you just have to target those changes in weather and migration.
Upper Butte Basin Wildlife Area, California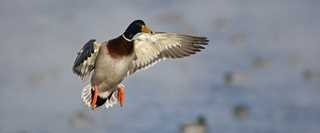 Located 75 miles north of Sacramento, Upper Butte Basin Wildlife Area (WA) offers some of the most sought-after public waterfowl hunting opportunities in California. It consists of approximately 9,600 acres in the renowned Butte Sink and is made up of three units: Llano Seco, Howard Slough, and Little Dry Creek.
Our location in California is important because it is in the heart of the Pacific Flyway, says Tim Hermansen, manager of Upper Butte Basin WA. The birds like to come here for winter. We meet our quotas almost every hunt day and have waiting lists of almost double what our quotas are, especially at Little Dry Creek and Howard Slough. They are the most popular spots, and historically have better numbers for hunting averages, but lower averages for hunters getting drawn.
A Type A one-day, two-day, or season pass is required to hunt on Upper Butte Basin WA. These passes are not sold at the areas on-site check station and must be purchased where hunting licenses are sold. There is no fee for junior hunting license holders or non-shooters.
Hermansen encourages those interested in hunting the wildlife area to submit a reservation application through the Upper Butte Basin WA website locations ahead of time.
If you are lucky enough to get a low number but not lucky enough to get in first thing in the morning, stick around for midday, Hermansen says. Thats when people start leaving the area, and youll have a better chance of getting in an afternoon hunt. Dont give up if you dont get in in the morning.
McNary National Wildlife Refuge, Washington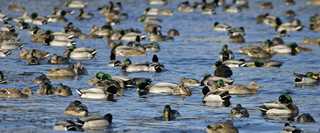 Ask hunters to describe McNary National Wildlife Refuge (NWR) in southeastern Washington and youll repeatedly hear the word variety. Thats because McNarys 15,000 acres of sloughs, ponds, streams, and islands offer hunters almost every kind of waterfowl hunting experience imaginable.
Established in 1956, McNary NWR extends along the Columbia River and downstream into Oregon, and is managed as part of the Mid-Columbia River National Wildlife Refuge Complex. According to refuge staff, few areas in North America support such dense concentrations of waterfowl, with more than half the mallards in the Pacific Flyway overwintering at some time in this portion of the Columbia Basin.
Were particularly popular with locals, but we also have out-of-towners come in because we provide a wide variety of hunting opportunities, says Refuge Manager Lamont Glass.
McNary NWR is particularly important to Canada geese, mallards, and wigeon. Other waterfowl species that use the refuge include green-winged teal, northern shovelers, canvasbacks, ring-necked ducks, and lesser scaup.
We have a variety of opportunities, from a fee-managed area to open hunting, to seven-day-a-week hunting, to areas that have rest days for maximum hunting opportunities, says Dan Haas, visitor services manager for McNary NWR. We are also increasing our handicapped hunting with a brand-new river-hunting blind that we put a lot of work into. This new blind brings us to four handicapped blinds: two in the fee-hunt area and two in the open area. And even those offer variety.
Hayes suggests that those new to the refuge try the fee-hunt area to get their feet wet and get the lay of the land. The competition is pretty stiff for the open-area hunting, he says. I would start with the fee-hunt area because, if nothing else, you get a chance to talk to the other hunters about where to go in the open areas. The fee-hunt area is frequented by locals, who have proven to be helpful to first-timers.
Tule Lake National Wildlife Refuge, California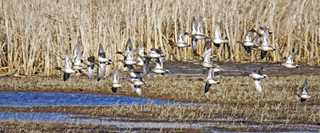 Located in the Tule Lake basin of northeastern California, Tule Lake National Wildlife Refuge is part of the vast Klamath Basin National Wildlife Refuge Complex and offers exceptional waterfowl hunting opportunities to those in both California and Oregon.
Waterfowl hunting occurs every day during the general season but ends at 1 oclock in the afternoon. The Tule Lake hunt areas consist of spaced-blind fields, two large marsh units accessible by boat, and free-roam hunting areas offering field hunts over harvested grain and smaller marsh units.
Tule Lake offers a ton of hunting opportunities, says Greg Austin, refuge manager for the Klamath Basin NWR Complex. You can have a duck boat out there with a mud motor, we have spaced blinds, and we have some free-roam as well. Its a large area that makes you feel like you have some space to yourself.
Waterfowl are the most commonly hunted species on Tule Lake, and most duck hunting takes place on the large Tule Lake Marsh. Opening weekend hunts are under a draw-permit system and a Recreation Pass is required for all hunting on the refuge. To learn more, visit the Tule Lake NWR website.
The opener is a draw and is controlled on purpose, says Austin. If we didnt do that I think wed be packed and the quality of the hunt would go down. After that, because the other refuges down south open later, it starts to thin out.
Because the NWR complex is so vast, Austin recommends scouting the refuge before your hunt. Scouting the day before is important to see where the birds want to go, he says. Its such a large area here at Lower Klamath. The folks who have the most success seem to spend some time out there figuring where the birds want to be.
Overton Wildlife Management Area, Nevada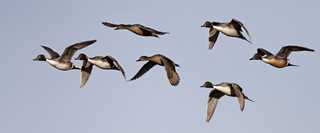 While you wouldnt expect to find a duck-hunting oasis in the Mojave Desert outside Las Vegas, thats exactly what you get on Overton Wildlife Management Area (WMA). Overton WMA lies in the lower portion of the Moapa and Virgin River Valleys, which flow into Lake Mead. In 1953, the Nevada Fish and Game Commission came to an agreement with the U.S. Bureau of Reclamation and the National Park Service to establish Overton WMA, which today spans over 17,000 acres.
Were only an hour and a half from Las Vegas, which is one of the biggest reasons for our popularity, says Overton WMA supervisor Bennie Vann. We get a pretty good amount of birds considering were in the middle of the desert.
Wet meadows and ponds dot the WMAs landscape and provide food and habitat for waterfowl and other wildlife. The deep water of Lake Mead supports diving ducks, while shallower water near the shoreline offers space for dabblers. According to the Nevada Department of Wildlife, there are 265 species of birds and more than 22 species of ducks on Overton WMA, the most common being northern pintails, green-winged teal, mallards, and ruddy ducks. According to Vann, ducks generally arrive on the WMA in late September and peak in January.
Vann suggests that visitors familiarize themselves with Overton WMAs waterfowl hunting rules. We do have a lot of regulations that are specific to Overton, so you really need to know them before you come, he explains.
Vann also recommends using the reservation and assigned hunt location system developed specifically for Overton WMA. During the waterfowl season, hunting is allowed in the Virgin Valley Unit every day, but on the Moapa Valley portion of the area only every other day.