5 Atlantic Flyway Public Waterfowl Hunting Hotspots for 2017–2018
Here's a collection of top waterfowling destinations in the Atlantic Flyway

By Michael R. Shea
Pack the truck, trailer the boat, and hit the road. This could be your year for an epic freelance duck hunt. While it's tempting to head for the Dakotas, you don't have to drive that far. There's plenty of excellent public hunting opportunities right along the eastern seaboard. Let the following list of fantastic Atlantic Flyway waterfowling destinations serve as your guide to prime public hunting this season.
Southern Ontario, Canada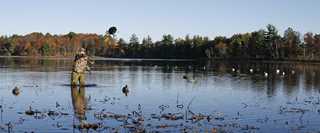 Where the Atlantic and Mississippi Flyways converge, Southern Ontario is an excellent place to shoot limits, without the fanfare or the drive times of more popular Canadian provinces like Saskatchewan and Manitoba. From September until the big freeze sets in, large concentrations of divers and dabbling ducks gather on waterfowling hotspots like Lake Erie's Long Point, the St. Clair Flats, and the Thousand Islands region. Layout boats are ideal for big-water diver hunting, but there's also good puddle duck and goose hunting in marshes on a number of public areas.

When it's hot: September-November

Abundant species: lesser scaup, canvasbacks, redheads, ring-necked ducks, mallards, black ducks, Canada geese

Contact: Hunt Ontario http://www.ontariotravel.net/en/play/hunting
Cape Cod Bay, Massachusetts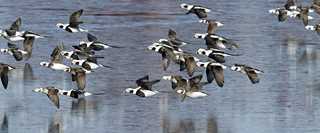 Some of the finest sea duck hunting in the world can be found in the sheltered waters of Cape Cod Bay. Nearly every town and county has at least one public boat ramp, but pay special attention to the waters around Duxbury and the Great Marshes off Barnstable. Public hunting is also allowed in the Cape Cod National Seashore area from the eastern tip of Provincetown to Wellfleet and Eastham. Scout for rafts of sea ducks in the afternoon to line up a great hunt the next morning. Be mindful that the tide generally has more of an effect on sea duck movements than daylight. Sea ducks and divers will often come to near-shore structure to feed on eelgrass and muscle beds as the tide drops or when the weather gets particularly nasty. And the weather can get very bad, very fast, so this isn't a hunt for novice boaters. Also be aware that Massachusetts has some of the strictest gun laws in the country. Shotguns must be locked in a case when you're traveling, and some municipalities have additional regulations if you plan to stay the night.

When it's hot: November-January

Abundant species: Common eiders, scoters, black ducks, scaup
Contact: https://www.mass.gov/hunting-migratory-game-birds-in-massachusetts
Potomac River, Maryland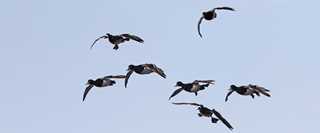 Running from western Maryland into Chesapeake Bay, this river supports a variety of migrating and wintering waterfowl, including iconic species such as black ducks and canvasbacks. North of Washington, D.C., nearly all of the riverbank on the Maryland side is National Park ground where hunting is prohibited. You can hunt the river from a boat, with some of the most productive shooting found in the Seneca Breaks, a rocky section of river known for lots of ducks, and in the Great Falls area. Be aware of special regulations that apply when hunting near established blinds along the river's many small islands. If you don't have a boat, try the McKee-Beshers Wildlife Management Area, which offers good walk-in hunting.
When it's hot: November-December

Abundant species: Mallards, wood ducks, black ducks, gadwalls, buffleheads, scaup, canvasbacks, Canada geese

Contact: http://dnr.maryland.gov/wildlife/Pages/hunt_trap/home.aspx
Savannah River, Georgia/South Carolina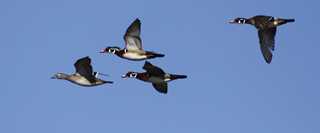 The Savannah National Wildlife Refuge Complex allows hunting on five of its seven coastal refuges. Each has its own rules for visiting hunters, so check the regulations before you go. A $25 non-quota hunt permit is required for all areas and some lottery blinds have additional permits and application fees. Public hunting is also available on the Savannah River itself north to Tuckahoe Wildlife Management Area. While on the river, especially south of Savannah, be mindful of boat traffic. Keep at least 50 yards from the three main shipping channels and check regulations for other small-vessel restrictions near the port and other industrial areas.

When it's hot: December-January

Abundant species: wood ducks, mallards, pintails, teal, divers

Contact: https://www.fws.gov/refuge/Savannah/Visit/Visitor_Activities/Hunting.html
Merritt Island National Wildlife Refuge, Florida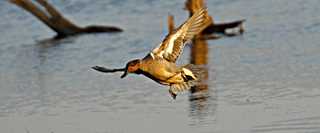 Following Hurricane Irma, there's no lack of water in Florida this year. Ducks will be dispersed, but there will also be abundant public hunting opportunities for waterfowlers. That alone makes it worth the trip. Merritt Island National Wildlife Refuge ranks at the top of the state's public hunting areas, with 36,000 acres of wetlands open to waterfowlers. In the past, saltwater intrusion damaged vegetation on the refuge's freshwater impoundments, but recent heavy rains and hurricane activity have improved some of the habitat. Quota permits are required and issued by lottery, and other special regulations are in place. But if you do your homework, you can enjoy some of the finest waterfowling in the flyway while wearing a t-shirt. The marshes are adjacent to Cape Canaveral and the John F. Kennedy Space Center, so budget extra time for a visit during your stay.

When it's hot: December-January

Abundant species: Blue-winged teal, pintails, scaup, redheads, mottled ducks

Contact: https://www.fws.gov/refuge/Merritt_Island/Hunting.html.aspx