Shotgunning: Tips for the Timber
Essential knowledge for hunters heading to the flooded woods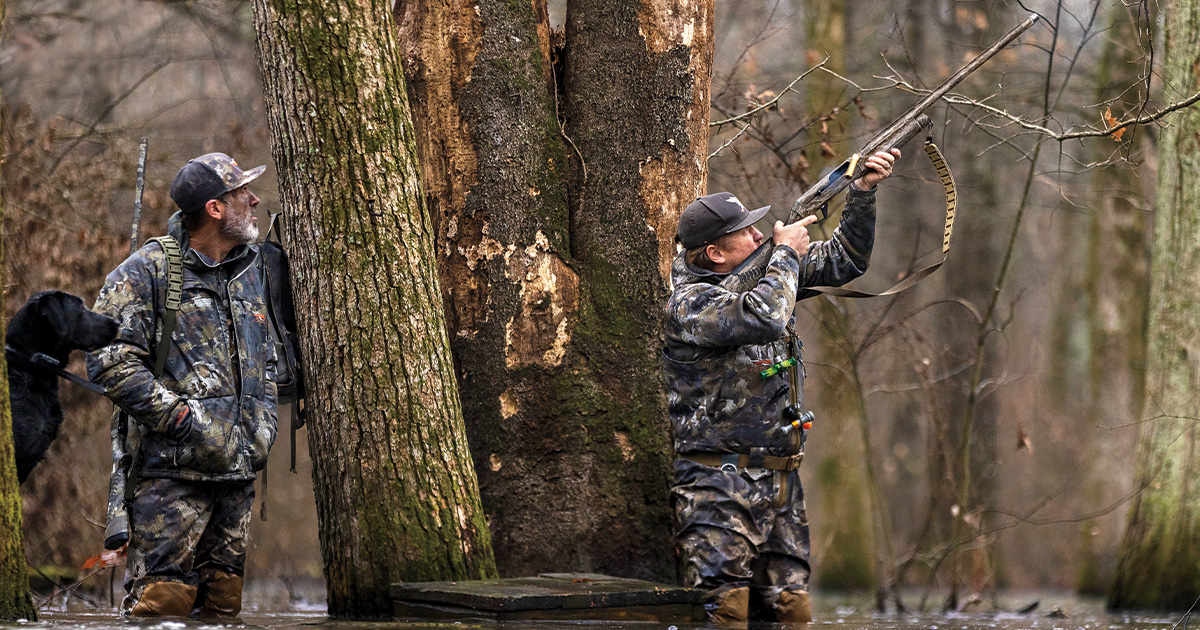 In a classic flooded timber hunt, there's no blind other than the tree you stand beside; calling and kicking ripples in the water matter as much as the decoy spread; and when the ducks drop down through the canopy, it's a sight you'll never forget. The shooting is up close and sometimes frantic as ducks scatter in all directions.
Drake Waterfowl's Jim Ronquest grew up hunting the flooded woods of Arkansas. He guided waterfowlers for years and also won a world duck calling championship. His advice on shotguns and shooting is worth hearing, whether you're a veteran timber hunter or planning your first trip.
Guns
Ronquest says the number one mistake hunters make is bringing too much gun to the woods. "Clients would show up with tight chokes and 3 1/2-inch BBs," he recalls. "I would tell them to use the most open choke they have and to shoot 3s. Most of the time I would bring nothing more than a 20-gauge, an improved cylinder choke, and 3 or 4 shot." Ronquest admits that some timber situations do call for more choke. "Not all holes in the woods are the same size. A blowdown might be 30 yards across, but if you hunt an old slough bed in the timber, the hole can be big enough that you might want a tighter choke. I use a Rob Roberts T1 (the most open of the T series) in tight holes, and sometimes I'll use a T3 in bigger spots." Ronquest usually shoots steel 3s, but if he needs more punch he'll go to a stacked TSS/steel 3 load from Apex.
Gear
You can't set your gun down in flooded timber, so you will want a way to hang it on a branch or a hook. Some hunters run a zip tie through the magazine cap swivel to make a loop, or they buy a braided loop. Ronquest prefers a sling, because he can use it to hang the gun, and it allows him to keep both hands free and to take his gun along if he has to chase a cripple.
He also recommends a shoulder bag. "I used to tell people not to bring anything that didn't fit in their pockets," he says, "but a shoulder bag lets you carry ammunition, snacks, a thermos, and other accessories." Since it's not legal to screw hooks into trees on public land, you have to hang your bag and gun on a tree branch or bring a timber belt that straps onto the tree.
Shooting
Some public areas limit hunters to 25 or even 15 shells. "Tree-topping," the term for shooting ducks as they cruise over the top of the hole, is a good way to burn through your allotted shells. So is chasing and shooting at cripples. Ronquest counsels patience and judicious shot selection. He likes to call the shot as the ducks are backpedaling over the decoys.
Often, ducks in the woods will flutter around the hole for a while, a few feet off the water, looking for a spot to land among the decoys. It's a sight that causes some hunters to come unglued. "Enjoy it," Ronquest says. "It's okay to get excited. That's why you're there. But when the time comes to shoot, pick out one bird." Often, those ducks over the decoys will switch directions as they try to land. "I always tell people to shoot where the duck is going, not where it's been. And once you start shooting, stay with that bird until it's dead on the water. It's much better to take a second shot when the bird is close rather than having to chase after it, possibly using up several of the precious few shells you're allowed to bring in."
If you make a clean shot on one bird, your second shot will often resemble shots you see on the trap field, with birds going low away and rising. Just as in trap shooting, you have to read the target's angle first, then move the gun through it and shoot. Some preseason practice at trap can help you make the most of your chances in the woods.