Shotgunning: Double Guns for Ducks and Geese
Some modern over/unders and side-by-sides are made with waterfowlers in mind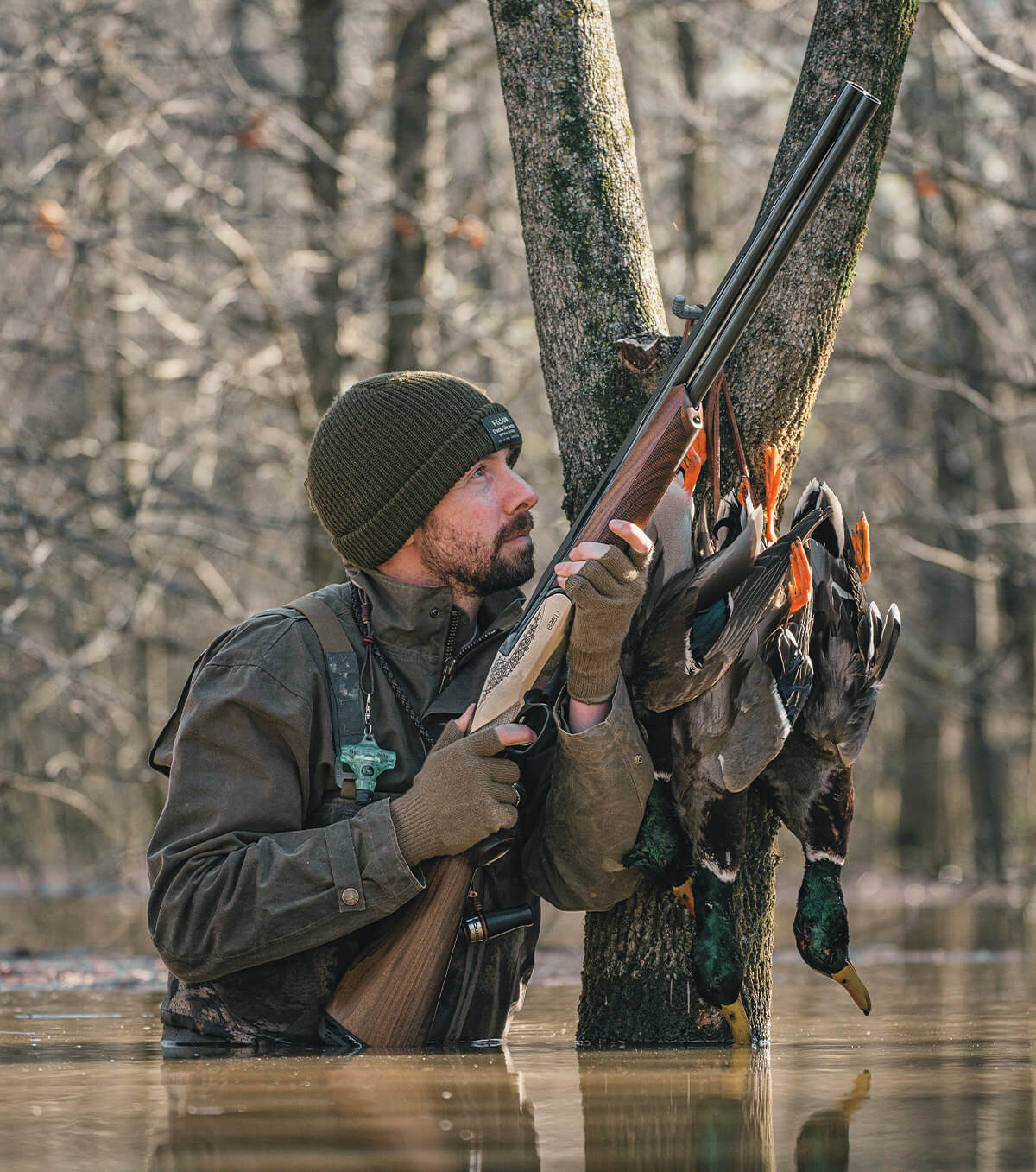 There's a rich history of break-action guns in American waterfowling. Ernest Hemingway often appeared in photos duck hunting with a Browning Superposed. Joe DiMaggio's Winchester Model 21 bore the scars of a fire in the blind. There is no duck gun more famous than Nash Buckingham's Super Fox, Bo-Whoop. Durable, low-grade Parker Trojans and Fox Sterlingworths were duck-blind staples for years. Relatively few hunters shoot break-action guns at ducks and geese these days, but many devotees believe their double guns have advantages that outweigh their limited shell capacity. If you're wondering if your next duck and goose gun should have two barrels, here are the pros and cons, as well as some models to consider.
The main advantage of a break-action gun is reliability. The action is fully enclosed, so debris can't get inside to clog up the works. Break-actions don't turn sluggish in the cold. They will shoot any misshapen shell that will fit into the chamber, and if that shell is a dud and the gun has mechanical triggers, you can still shoot the other barrel with a second pull of the trigger. They are unbeatable guns for bad conditions.
A double gun also gives you two different chokes. You can take a close-in shot at a bird over the decoys with the more open-choked barrel, then make a follow-up shot on a flaring bird with the second, tighter-choked barrel. Load that second barrel with a heavier shell containing bigger shot, and you can use it to shoot at birds flying high over the top of the blind.
Finally, some hunters just prefer the feel of double guns. The all-steel frame of a break-action puts the weight of the gun between your hands, giving it a much different feel than an alloy-frame semiauto.
The main disadvantage of a two-barreled gun is that it limits you to two shots. While the third shot from a pump or semiauto is only rarely used to complete a triple, it's often necessary for follow-up shots on lightly hit birds or for dispatching a cripple. Also, reloading in a crowded blind sometimes requires extra caution to be sure you're keeping the gun pointed in a safe direction.
If you're interested in a double gun but concerned about how it will hold up under the abuse of waterfowling conditions, check out the following models made specifically for duck and goose hunting.
Benelli 828 U
Benelli has a new version of its innovative 828 U, boasting a steel frame and Benelli's proprietary BES.T. corrosion- and wear-resistant finish, which can shrug off rain, sleet, snow, and even salt. The added weight of the steel frame combined with the Progressive Comfort recoil reducer in the stock should make this gun smooth handling and soft shooting. Available in both 12- and 20-gauge versions.
Browning Wicked Wing Cynergy
With its magnum chamber, synthetic stock, and Cerakoted metal, the Wicked Wing Cynergy is tough enough to meet any waterfowling challenge. It has a low-profile receiver and a nice, clean trigger pull, making it an easy gun to point and shoot well. It comes in 3 1/2-inch 12-gauge only, with a choice of 26-, 28-, or 30-inch barrels.
CZ All-Terrain
CZ offers several over/unders made for waterfowling. Their All-Terrain series includes three models: the Drake, the Redhead, and the Ultralight. All the guns have matte walnut stocks and olive drab Cerakote metal finishes as well as small magnets in the extractors or ejectors to prevent a shell from falling out when you tip the gun up to load it.
Mossberg International Silver Reserve Eventide
A synthetic stock and matte metal finish help this affordable over/under blend in. The all-black Eventide has 3-inch chambers, extractors, and a single selective trigger. It's a no-frills, very affordable break-action gun that you won't be afraid to take to the marsh.
Tristar Hunter Mag II
Tristar's Hunter Mag II is a synthetic-stocked, 3 1/2-inch 12-gauge with 28- or 30-inch barrels in a choice of all-camo or camo-and-Cerakote finishes. It has a single selective trigger, extractors, and swivel studs.