Revamp Your Autoloader
Here's how to give an old semiauto a high-performance makeover

By Phil Bourjaily
Waterfowlers are always looking for the next big thing in shotguns. Whenever a manufacturer rolls out a new autoloader, the previous top-of-the-line version is suddenly yesterday's news. Some hunters simply can't resist trading up to the latest model. However, yesterday's shotguns will keep right on dropping ducks and geese, and utility and price can make older guns hard to resist.
Personally, I've always liked the Winchester Super X2 better than its successor, the very popular X3. The X2's heavier weight makes it softer-kicking and easy to shoot, and its lines recall the great Super X1 of the 1970s. When an X2 turned up locally at a good price, I grabbed it. After years of resisting 3 1/2-inch magnums, I finally decided that a larger-capacity 12-gauge might be a nice change of pace from the 10-gauge I typically use for hunting fat late-season Canada geese. The Dura-Touch coating on the X2's black stock was peeling, but everything else checked out fine. All the gun needed was an update.
The most important trait of any autoloader is reliability. With that in mind, I sent my latest project gun to Jeff Hajjaraka the "Spring Doctor"at Sure Cycle in Meridian, Idaho. Hajjar designs aftermarket shotgun parts and accessories that are engineered to increase performance and dependability. The company's products have a strong following among waterfowlers, just as high-performance auto parts do among car buffs.
Hajjar replaced the gun's original action spring and tube with a stainless steel system that resists corrosion and has the power to close the bolt in cold and gritty conditions. He also gave the X2 a new stainless steel magazine spring and an aluminum follower and plug. In addition, he replaced the original spring inside the Super X2 gas piston with a more durable metal sleeve. This was followed by what Hajjar calls a "performance tune-up," which includes freezing the receiver so it contracts to cold-weather dimensions and then lapping the rails and other parts to help them run smoothly.
After work on the internal parts was completed, I sent the gun to 3D Fluid Graphics for a camouflage finish. Next it went to my gunsmith, who put on a new recoil pad. I handled the finishing touches myself, adding a new screw-in choke tube and front bead and swapping out the bolt handle for a larger one that could be more easily grasped with a gloved hand in cold weather.
When I patterned the X2, I found that its kick was as mild as I could expect from a 3 1/2-inch magnum. The gun's eight-pound heft, gas-operating system, butt pad, and stiff Sure Cycle spring combined to reduce felt recoil. My first outing with the revamped autoloader was a late-season field hunt, during which I took a limit of mallards and a couple of honkers. One of the geese happened to be bandeda good sign that this used X2 might be my new lucky shotgun.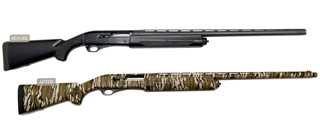 Camo
The Super X2's old finish was peeling, so I had the gun camo dipped. The old-school Mossy Oak Bottomland finish was a good fit for the autoloader's retro lines. In addition to concealing the gun from waterfowl, the camo coat protects its steel parts from rust.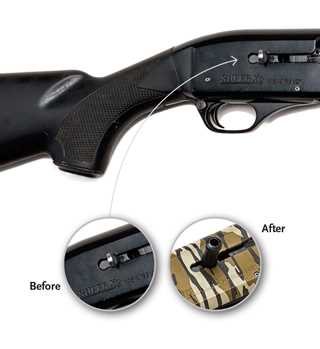 Bolt Handle
An oversized Briley tactical bolt handle proved a handy upgrade, making it easier to grasp and operate the bolt while wearing gloves in cold weather.

Action Spring and Tube
The stainless steel Sure Cycle tube and spring system help ensure that the gun's action will function in harsh conditions.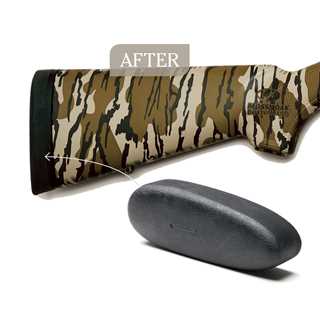 Recoil Pad
A Pachmayr Decelerator recoil pad softens the blow of heavy magnum loads. Unfortunately, there are no pre-fit pads for X2s. Installing pads on synthetic stocks can be tricky. My gunsmith had to run a metal bar across the pad holes in the stock, then drill and tap it to match the holes in the new pad.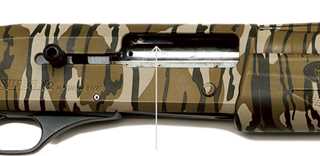 Receiver
To ensure smooth operation and prevent binding in cold weather, the receiver was frozen and then lapped at key points.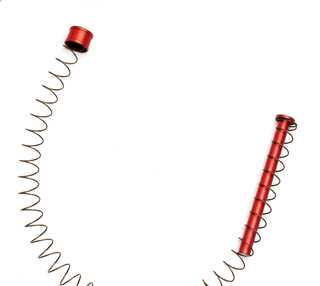 Magazine Spring, Follower, and Plug
The old factory parts were replaced with a stainless steel spring and aluminum follower, which resist rust and help shells feed reliably.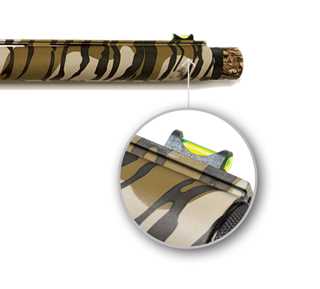 Bead
The original factory metal bead was replaced with a green Truglo front sight, making it easier to keep track of the muzzle in my peripheral vision in low light conditions.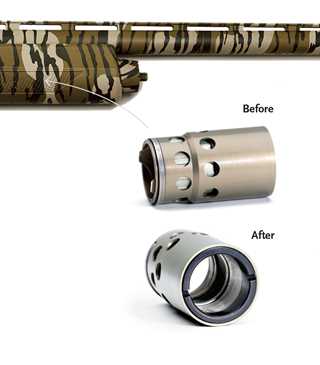 Piston
The vulnerable spring inside the gas piston was swapped for a metal sleeve.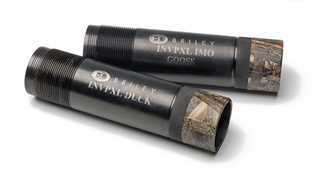 Chokes
I added Briley extended choke tubes in duck (light-modified) and goose (improved-modified) constrictions. The latter produces excellent, consistent patterns with my BB handloads.