The Golden Years
Hunting with an aging retriever can be simultaneously joyous and heartbreaking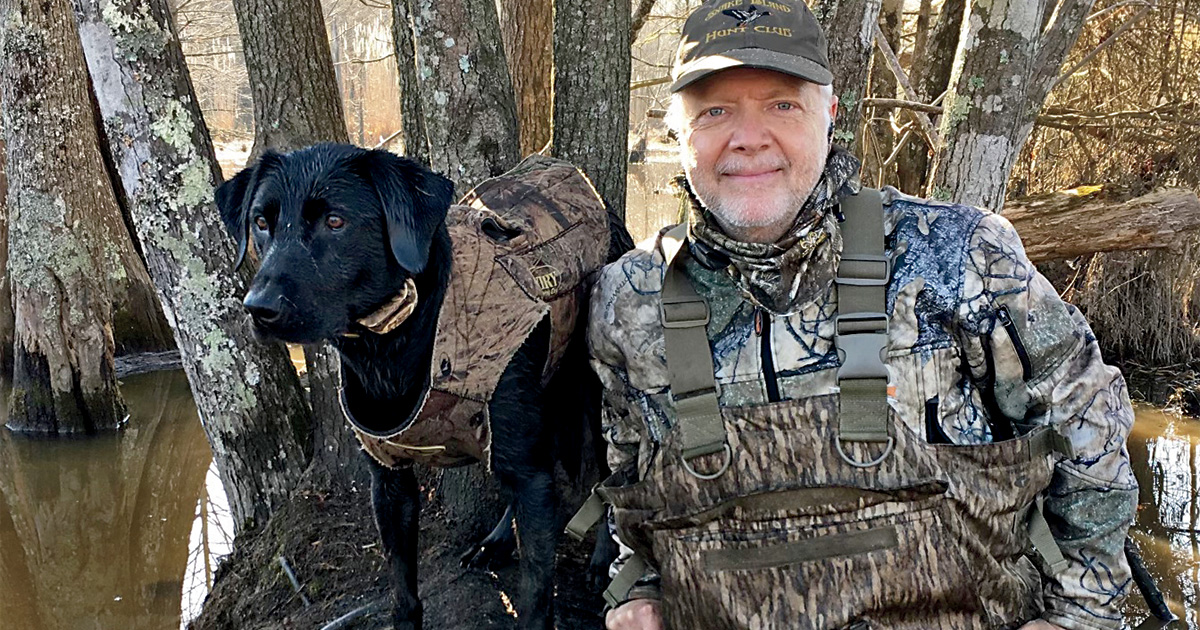 It's not that she's old. Or not old-old. Not yet, anyway. But at 10 years of age, Minnie can see old from where she's standing.
She's lost most of her hearing, and she favors a front paw after a hard run. She seeks out the sun like a cat, and I can only imagine how good it feels on her shoulders and elbows and hips. She has the teeniest patch of gray hair on her chin and just a few streaks of the white stuff between her toe pads. Like I said—like I keep telling myself—she's not old-old yet. But I can see old coming through the woods for her.
Last season I took her on a January hunt in a beaver pond where she had to swim a hundred yards to a big blowdown that offered a cold, hard, wet seat. She wore a faded old neoprene vest, while I wore layers of high-tech polymers, laminates, and hydrophobic insulation. She was wet, cold, and miserable. But whenever the silhouette of a duck showed through the tree limbs, she turned to stone. The fire in her eyes warmed my heart. She retrieved two wood ducks and dropped them at my feet.
In dog years, she's a decade older than I am. I found myself trying to figure out how I could get her out to the swamp without getting her soaking wet before the hunt even started. I looked at a couple of spots closer to shore. I wondered about pulling her in a decoy sled. But then it occurred to me: When you get to the point where you're trying to keep a duck dog dry, larger issues are looming.
People ask us how old she is. "Just turned ten," Julie and I say, a little wearily and a bit sheepishly. Their eyes widen, partly in alarm, partly in sympathy. You've been living with that energy for a decade?Just . . . wow. Minnie has always been a 50-pound jet-black Tigger. Goofy and loving and eminently lovable as long as dog licks are your thing. She's simply never run out of juice.
And I'm not so sure she's run out of time. We're not there. Not yet. A three-hour dove hunt is no problem for her. She'll still drag a goose over a beaver dam. I just wish I knew what those cold, hard hunts were costing her. Working dogs can be so stoic, and that makes managing her hunts a fraught and tricky calculus. I balance the unbridled joy in which she exults with every splash of a duck against the possibility that her joints might not take another leap off the platform. Those times they are a-coming. I know that. I'll have to store the neoprene dog vest for good one day. But not yet. I have to trust that I won't let my own desire to see her out there overshadow Minnie's well-being.
It's a delicate dance. I don't want to limp to my own finish line, nor do I want to throttle back too early and wonder if I still have more to give. I want to skid to my last duck blind sideways, with tires smoking and the oil-pressure light burning solid for the last 50 miles. I want the same for Minnie, and I have to believe she trusts me to know when her time is up.
At this moment, as I'm writing, she perks up her ears and turns her head my way as she senses me stand up and head to the kitchen for another cup of coffee. As she's lost her hearing, I've noticed that she follows Julie and me around the room with her eyes. She trails us from room to room. I don't think she's frightened in the silence that surrounds her or anxious over her future. She simply wants to know that we're nearby, for when we're close she knows that all is really pretty OK in her world, even if it's filled with a few more aches and a bit less noise.
That's the same way I feel about her.