A Started Dog
For some hunters, it makes sense to get a dog with a head start on his training

There are few things more rewarding than bringing home a floppy-eared puppy and molding him into a well-trained hunting companion. Not that it's all beer and skittles, though. You're bound to encounter bumps in the road (sometimes even washed-out bridges). Raising a puppy requires a tremendous investment of time, energy, and emotional capital. This is why some hunters find the idea of acquiring a started dog more appealing.

According to professional trainer Rody Best of Best Retrievers in Paige, Texas, the kind of sportsmen who gravitate toward started dogs are typically "a little further along in life," with family, job, and other obligations that make the idea of raising a puppy less attractive than it once was. As he puts it, "They've sort of decided they want to skip that phase." They also often have the financial wherewithal to afford the higher purchase price of a started dog.
If you are interested in acquiring a started dog, the kicker is often determining what, exactly, "started" means. Most of us understand the term to describe a dog that has had some training but isn't fully trained. But between those two poles lies an enormous gray area.
"I get a little nervous when someone approaches me wanting a started dog," admits Best. "That's because there's such a broad variation in the definition. It can be anything from a puppy that's had some bumpers tossed for it and has just started to retrieve, all the way up to an American Kennel Club junior-level dog that's been introduced to the gun, is pretty steady to shot, is delivering to hand, but isn't doing any advanced work yet."
Best says it is critically important for a potential buyer to ask the seller to explain precisely what a started dog can and can't do. Even more than that, though, you should ascertain why the dog is for sale. For most trainers, it doesn't make financial sense to invest time and money to train a puppy and then sell him at, say, 10 or 11 months of age. As Best puts it, "You need to find out why the current owner doesn't want to keep the dog. There's a reason that dog is for sale, and you have to be able to trust that the seller is being honest with you about it."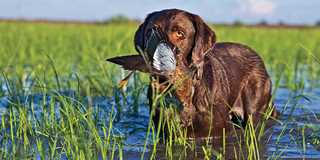 The flip side is that a started dog that lives up to his billing (and doesn't have any deal-breaking faults) can be a real bargain for the buyer. The key is matching the capabilities of the former to the needs and expectations of the latter. The way to determine this, says Best, is by insisting that the seller allow an evaluation period of at least one week.
"Buying a started dog isn't like buying a new car," he explains. "What you're getting isn't obvious; it takes time before you know what you have. If you're looking at a started dog and you don't feel qualified to evaluate him yourself, have him evaluated by a professional trainer. You want to be able to identify the dog's strengths and weaknesses and make sure there are no surprises."
The first thing to check for, says Best, is also the most fundamental: Make sure the dog has the desire to perform at the level you need him to. It's the lack of this quality that, perhaps more than any other, explains why a given animal is offered for sale as a started dog, especially among owners with field trial or advanced hunt test aspirations. But a dog that doesn't have quite enough drive for these high-intensity competitions can often be an ideal companion in the duck blind.
Another thing to check for carefully is aggression issues. "You want to be sure that the dog is safe around other dogs and children," Best says. It also goes without saying that you should have any dog you're thinking of acquiring thoroughly examined by a veterinarian.
Living and partnering with a retriever is always a journeyand much of it, especially in the early years, is uphill. By finding a started dog that is a good fit for you and your style of hunting, you can sidestep at least some of the steeper portions of the climb.