Migration Alert: Waterfowl Habitats Improving with Increased Rainfall
Sept. 29, 2023 – Atlantic Flyway – South Atlantic Preview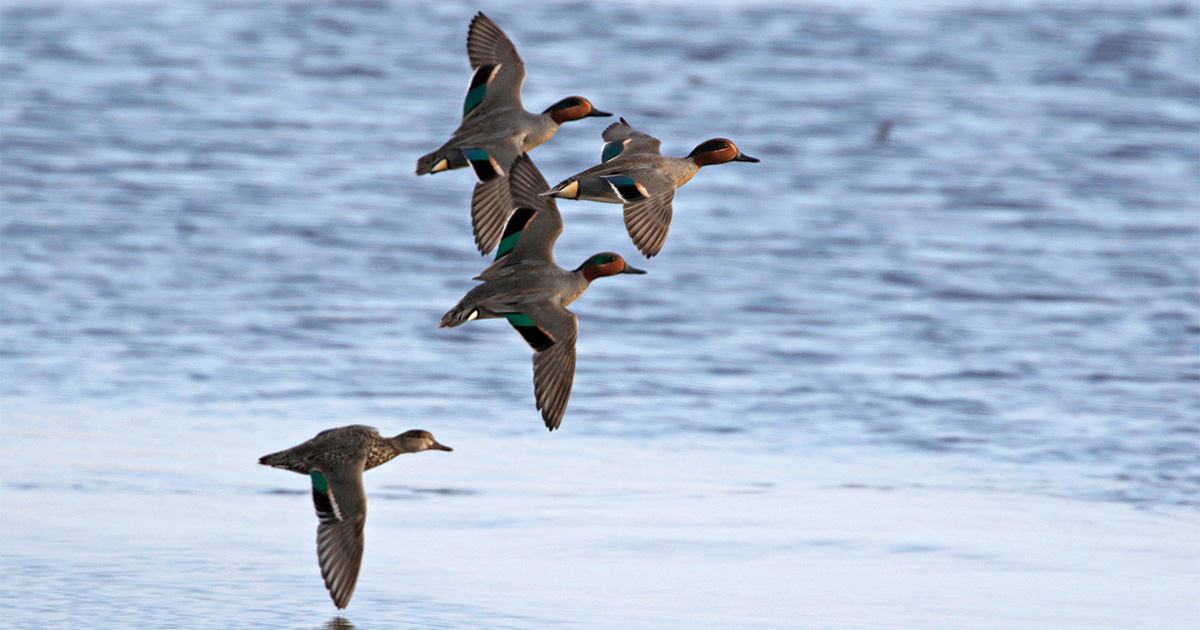 A mostly dry summer across the South Atlantic region had many waterfowl biologists a bit concerned. Croplands in some areas were sketchy, and impoundments favored by many puddle ducks were low on water. But recent rainfall delivered by tropical storms has improved habitat conditions in parts of the region.
Looking from north to south, DU Development Director Taylor Deemer says Delaware had a very dry August. Many freshwater wetlands and vernal pools were down considerably, but recent rains have offered a reprieve from the dry conditions, along with a break from the heat. Deemer has seen several groups of bluewings buzzing the marsh, and those birds, plus resident geese, have offered good gunning. The state also seems to have good numbers of wood ducks.
Josh Homyack, Maryland Department of Natural Resources waterfowl project leader, says he believes wood ducks had "spotty reproduction overall in the state, ranging from very good to not so great. We did get some rain in late June and July, but it has gotten pretty dry again. That will impact the amount of natural habitat available for migrating waterfowl as the fall progresses," he says.
In neighboring Virginia, waterfowl biologist Ben Lewis with the Virginia Department of Wildlife Resources reports that the summer was dry, but heavy rains swept across the eastern part of the state in recent weeks. "This should help improve habitat conditions as we gear up for early duck season in the beginning of October," Lewis says. "It seems like we have had good wood duck production as we have had some good captures during our banding efforts. We saw teal during wood duck banding, but not in great numbers."
Doug Howell, migratory game bird coordinator for North Carolina's Wildlife Management Division, surmises that wood duck production was average overall, given that conditions ranged from excellent to poor depending on the part of the state. Hot weather and minimal rain in coastal areas dominated until recent weeks.
The Alligator River and Pea Island National Wildlife Refuges are magnets for migrating waterfowl. Brian Van Druten, a US Fish and Wildlife Service biologist at the refuge complex, reports, "We worked hard to keep water in all three impoundments and maintain submerged aquatic vegetation production during the exceptionally dry period in July and August."
Rains from recent Tropical Storm Idalia provided relief from the dry conditions, but Van Druten says he is unsure of the impacts on submerged aquatic vegetation production. "Working around the impoundments, we observed American black duck broods this summer," he adds. "Resident Canada goose numbers appear stable, and we had a small influx of blue-winged teal a few weeks ago. There were also at least 1,000 northern pintails spread between the three impoundments, feeding and resting, following passage of a recent frontal system."
South Carolina Waterfowl Project Leader Molly Kneece says much of the Palmetto State had a fairly dry growing season, but recent rains have helped. "On the coast, our impounded areas have experienced excellent production of wigeon grass, musk grass, and dwarf spike rush," Kneece says. "I've been hearing good reports of bluewings in coastal impoundments. Based on reports from early teal hunters, wood duck numbers are looking good. In more good news, impacts to habitat from tropical weather events have been minimal this year, which makes me optimistic about the coming season. We are looking forward to the arrival of the calendar birds and hopeful some timely fronts push more birds our way."
From the Chesapeake southward, duck hunting success this fall will likely come down to weather. From mid-October through January, hunters will be anxiously watching forecasts and looking for pushes of migratory birds associated with frontal systems.
Sign up for Migration Alerts
Stay up to date with the latest migration information.
We never share your email or mobile number, and you can unsubscribe anytime.