Migration Alert: Texas Teal Hunters Dealing with Severe Drought
Sept. 7, 2023 – Central Flyway – Texas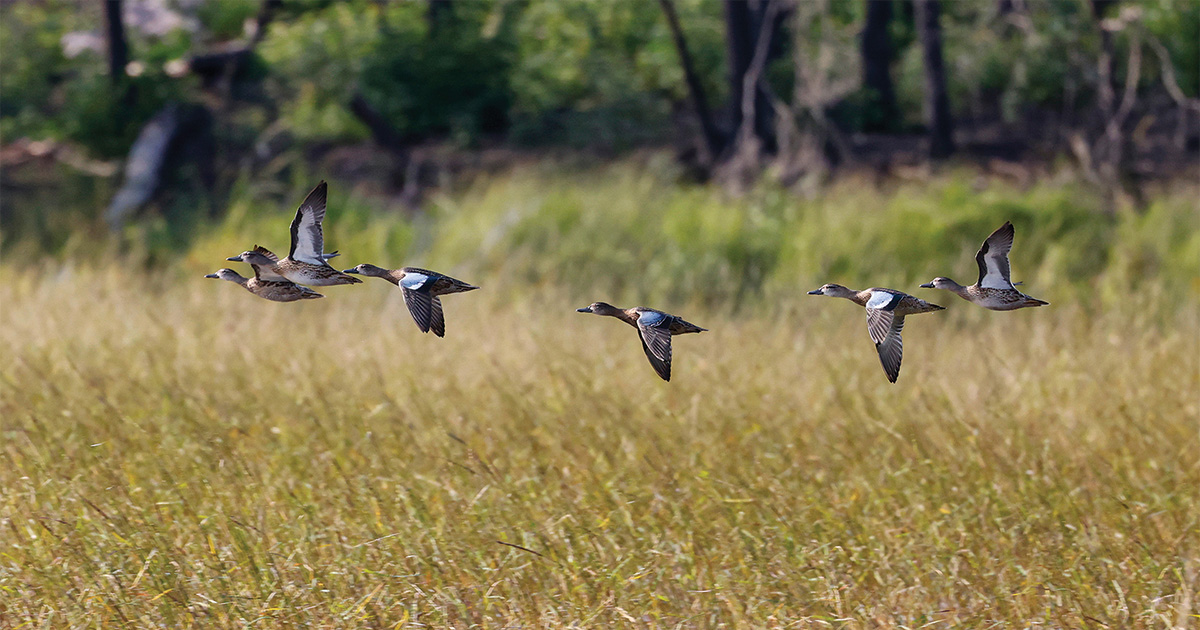 It's hot, it's dry, and it's dusty.
Not the best recipe for the September teal season in Texas, and certainly not the conditions to get hunters fired up about teal season. But, if you can afford to pump water from wells or are able to purchase water from various river authorities, you are sitting on blue-winged teal gold.
"Pretty much any place that's got water on the ground has teal," says Brian Davenport of Fin and Fowl Outfitters near Anahuac. "The east side (of Houston) looks good."
Texas is experiencing exceptional and severe drought throughout almost the entire state. Not since 2011 has it been so dry, and some historians are comparing 2023 to what many consider the worst drought ever, in 1923. Water restriction edicts are being passed down daily throughout the state. Lakes are below pool, reservoirs are at emergency levels, and temperatures soaring past 100 degrees are the new normal.
"It has been a little slower getting water with the drought," notes Davenport. "We are in good shape for the opener, but sure could use some rain."
Davenport was speaking about his high ground ponds on the prairies north of I-10. However, most of his best hunting occurs in the marshes adjacent to Trinity and East Galveston bays.
"Our marshes and refuge are bone dry," he says. "But, all in all the east side is holding good numbers of teal."
Indeed, marsh ponds and briny potholes neighboring the bay have suffered from low tides and high salinity for most of the summer. The coast received a good dose of rain in mid-May, which sweetened marshes and grew acres of duck food, but lack of rain and tide-dropping high pressure drained those marshes and made them barren.
"We were sitting pretty in May," says guide Ray Sexton of Palacios. "We had water and wigeon grass everywhere. And then it stopped raining."
Low pressure has returned this month and allowed tides to rise and begin filling ponds and potholes.
"We are getting some water back, but salt levels are high without any rain and not much duck food has grown," Sexton says. "We are praying for rain."
The coastal prairie west of Houston is dealing with the same problems associated with the drought. Blue-winged teal prefer wet September rice fields, but with fewer acres of second-cropped rice being grown, habitat is diminishing.
"Rice drives our waterfowl down here," says longtime waterfowler Ross Russell of El Campo. "Water and rice are harder and harder to come by, especially this year. But, if you are fortunate enough to have it, you will probably see great hunting."
Teal numbers look solid for the Sept. 9 opener on moist-soil units and flooded rice in Wharton, Colorado, Calhoun and Matagorda counties. Marsh hunters typically enjoy a push of migrants to the south after opening-day hunting pressure on the prairies to the north.
Texas waterfowl hunters are once again faced with the old adage: "If you have water, you'll have teal."
Sign up for Migration Alerts
Stay up to date with the latest migration information.
We never share your email or mobile number, and you can unsubscribe anytime.