Migration Alert: Poor Louisiana Habitat Conditions Impact Early Teal Numbers
Sept. 15, 2023 – Mississippi Flyway – Louisiana
Teal season opens in Louisiana on September 15. Unfortunately, the news on several levels is not great. The state has been plagued this year with record high temperatures and record low rainfall. Across the state, water levels remain low, and vegetation in many areas is damaged, scarce, or nonexistent. That being said, hunters fortunate enough to be in areas that have water and food may still have some good shooting.
Jason Olszak, waterfowl program manager for the Louisiana Department of Wildlife and Fisheries, just completed the season's first aerial waterfowl survey and was not very optimistic. "'Dry and desolate' sums up many of the areas we surveyed. Some marsh areas in southwest Louisiana look like a desert," he says. Minor cool fronts have moved through the state, but temperatures have only cooled slightly. The usual front-related rains have been moderate and scattered. With the ground so dry, precipitation dissipates and has made no appreciable difference. The only real impacts from these fronts have been temporary reductions in humidity. Recent forecasts show no fall-like weather arriving anytime soon.
"The 2023 estimate of blue-winged teal in coastal Louisiana and Little River Basin (148,000) was 44 percent lower than the 2022 estimate of 264,000. It was 30 percent lower than the most recent five-year average and 24 percent lower than the most recent 10-year average. No green-winged teal were observed," Olszak reports.
As is typical, the majority of teal were located in the southwest areas of the state. However, there were half as many teal there than at this time last year. "The teal estimate for southwest Louisiana decreased 50 percent from 2022 (257,000 to 129,000). However, southeast Louisiana experienced a 143 percent increase in teal numbers (7,000 to 17,000), and 2,000 teal were observed on Little River Basin (Catahoula Lake), where none were counted in 2022. Eighty-seven percent of the teal estimate was in southwest Louisiana," Olszak adds.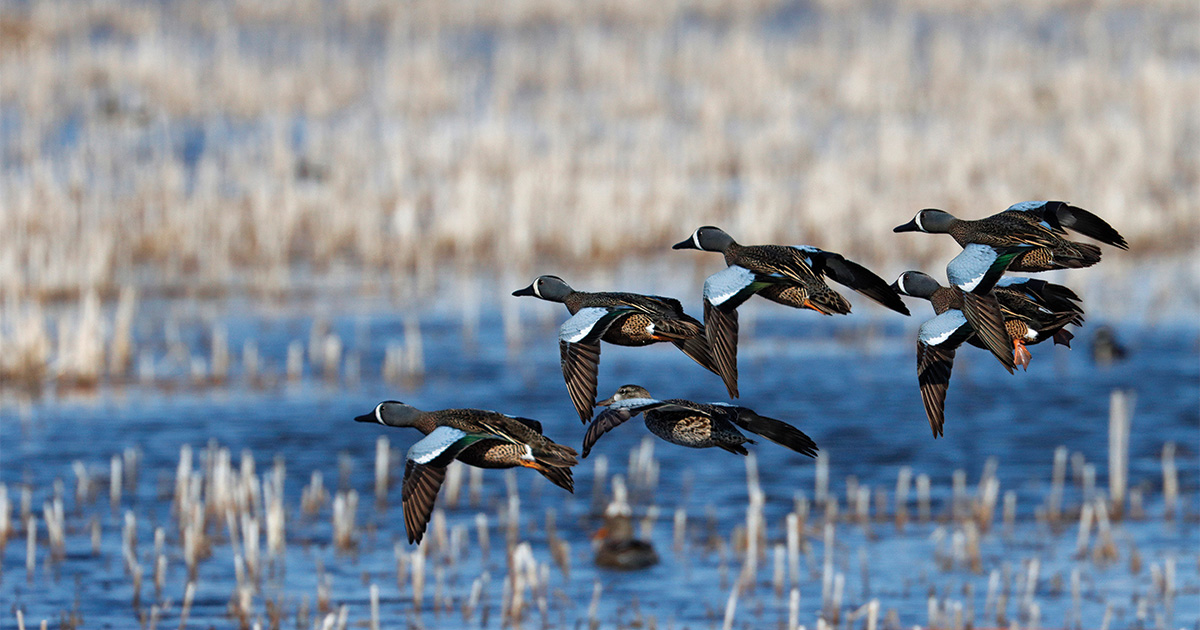 As expected, habitat conditions are not conducive to attracting and holding waterfowl. "Habitat conditions in the southwest were very poor. All parishes in the southwest portion of the survey were experiencing exceptional drought before, and during, the survey. We estimated less than five percent of the agricultural (rice/crawfish) region north and south of Interstate 10 to be flooded, and many harvested rice fields had already been disced. Nevertheless, more than half of all teal in southwest Louisiana were observed in flooded agricultural fields near Gueydan," Olszak says.
The marshes were also in fairly poor shape. "Marsh conditions in the southwest were far below average based on water levels alone. Many small pools were completely dry, and most available water in the marsh was confined to canals or pools rapidly retreating from their vegetated margins. Desirable submerged aquatic vegetation was largely absent due to dry pools, but so was floating vegetation such as salvinia and hyacinth," he adds.
The marshes in the southeast were in a bit better condition, but still not optimal. "Water levels were largely normal in the southeast marshes and swamps as they are more tidally influenced. Unlike in recent years, more teal were observed in the marsh between Atchafalaya Delta Wildlife Management Area and Houma than at the mouth of the Mississippi River," Olszak says. Although the teal numbers in southeast Louisiana are still low, they are more than double last year's count at this time.
Captain Tommy Adams with Fishing Tom's Guide Service is both worried and optimistic. "We have two leases. One is in a rice field in Welsh and the other is on the coastal marshes near Johnson Bayou. In the marshes, there are some birds, if you have water. However, my lease there is bone dry. There is nothing for them to eat in my marshes. Everything is dead," he says. Tracking the results from the aerial survey, hunters who have water have a good chance of having birds. "Our rice field has water pumped and has a ton of birds. Opening day will see great hunting for us and others that have water. The rice field is full of vegetation and should be on fire opening day," he says.
Scott Dennis with Fanny's Family Guide Service has been hunting his family's property in Delacroix for decades. Having been in the marsh for the last couple of weeks hunting gators, he's had a first-hand look at the conditions and bird numbers. "I was seeing a few teal two to three weeks ago but did not see any last week. I'm concerned if there is enough feed in certain parts of Delacroix to keep them around. It looks like a lot of the grass has died due to low and hot water we had during the summer," Dennis says.
Other reports from southeast Louisiana have been mixed, with some good reports. Garry Provenzano hunts in the Hopedale/Shell Beach area. "There have been a few good bands of teal around Shell Beach and the Lake Amedee area near Reggio," he says. "I also spoke to a local game warden who said Delacroix and the Biloxi Marsh have had quite a few birds in some places," he adds.
Louisiana's waterfowl habitat has been spared any extreme tropical weather so far this year. That is normally the big concern leading into teal season. However, in keeping with the uncertain climate patterns, Louisiana was dealt a hard blow from the heat and drought, and water and feed will be the key for successful hunts.
Sign up for Migration Alerts
Stay up to date with the latest migration information.
We never share your email or mobile number, and you can unsubscribe anytime.