Migration Alert: Bluewings Are on the Move in the Central Flyway
Sept. 8, 2023 – Central Flyway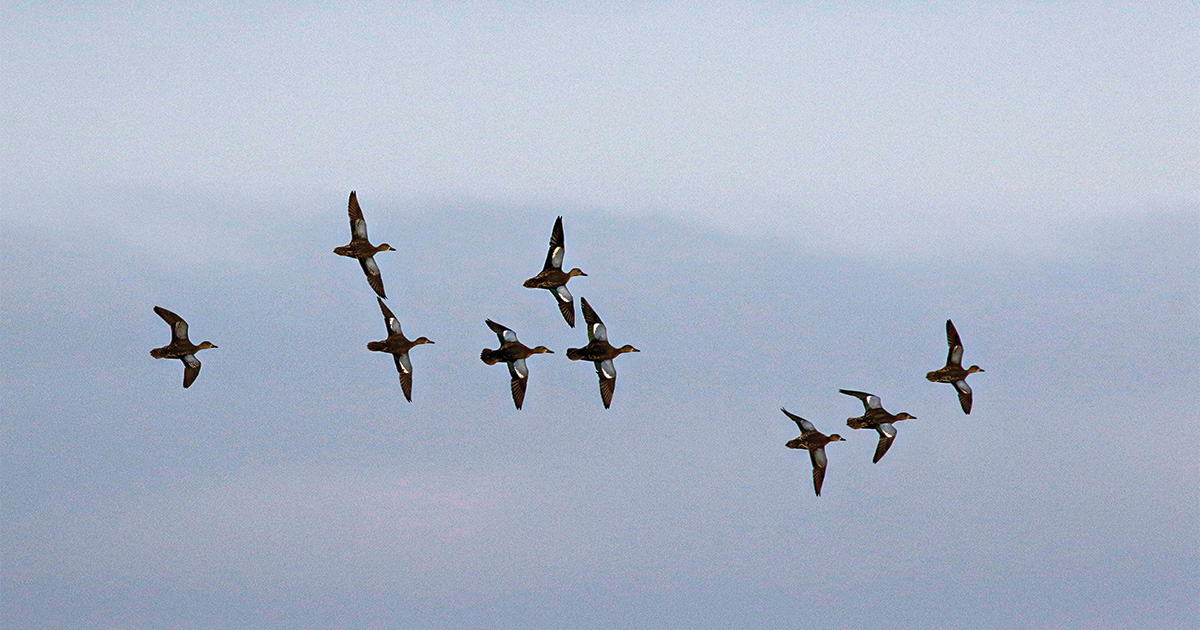 Cooler temperatures across the northern reaches of the Central Flyway are sending blue-winged teal south just in time for special teal seasons in several states. Here's a look at what hunters can expect to see while taking advantage of this great early hunting opportunity.
Teal Production
While the US Fish and Wildlife Service's 2023 Waterfowl Breeding Population and Habitat Survey indicated blue-winged teal numbers were down 19 percent this spring, there is still cause for optimism about this year's early teal flight.
Precipitation events throughout the nesting and brood-rearing periods likely boosted duck production on landscapes with good wetland and grassland habitat, explains Rocco Murano, chief waterfowl biologist with the South Dakota Game, Fish and Parks. As a result, plenty of young birds should be headed south this fall despite a decline in the breeding population. Of course, young birds often provide the best hunting opportunities.
"Those timely rains just kept falling in areas where we have some of our best wetland concentrations and areas of grass, and in turn we saw evidence of a pretty strong nesting effort by a number of duck species, including blue-winged teal," says Murano. "Bluewings tend to nest a little later than other species, too, so this allowed them to benefit from the moisture that fell in areas toward the end of spring and into early summer."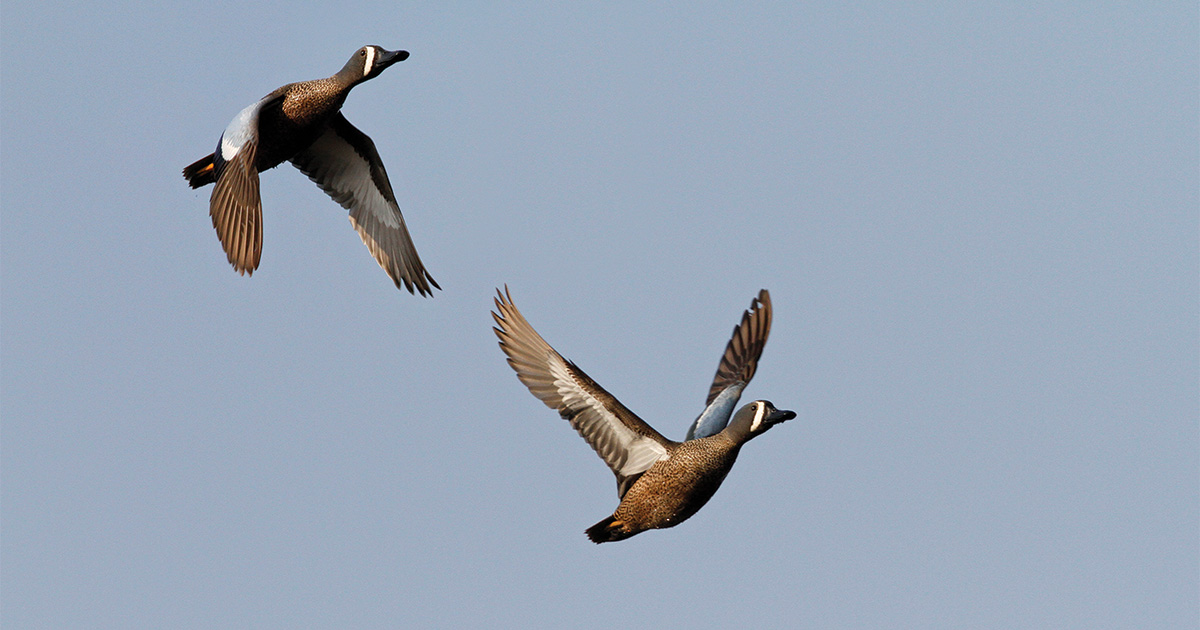 Mike Szymanski, migratory game bird supervisor with the North Dakota Game and Fish Department, offers a similar assessment, noting that blue-winged teal responded well to the conditions in the state.
"For hunters who depend on teal from North Dakota to show up over their decoy spreads in September, I think they should be pretty happy this year," says Szymanski. "The flight of teal out of here should be good. Based on what we're seeing out on the wetlands right now, those birds had a good year of production."
And some of those blue-winged teal are already on the move, notes Murano, who reports that he is seeing large groups of bluewings staging on shallow wetlands in preparation for migration.
"We started getting reports of teal arriving in Missouri and Kansas and other states over the past few weeks, and with our temperatures cooling down in the coming days, I think we're only going to see more bluewings checking out of South Dakota and North Dakota," says Murano. "The timing of their movement is pretty ideal for our own youth season here, and it sure looks good for those who have early teal seasons opening up in other states down the flyway."
Habitat Conditions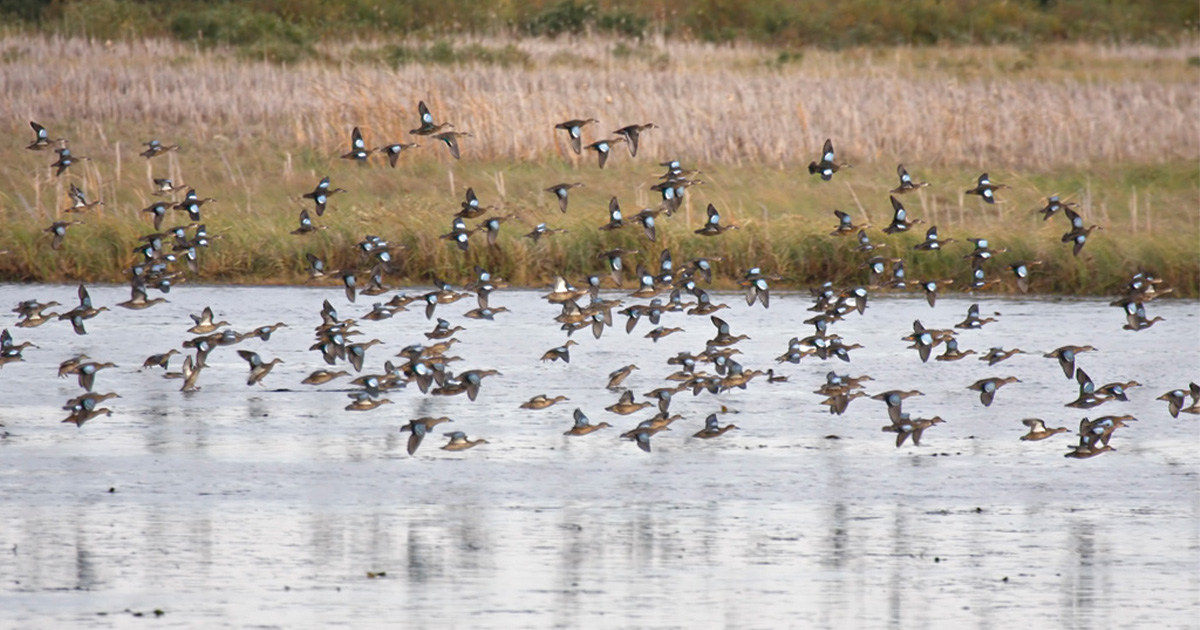 The extremely dry conditions that have dominated the landscapes of Nebraska and Kansas in recent years have loosened their grip somewhat heading into the 2023 waterfowl season, but overall water levels are not where state waterfowl managers would like them to be as the first flocks of blue-winged teal arrive.
Summer rains raised water levels in Nebraska's Sandhills region, explains John McKinney, waterfowl program manager with the Nebraska Game and Parks Commission. Extreme heat in recent weeks has caused those levels to drop, exposing a ring of mud around larger wetlands and causing smaller water bodies to go dry once again.
In response to the dry conditions and in preparation for teal season, McKinney says the Nebraska Game and Parks Commission and US Fish and Wildlife Service have pumped water on 14 wildlife management areas and two waterfowl production areas in the Rainwater Basin, which is typically home to some of Nebraska's best teal hunting opportunities.
In Kansas, wetland conditions vary greatly across the state, according to Matt Farmer, a wildlife area manager with the Kansas Department of Wildlife, Parks and Tourism.
"Overall, conditions are still extremely dry. We've been able to put water on some areas, and where you find water, you're finding teal," says Farmer. "Under these conditions, though, the ducks tend to leave areas quickly, because there just aren't many places for them escape the hunting pressure."
Paxton Smith, a migratory bird biologist with the Oklahoma Department of Wildlife Conservation, says that hunters in the Sooner State are likely to encounter similar conditions, with a wide variety of water levels found across the state, but those areas with water are likely to stop early migrating teal in the days leading up to the September teal season.
"The good news is that I have been helping folks band ducks up in North Dakota, and we saw a lot of young teal," says Smith. "We should see some pretty good flocks of bluewings coming down the flyway in the next few weeks."
Sign up for Migration Alerts
Stay up to date with the latest migration information.
We never share your email or mobile number, and you can unsubscribe anytime.