Working Birds
One Virginia decoy carver regularly hunts over a spread of award-winning blocks

Story and images by Ken Perrotte
An early January northwest wind blowing in from the Potomac River creates a healthy surface chop on Virginias Lower Machodoc Creek as our hunting crew wades in and begins setting several dozen hand-carved duck and Canada goose decoys. Daybreak reveals an impressive spread, including a pair of full-size tundra swan decoys floating and swimming realistically in the blue-green saltwater.
Remarkably, every decoy was handcrafted from either wood and canvas or cork. And, to top it off, about a dozen of the cork decoys, carved by Preston Thompson of Essex, Virginia, were either first- or second-place winners in the annual Ward World Championship Wildfowl Carving Competition and Art Festival. The pair of cork swans that we are about to launch steel shot over won the 2018 Gunning Pairs Champion Division in the Hunting Decoys category, making them easily worth thousands of dollars.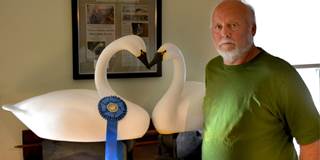 The rest of the spread features an array of decoys: canvasbacks, bluebills, buffleheads, and goldeneyes carved by Thompsons friends and fellow carvers Jake McAllister, Eddie McAllister, Clarence Juce McKenney, and Gary Crossman. The ducks sure seem to like these handmade replicas, and our team of shooters in the blind enjoy steady action throughout the morning.
Bird Made on a Bet
I had hunted my whole life and understood what birds should and shouldnt do. I made a bet that I could carve a working bird, Thompson recalls. That was in 1980.
Thompson soon began competing in several decoy shows up and down the East Coast. Among these were the Core Sound Decoy Festival, Currituck Wildlife Festival, Rappahannock River Waterfowl Show, Easter Decoy and Art Festival on Chincoteague Island, Marylands Waterfowl Festival, and Rappahannock Decoy Carvers and Collectors Guild.
Along with taking home a few ribbons, Thompson soaked up boatloads of advice. When you go to these shows, all you do is talk birds. I just kept learning, he says.
Thompson first entered the Ward World Championship in 1995 and won first place in the Lem and Steve Ward Shooting Stool-Gunner category with a swan. He has now entered the Lem and Steve Ward Competition seven times, earning five first-place ribbons and two second-place ribbons in the Hunting Decoys category.
Thompson grew up in King George County and traces his lineage to Virginias Patawomeck Indian tribe. He spent a great deal of time hunting and fishing and studying the wildlife around him.
Thompson describes himself as a jack-of-all-trades, a carpenter and plumber, able to build or fix just about anything. He credits those skills to his father, the late Raymond C. Thompson.
Thompsons ability to build sturdy structures is evidenced by the resilience of his spacious duck blind. Few blinds survive multiple hunting seasons in Virginia, falling victim to hurricanes, tropical storms, noreasters, ice, and more. Thompsons blind has weathered them all for decades. He says hes never even lost the roof.
While Thompsons construction skills are readily apparent in his blind, the intricate nature of his decoys often overshadows their sturdy construction. You can look at these birds and think nobody would shoot over them, he says, gesturing to the many ribbon-speckled carvings adorning his home. But I do. Theyre working birds.
When you have hunting decoys, theyre more valuable when you hunt over them, he adds with a smile.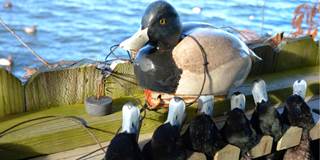 Another couple of hundred finished decoys are displayed throughout Thompsons home. Some are his, but he has collected many others from fellow carvers he counts as friends. Among them are a couple of birds made by the late Delbert Cigar Daisey of Chincoteague, Virginia. Decoys made by Daisey, a colorful character in his own right, are often worth several thousand dollars.
Thompsons workshop has another 100 or more works in progress. The many workbenches and painting tables are a glorious hodgepodge of decoys in various stages of constructionroughed-out blocks, unpainted heads, and a few complete worksas well as reference books open and ready.
Thompson says his style of carving, especially the big birds, is getting more difficult due to dwindling availability of large blocks of quality cork. The Wiley Cork Company went out of business, he explains. I bought about 10 cases and put it away.
Once he has the body shape he wants, Thompson applies a few coats of Zinsser Bulls Eye Shellac. Cork rots. That shellac will make it as hard as this table, he says, rapping his fingers on the wood. The heads are carved from black tupelo, commonly referred to in the South as tupelo gum.
Thompsons competition hunting decoys need to look and behave like real birds. The paint jobs arent as detailed as in the decorative categories but when the decoys are sitting on the water, they look remarkably lifelike.
Decoys are first judged indoors. Those making the cut advance to the water phase of the competition. Theyre judged for stability and proper flotation on big water under natural conditions. Decoys must be self-righting and float gracefully. You can have the best-looking, best-painted decoy in the world, but if it doesnt float just like a duck, goose, or swan, forget about it.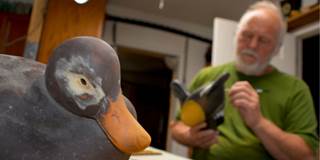 Thompson first water-tests his decoys in a large horse trough on his farm. He also has access to ponds and nearby rivers for testing on bigger water. Thompson says that getting the right behavior on the water just takes figuring out. Sometimes it means adding more lead to the keel, while other times it involves putting on a thicker wooden base.
Even though competition rules state that goose or swan decoys have to right themselves only from a sideways position, Thompson designs his to be self-righting just like his duck decoys.
They look cool. They look alive when you get em right, he says.
No Commercial Interest
Unlike many carvers, Thompson has no interest in selling his works, even though each of his winning decoys, especially the larger birds, could easily fetch thousands of dollars each.
The reason, he explains, is the tremendous commitment it takes to create a competition bird, especially the larger birds he likes to carve.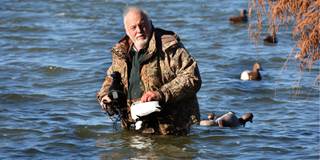 Ive got 300 hours invested in these swans, Thompson notes. One guy wanted to buy them, and I told him, Even if I sell them to you for $5,000, Ill make $15 to $20 an hour based on the time I have in them. I can make $45 to $50 an hour doing carpentry work. I just cant sell them, but I sometimes give decoys to kids.
Now 74 years old, Thompson is beginning to feel the toll of the years on his body. He gets philosophical when he points out that there are precious few of the old, traditional working decoy carvers left.
Look down the side of this bird, he says, lifting a swan. See those feathers? It took six layers of paint to get that look. After a hunt, I just bring them home and clean them up. I really enjoy hunting over my own birds.
Thompson still loves to hunt and fish, but multiple rotator cuff surgeries make shooting difficult, if not impossible.
Its a good life until you get old. You get up in the morning and start questioning whether youre going to go out there and fool with the dogs or just go back to sleep, he says with a matter-of-fact smile.
These days, Thompson likes to head out to his blind just so he can put out some decoys, let his friends shoot, and get his dogs some work. A crack-of-dawn start isnt always paramount. His blind has a spacious backroom, big enough for everyone to get out of the wind and enjoy the homemade chicken soup or oyster stew he whips up on the stove.
Carving isnt as physically demanding, and Thompson said he hopes to compete at a high level for as long as he can.
I just feel blessed to get to go to the competitions and meet some of the people who like to do this work, Thompson says. Im an old man and Im still trying to figure out how to get better.
Sidebar:
The Ward Museum of Wildfowl Art is located in Salisbury, Maryland, and named after Lemuel T. and Stephen Ward, legendary carvers from Crisfield. The Ward World Championship Wildfowl Carving Competition and Art Festival in Ocean City, Maryland, is considered the grandest affair of the carving world, attracting the best artists and craftsmen in the field. About 1,200 different wildfowl carvings are entered annually across the events 40 divisions.