The following talking points and materials are provided to help answer questions about the current outbreak of High Pathogenic Avian Influenza (HPAI) in North America.
UPDATE: USDA APHIS issues revised guidance on allowable conditions for importation of harvested game birds from Canada, effective August 3, 2023. Read full release HERE.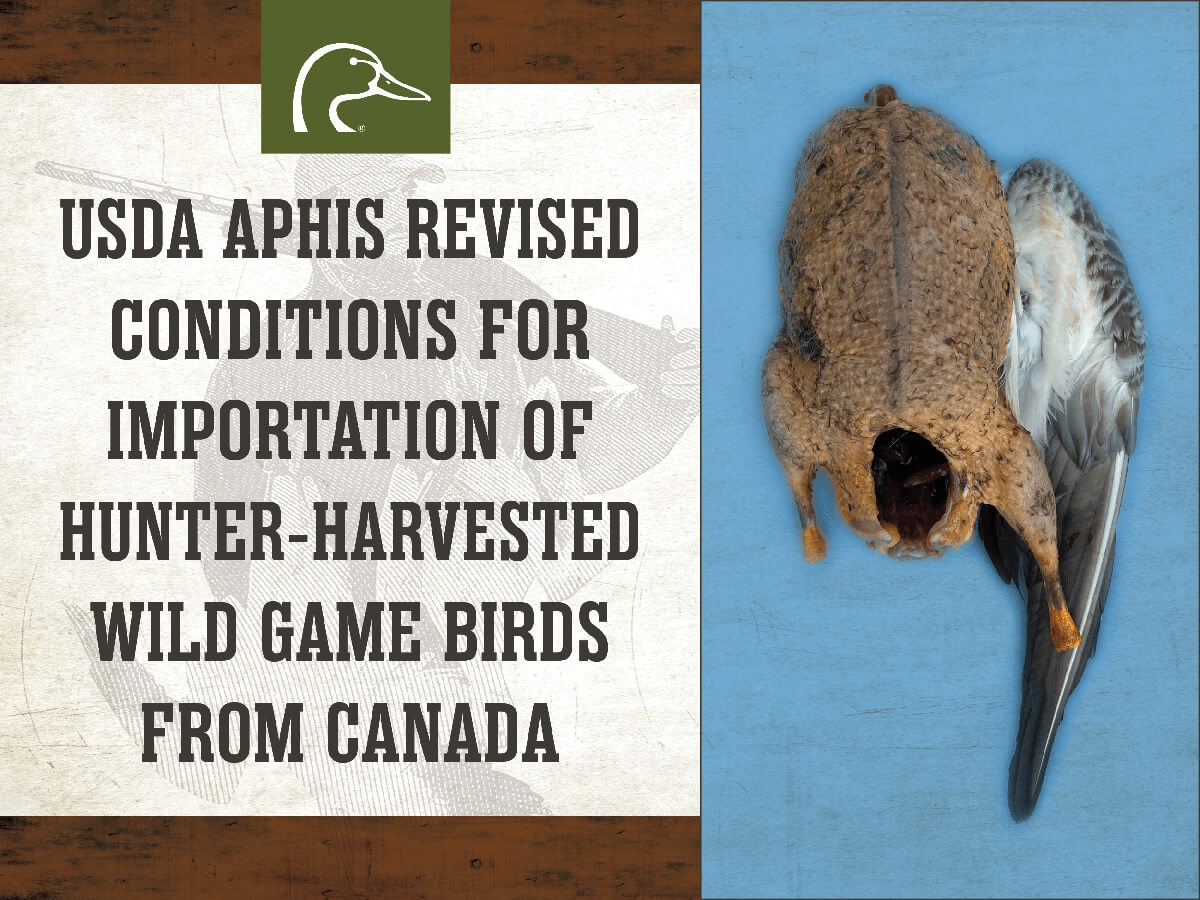 What is Avian Flu?
Avian flu (bird flu) is a common, naturally occurring virus in birds that has many forms or subtypes.
Scientists believe all birds are susceptible to infection by some form of avian flu. Some birds, like waterfowl, can be infected with the virus but develop no signs of illness.
Birds become infected through direct contact with secretions or feces of infected birds, contaminated surfaces, or infected food and water supplies. It also may be possible for wild birds to transfer the virus by their feet, feathers or dander.
How severe is Avian Flu?
The severity of avian flu varies based on the subtype of the circulating virus and is classified as either low pathogenic avian influenza (LPAI) or high pathogenic avian influenza (HPAI).
Most avian flu subtypes are LPAI and cause little or no signs of illness in domestic or wild birds and pose no threat to human health. These subtypes are found every year in waterfowl.
The subtype responsible for the outbreak that began in 2021 is highly pathogenic, and thus is of heightened concern.
What are the signs of High Pathogenic Avian Influenza?
HPAI symptoms in wild birds can include: nervousness, tremors or lack of coordination, swelling around the head, neck and eyes, lack of energy or movement, coughing, gasping for air or sneezing, diarrhea, or sudden death. However, wild birds, particularly waterfowl, infected with HPAI may be asymptomatic.
Are there risks to humans from HPAI?
The risk of catching avian flu from wild birds is very low; however, hunters and people who prepare and cook wild birds are encouraged to follow safe food handling practices, as outlined via government health agencies.
Avian flu does not pose a food safety risk when wild or domestic poultry products are handled and cooked properly.
What should I do if I see a sick or dead bird?
Hunters and members of the public should report sick birds or unusual bird deaths to State/Federal officials, either through their state veterinarian or through USDA APHIS toll-free number at 1-866-536-7593.
Are there concerns for the poultry industry?
Domestic poultry have no natural immunity to HPAI, and so experience nearly 100% mortality when infected. High concentrations of domestic birds facilitate transmission throughout poultry barns. These vulnerabilities mean that HPAI can have devastating economic consequences to the poultry industry and protein supply chain.
Prevention, preparedness and response efforts are operated by government agencies (US Department of Agriculture Animal and Plant Health Inspection Service, Canadian Food and Health Inspection Agency, Mexican National Service of Health, Safety and Agrifood Quality) including strict biosecurity efforts to reduce the introduction of HPAI into poultry flocks.
Waterfowl, and many other wild bird species, are sources of viral spread over short and long distances and have a potential role in poultry infections.
Poultry outbreaks are often due to the lack of and/or adherence to existing biosecurity protocols. Although waterfowl have been widely implicated to be a principal reservoir of infection for poultry flocks, the science around transmission of virus between poultry operations and wild birds or other mechanisms (e.g., indirect exposure, airborne, wildlife trade) is currently inconclusive.
How is Ducks Unlimited responding to HPAI?
We recognize that HPAI is a major concern to the domestic poultry industry but at present is considered a low-risk human health concern.
We monitor avian flu developments from the lead natural resource and human health agencies in North America and across the world.
We direct all queries to the lead government agencies.
We join many other organizations world-wide to strongly oppose the culling of wild birds and the draining of wetlands as a means of controlling avian flu.
Are there risks to my dog from HPAI?
HPAI has been confirmed to cause illness and mortality in multiple species of mammals, including wild canids such as foxes. Preliminary data from a 2022–23, DU-funded study of waterfowl hunting dogs in Washington state found evidence of HPAI infection in only 2% of sampled dogs. As of September 2023, there was only 1 confirmed case of a domestic dog dying from HPAI infection in North America. Nevertheless, as a matter of caution, it is recommended that dogs not be allowed to retrieve or come into contact with birds that appear sick or have been found dead. Hunters should also not feed their dogs raw meat from harvested birds nor allow them to come into contact with discarded carcasses or entrails.
---
Important Links
USDA APHIS Avian Influenza Website
USDA Hunters, Protect Your Poultry and Pet Birds from Avian Influenza
US Fish and Wildlife Service Avian Influenza Website
US Centers for Disease Control and Prevention Avian Influenza Website
Restrictions for Importing Harvested Wild Game Birds from Canada
USDA Import Restrictions for Animal Products
Avian Influenza Guidance and Restrictions in Canada
---
Media inquiries on DU's response to HPAI should be directed to the following individuals:
US: Dr. Michael "Mike" Brasher, Ducks Unlimited Inc. (mbrasher@ducks.org)
Canada: Ashley Lewis, Director of Brand & Communications (media@ducks.ca)
Mexico: Gabriela de la Fuente, Assistant Director, Ducks Unlimited de Mexico (gdelafuente@dumac.org)