Field Reports: 2023 Early-Spring Habitat Outlook
An overview of wetland conditions across key waterfowl breeding areas
By DU Field Biologists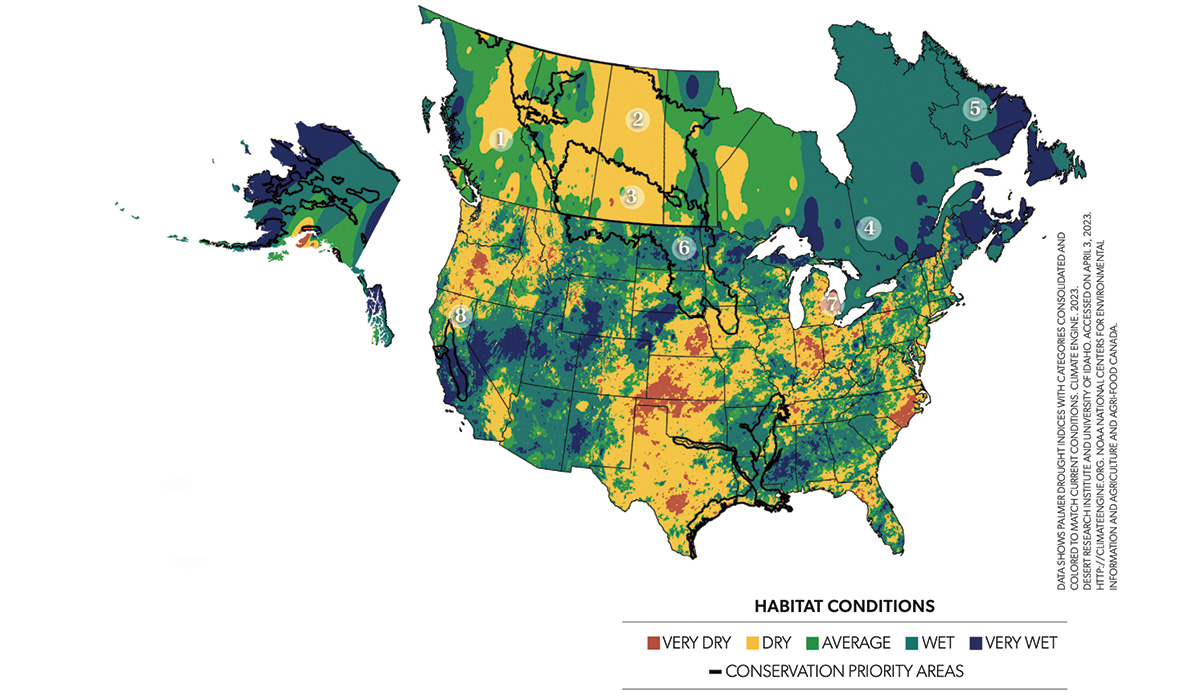 1. WESTERN CANADA
After a relatively dry fall and early winter, snow accumulations increased to near normal in many areas of British Columbia by the beginning of March. As a result, wetland conditions should be generally favorable for breeding waterfowl in the province. Although parts of the interior may be at risk of spring flooding, other areas may remain drier than average without additional precipitation. By mid-March, waterfowl had begun to congregate in coastal regions before heading north, and early migrants had started to arrive in the southern interior.
2. WESTERN BOREAL FOREST
Late-winter temperatures were below average and at least a foot of snow remains on the ground across much of this vast region, setting the stage for an average runoff. This should help replenish wetlands in northern portions of the prairie provinces, improving habitat for breeding waterfowl after last year's dry conditions.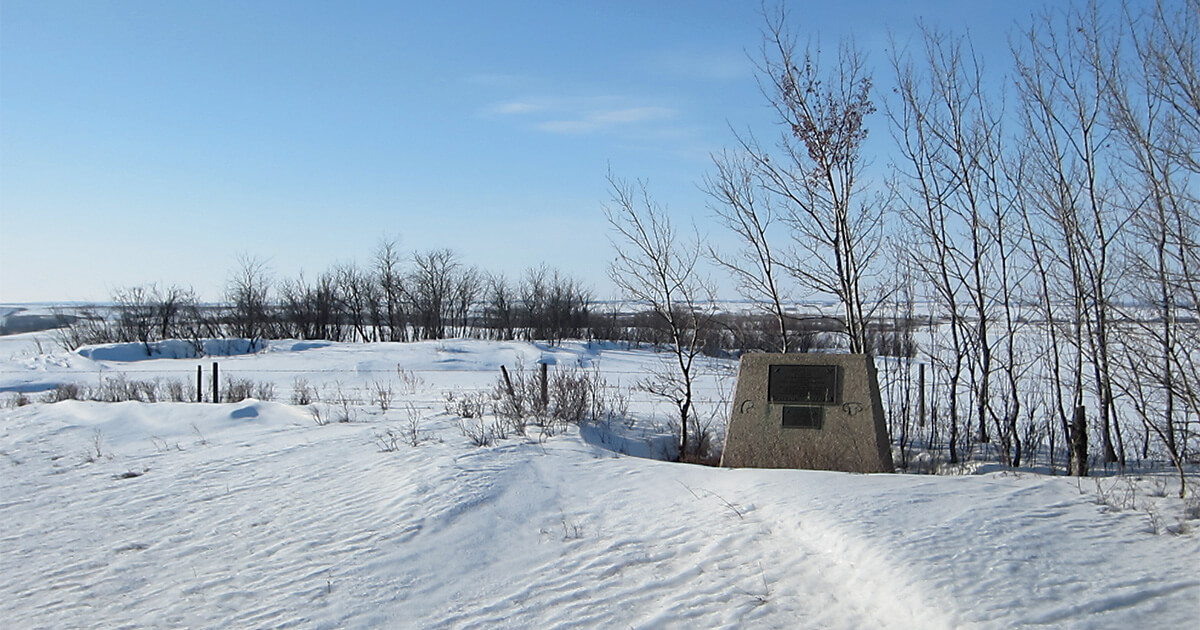 3. PRAIRIE CANADA
March temperatures that were several degrees below average across Prairie Canada helped maintain a near-average snowpack in much of Saskatchewan and southwestern Manitoba. After a series of midwinter warm spells, little snow remains in southern Alberta. Soil-moisture levels were low at freeze-up in many parts of the prairies, which typically limits how much runoff reaches wetland basins the following spring. While a rapid melt may result in some wetland recharge in areas with good snow cover, significant spring precipitation is needed to improve conditions for breeding waterfowl across this important region. Migrating waterfowl have yet to arrive in large numbers due to cold temperatures, and only a handful of northern pintails had been spotted in southern Alberta as of late March.
4. CENTRAL CANADA
Winter precipitation was near or above average across much of Ontario and Quebec. Temperatures fluctuated dramatically, however, resulting in a complete loss of snow cover in the south at times. Permanent wetlands are full, and habitat conditions are expected to be generally favorable for staging and breeding waterfowl this spring. Migrating waterfowl began to return early in the south, with the first tundra swans, geese, and ducks arriving in mid-February.
5. ATLANTIC CANADA
Atlantic Canada received average or above-average precipitation over winter, with much of it coming in the form of rain. Snow cover persists across the north, but wetlands and other water bodies are gradually opening. Mallard courtship flights are under way and migrant Canada geese are returning in increasing numbers. There will be no shortage of water on the landscape this spring, which will benefit both migrating and breeding waterfowl.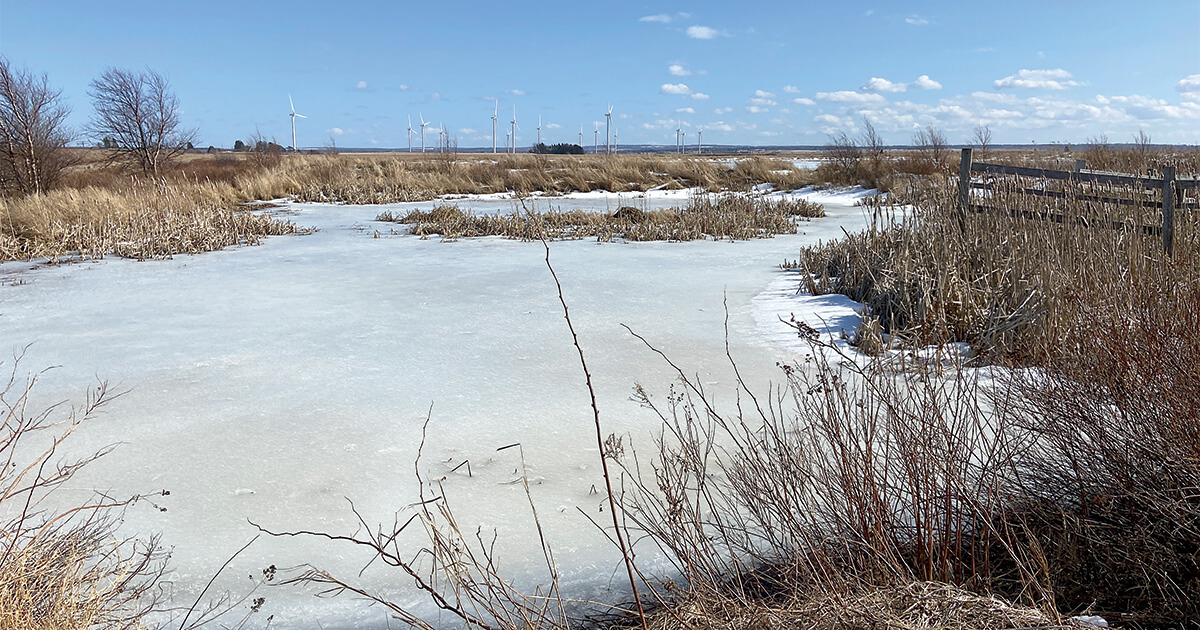 6. NORTH-CENTRAL US
Parts of the central and eastern Dakotas have received above-average to record amounts of late winter and early spring precipitation, which should produce very good to excellent habitat for breeding waterfowl this spring. In northeast Montana, however, winter snowfall was below average, and drought is expected to persist in this area without significant spring precipitation. Bitter-cold temperatures continued into late March, which has delayed the spring migration. Although a late thaw is expected, nest initiation for most waterfowl species should begin on schedule.
7. GREAT LAKES AND NORTHEASTERN US
The Great Lakes region and northeastern United States received much-needed precipitation from late January through mid-March, alleviating persistently dry conditions in many areas. Continued spring precipitation should provide good habitat conditions for breeding waterfowl across both regions. Large numbers of migrating waterfowl have been observed on traditional staging areas as the birds push north.
8. WESTERN US
Wetland conditions have improved dramatically in parts of the West, especially in the Central Valley of California, where the drought has been largely broken by flooding rains and record-breaking mountain snowfall in the Sierras. Unfortunately, drought persists in other areas, such as the Klamath Basin and Great Salt Lake, where long-term water shortages are expected to continue.