Using Fire To Restore A Coastal Wetland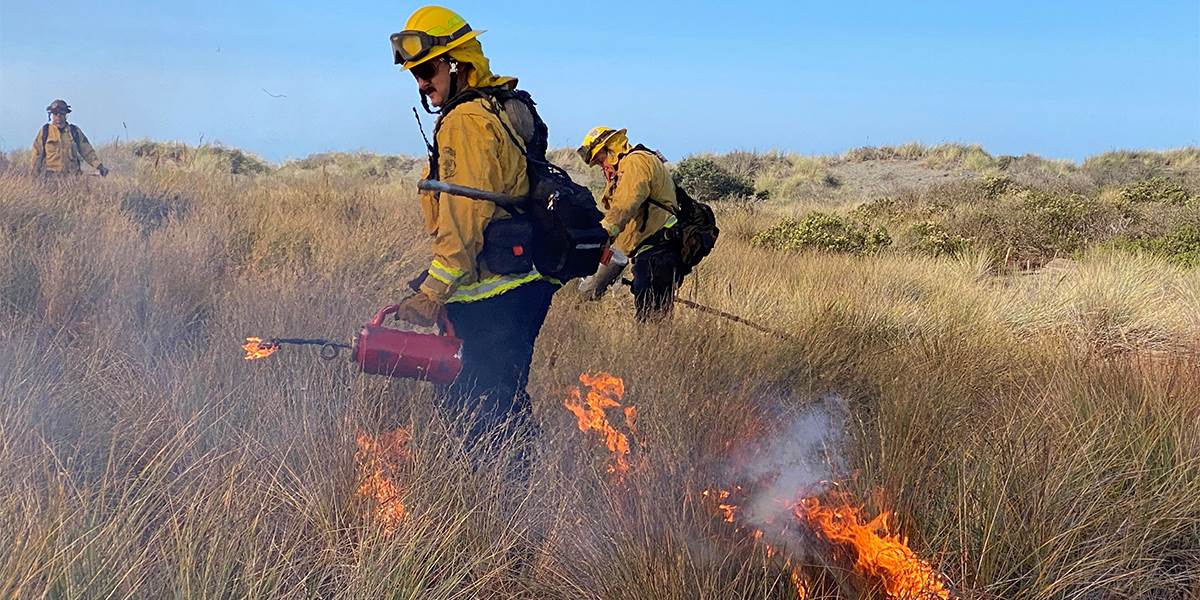 Much of California's tidal wetlands and ocean dunes have been paved over to become housing projects, highways and industrial sites. The habitats that have been spared are often badly overrun by invasive plants that choke the ecosystem.
Now some good news: In California's foggy northwestern corner, the public can now see and experience what these unique coastal wetland-dune ecosystems are supposed to look like, thanks to Ducks Unlimited's partnership with the California Department of Fish and Wildlife on an $8 million Ocean Ranch enhancement project on the Eel River Wildlife Area in Humboldt County.
Ducks Unlimited and its state, federal and tribal partners teamed up to restore 570 acres of these unique salt marshes that are important to migratory and local birds and that provide critical food sources and sanctuaries for various fish species.
On Jan. 2, Ocean Ranch reopened to waterfowl hunting and other public access, after two years of being closed due to construction work and as crews intentionally set "prescribed" fires to remove invasive grasses from the dunes.
The redesigned wildlife area now includes a formal trail system, a large new parking lot and a launch for kayaks, canoes and other nonmotorized boats. Interpretive displays will highlight both the ecological importance of the area and the cultural significance to the local Wiyot Tribe, which supported the project.
Work will continue throughout the year to remove invasive plants on 280 acres of coastal dunes.
Returning native plants to the dunes allows them shift and move with the wind and tides. This will provide better shoreline protection for the restoring salt marsh, which will serve as a nursery and rearing ground for native fish. Its mudflats and shallows are currently covered in shorebirds and waterfowl.
DU's other partners included the California Wildlife Conservation Board, the California State Coastal Conservancy, the National Oceanic Atmospheric Administration Restoration Center and the U.S. Fish and Wildlife Service.
Renee Spenst, a Ducks Unlimited regional biologist, said Ocean Ranch was a model for finding common ground to restore a critically important type of habitat.
"This really is a feel-good project," Spenst said.