Massive Minnesota Project Could Double Ducks in Area
Swessinger Wildlife Management Area gets 640-acre protection, restoration
Waterfowl flying over southern Minnesota have an additional square mile of prime prairie and wetland habitat to rest, feed and nest following a three-year conservation effort.
The restoration of the Swessinger Wildlife Management Area Jones Tract began in 2015, when Ducks Unlimited purchased the 640-acre section with a state appropriation from Minnesota's Outdoor Heritage Fund, as recommended by the Lessard-Sams Outdoor Heritage Council.
The land was purchased from the estate of Minnesota philanthropist, David B. Jones. The tract is crucial because it connects the existing 120-acre Swessinger state Wildlife Management Area and 160-acre Bloom federal Waterfowl Production Area.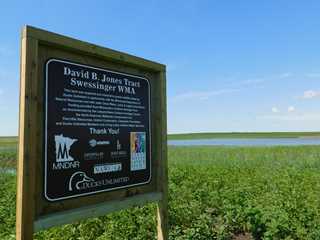 Large expanses of uninterrupted habitat provide the greatest habitat for waterfowl and other wildlife. Once the land was secured, Ducks Unlimited engineered solutions that made the landscape resemble prairie life before humans altered it.
"In a landscape where one percent of prairie and 10 percent of wetlands remain, we must work strategically to protect land that will provide the biggest bang for our ducks," said Kassy Dumke, Ducks Unlimited biologist in Minnesota.
This project brings the bang: 37 wetlands eventually restored or enhanced, totaling 89 acres; 25 acres of floodplain restored; 10 acres of wet meadow restored; and 3,000 feet of stream channel restored. More than 100 species of native forbs and grasses were planted on 504 acres including in restored wetlands and wetland fringe areas.
"We've added highly diverse wetlands and prairie to an area where much of the existing habitat is heavily fragmented. We're making existing habitat more appealing to wildlife by building upon these complexes."
The final number is most pleasing to waterfowlers: The estimated number of breeding ducks in the area will grow between 11 and 20 duck pairs per square mile to more than 40 duck pairs per square mile. This will help meet the goals of the Minnesota's Long-range Duck Recovery Plan.