DU project lessens impact of historic Michigan flooding
1,000-acre project helps absorb 10 feet of floodwater
Historic rainfall across Michigan the week of May 18 caused two dams to fail in the middle of the state, creating extreme flooding and forcing more than 10,000 people from their homes in Edenville, Sanford and parts of Midland.
A wetlands conservation partnership between Ducks Unlimited and the U.S. Fish and Wildlife Service helped alleviate some of the impact of that flooding, again underscoring the importance of green infrastructure and wetland habitats.
As the water raced toward Saginaw Bay and Lake Huron, managers at the Shiawassee National Wildlife Refuge in Saginaw sprang into action.
Ducks Unlimited and several partners in 2016 restored over 1,000 acres of former agriculture land back into wetlands at Shiawassee. The Maankiki Marsh project reconnected nearly two square miles of drained land to the adjacent Shiawassee River for the first time in more than a century. That reconnection proved invaluable over Memorial Day weekend.
"We began monitoring and modeling the rainfall on Wednesday and we knew we were going to be good for the rain event," said Shiawassee Refuge Biologist Eric Dunton. "But then we got word that the Edenville Dam was breached. It was a huge unknown, we weren't sure how much water was coming."
By Thursday, refuge staff knew they had a major event flowing toward them.
"It was a 500-year flood event," Dunton said. "We made the decision to open Maankiki Marsh. That added more than 1,000 acres of flood storage capacity and every bit of flood storage was needed."
The refuge opened its gates to incoming floodwater, eventually filling its entire 10,000 acres under 10 feet of water. The ability to safely hold that volume of water lessened the flooding to surrounding landowners.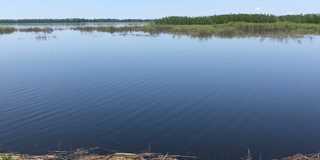 Shiawassee National Wildlife Refuge and its managed wetlands represent a landscape that dominated Michigan's coastlines prior to human development. Wetlands act as giant sponges, absorbing and holding rainwater. These natural sponges keep rivers from becoming overrun with rain runoff and help prevent or reduce flooding.
"We all felt great about the results of the decision to flood the refuge," Dunton said. "This was a big event, but there are a lot of smaller, minor floods that we will have capacity for and offer a lot of benefit for storage."
DU Senior Regional Engineer Brian Nicholson said designing a managed wetland unit in a major floodplain was complicated.
"The refuge has been working toward ways to try to replicate where old channels and water used to go before human development," Nicholson said. "Everything on this project site performed the way it was supposed to."
Dunton agreed.
"We couldn't manage the resources and do these types of restorations without our partners like Ducks Unlimited," he said. "For their technical capability for designing structures and managing capacity, it's priceless to have that level of expertise," he said.
The Maankiki Marsh project at Shiawassee was funded in part by a $1.5 million National Fish and Wildlife Foundation - Sustain Our Great Lakes grant via the Great Lakes Restoration Initiative, a federal program designed to target the most significant problems in the Great Lakes ecosystem. Saginaw Bay Watershed Initiative Network, Dow Chemical Company and Ducks Unlimited provided additional financial support.
DU and the USFWS are in the midst of other conservation efforts to further expand flooding capacity at Shiawassee. In this case, the project was crucial to the surrounding communities, without sacrificing waterfowl habitat.
"Things should be good for waterfowl season," Dunton said. "There's still enough time left in the growing season to get water out and our moist soil vegetation will be ready to go."